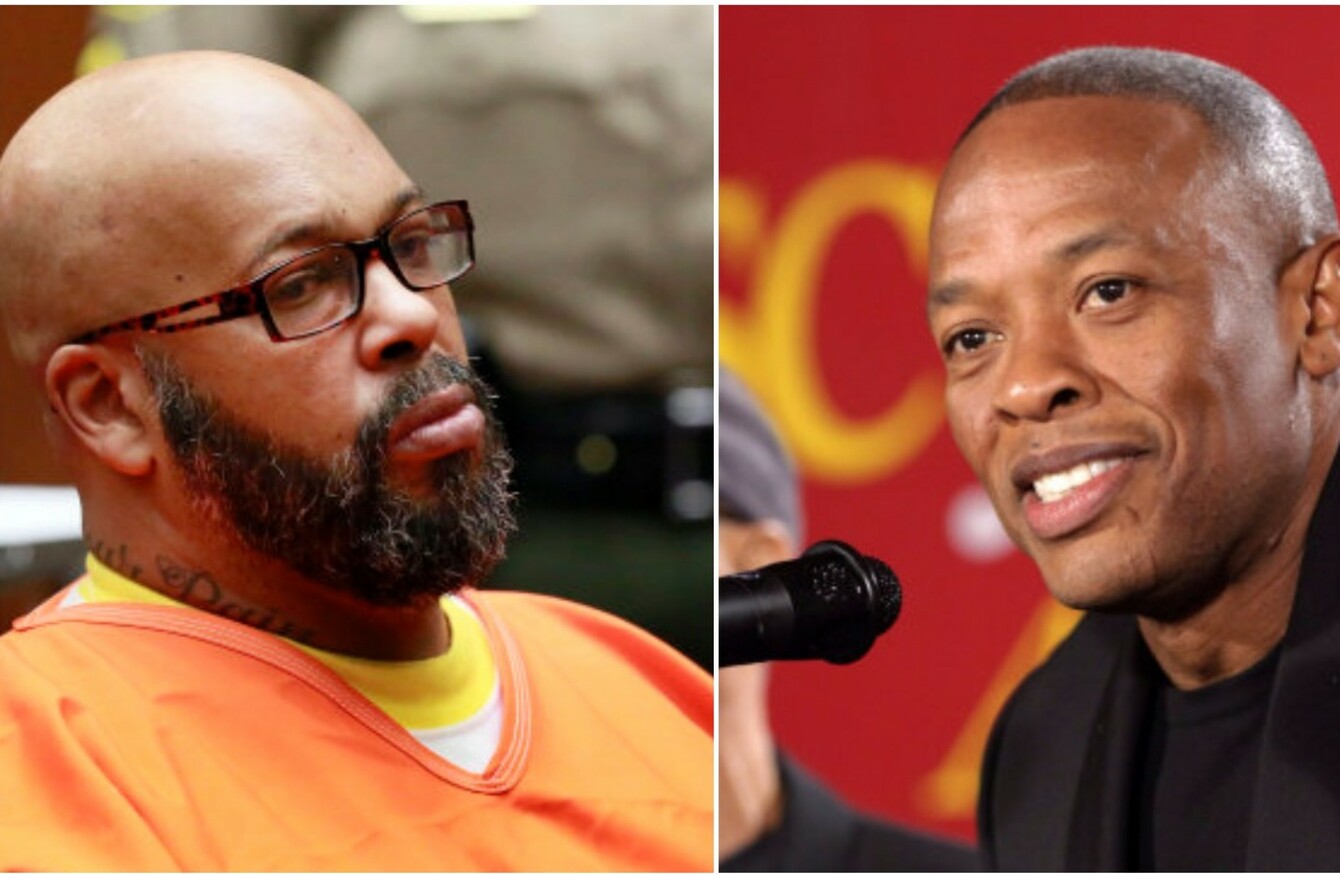 Suge Knight (L) and Dr. Dre (R) once co-founded Death Row Records before they fell out.
Image: PA Images
Suge Knight (L) and Dr. Dre (R) once co-founded Death Row Records before they fell out.
Image: PA Images
JAILED FORMER RAP mogul Marion "Suge" Knight has filed a lawsuit against Dr. Dre accusing the hip-hop star turned Apple executive of hiring hitmen to kill him.
In a lawsuit made public on Monday that was packed with loaded claims, Knight alleged that Dr. Dre agreed to pay him 30% of his earnings for life — including his share of Apple's $3 billion purchase in 2014 of Dr. Dre's Beats line of headphones and other electronics.
Dr. Dre earned about $1 billion from the sale of Beats to Apple, valuing Knight's lawsuit at $300 million.
Knight also named in the lawsuit leading movie studio Universal, saying that it cooperated on the hit attempt as Dr. Dre and other members of gangsta rap pioneers N.W.A. spoke to Knight about the use of his likeness in Straight Outta Compton, last year's box office-topping biopic on the group.
Knight, a co-founder with Dr. Dre of once thriving Death Row Records, is in jail for running over and killing industry colleague Terry Carter in January 2015 in the parking lot of a Los Angeles-area fast-food restaurant.
In the lawsuit filed in Los Angeles Superior Court, Knight said he had been defending himself as another man, filmmaker Cle Sloan, allegedly pulled a gun on him.
Knight several months earlier was shot seven times at a Hollywood nightclub in a party thrown by R&B star Chris Brown.
"Andre Young is responsible for both crimes," the lawsuit said, referring to Dr. Dre by his given name.
"It is a well-known fact that Young and Knight are not friends," said the lawsuit, which seeks financial damages.
Knight also took aim at Apple, alleging that the tech giant paid lawyers to "badger" him and Death Row Records as the label sought bankruptcy protection.
An attorney for Dr. Dre was quoted in reports as dismissing the allegations as far-fetched.
Sloan, who was injured in the parking lot incident, earlier denied threatening Knight.
Knight, whose label once distributed top stars such as Tupac Shakur, has separately sued Chris Brown for a lack of security at his party.
© – AFP 2016 with reporting by Rónán Duffy