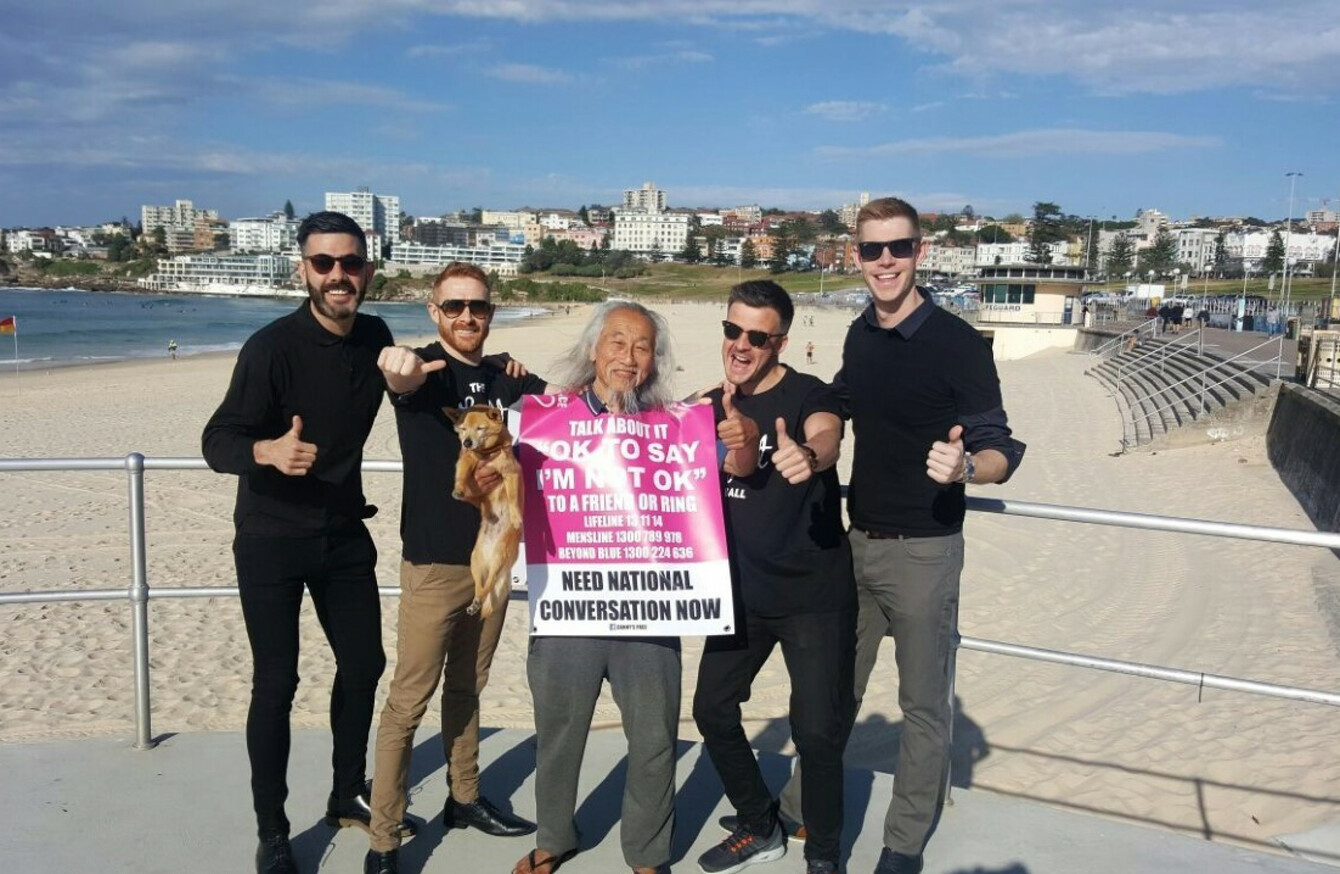 Mick and Will with friends.
Mick and Will with friends.
THESE TWO IRISH brothers are breaking the taboo of mental health in Australia as they try to break records by hosting an event in honour of family and friends they lost.
Will and Mick Magee moved to Sydney five years ago, and have since re-established their original Irish mental health fundraiser, the Light Ball, which they founded after the suicide deaths of their mother and friend.
Will described how the austerity years had crippled large parts of the population's pay packets. But what it also did was drive people into poor mental health.
Will explained: "Both Mick and I had well regarded university degrees, yet couldn't clear €50 a week. The financial lull was felt by everyone, but particularly a close friend, Colin Baker, who was also our housemate at the time, was really struggling."
Mick was the one to discover Colin's body after he took his own life.
Will added: "This was the second time Mick and I had experienced ill mental health and the aftermath of suicide, after experiencing our mother's mental health demise, which resulted in suicide six years' earlier."
In an effort to pick up the pieces and build strength in the community, Will and Mick started searching for ways to support those who are living with mental health issues.
"Our aim was to break down the stigma of mental health. We knew to do this we had to encourage the community to talk about, and make people aware of the channels available to them if they were living with mental health and supporting said charities so they have continued access to support services."
The Light Ball grew out of this and the first of its kind was held in Ireland in 2012 and was brought to Australia in 2015 after the brothers moved across.
It is now about to run into its third consecutive year, and is aiming to surpass last year's total and break the $150,000 mark for beneficiaries batyr and Pieta House.
Will added: "We've been blown away by the continued success of the Light Ball and the success encountered in terms of numbers through the door, funds raised and celebrity support.
"The event encompasses all walks of the community, not just Irish, but Aussies and the broader community alike. This is an issue for all communities.
"The Light Ball is the most important calendar event of the year for Mike and I; we're bringing awareness to mental health, through the power of 15 friends, while remembering our mum and best mate at the same time."
If you need to talk, contact:
Samaritans 116 123 or email jo@samaritans.org
Aware 1800 804848 (depression, anxiety)
Pieta House 1800 247247 or email mary@pieta.ie – (suicide, self-harm)
Teen-Line Ireland 1800 833634 (for ages 13 to 19)
Childline 1800 666666 (for under 18s)