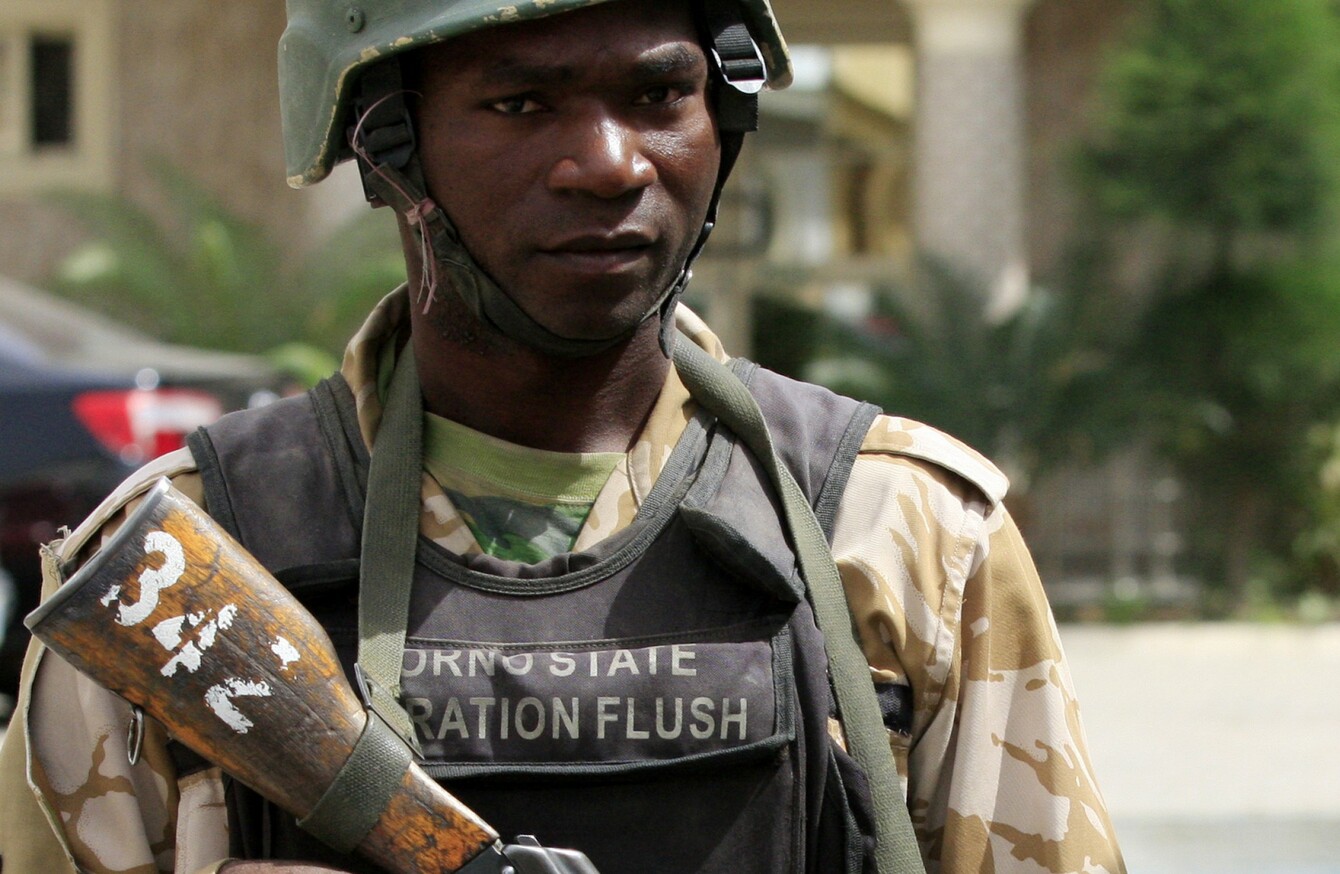 Image: Jon Gambrell/PA
Image: Jon Gambrell/PA
AT LEAST 22 people were killed today when two women disguised as men blew themselves up during morning prayers at a mosque in Maiduguri, northeast Nigeria, rescuers and the military said.
The attack took place at about 5:30am in the Molai district of the city, which has been repeatedly targeted in the past by Boko Haram insurgents.
Borno State Emergency Management Agency spokesman Abdullahi Omar and army spokesman Sani Usman confirmed the blast.
"Sadly, 22 people were killed and 18 others sustained various degrees of injuries," Usman said in an emailed statement.
A source at the state agency added: "This morning just before prayers two women disguised as men came by the mosque.
"One of them went in and joined the first row of the congregation and when the worshippers stood up for the prayers she detonated her explosives, killing several worshippers.
"While the others were trying to flee, the second woman who stood outside the mosque rushed in and set off her explosives in their midst."
The source, who asked for anonymity as he was not authorised to talk to the media, also gave the death toll as 22 but gave a higher figure of 35 injured.
Boko Haram
Survivors of the attack and evidence from the rescue operation identified the bombers as women, he added.
The attack bore all the hallmarks of Boko Haram Islamists, who have regularly hit "soft" civilian targets such as mosques, markets and bus stations, including with female suicide bombers.
Maiduguri, where the group was formed in 2002, has been relatively calm in recent months as a result of a heavy military presence and a sustained counter-offensive against the militants last year.
Nigeria has said the rebels, whose insurgency has left at least 17,000 dead since 2009, have been "technically" defeated, despite continued attacks in Borno state and neighbouring Cameroon.
Wednesday's attack will again raise doubts about the extent of the military's grip on security and its ability to protect civilians and property in the remote region.
The government in Abuja is actively promoting the return of hundreds of thousands of people displaced by the conflict who have been living in camps or host communities in Maiduguri.
Usman extended his condolences to the victims' families, adding: "We wish to reassure the public that we would continue to rout the remnants of the Boko Haram terrorists, wherever they may be hiding.
"We will not rest on our oars until all those that masterminded this latest heinous and other similar crimes are apprehended and brought to justice."
On January 31, at least 85 people were killed when insurgents attacked the village of Dalori, some 12 kilometres (seven miles) from Maiduguri, where a major displaced persons camp is located.
- © AFP 2016.