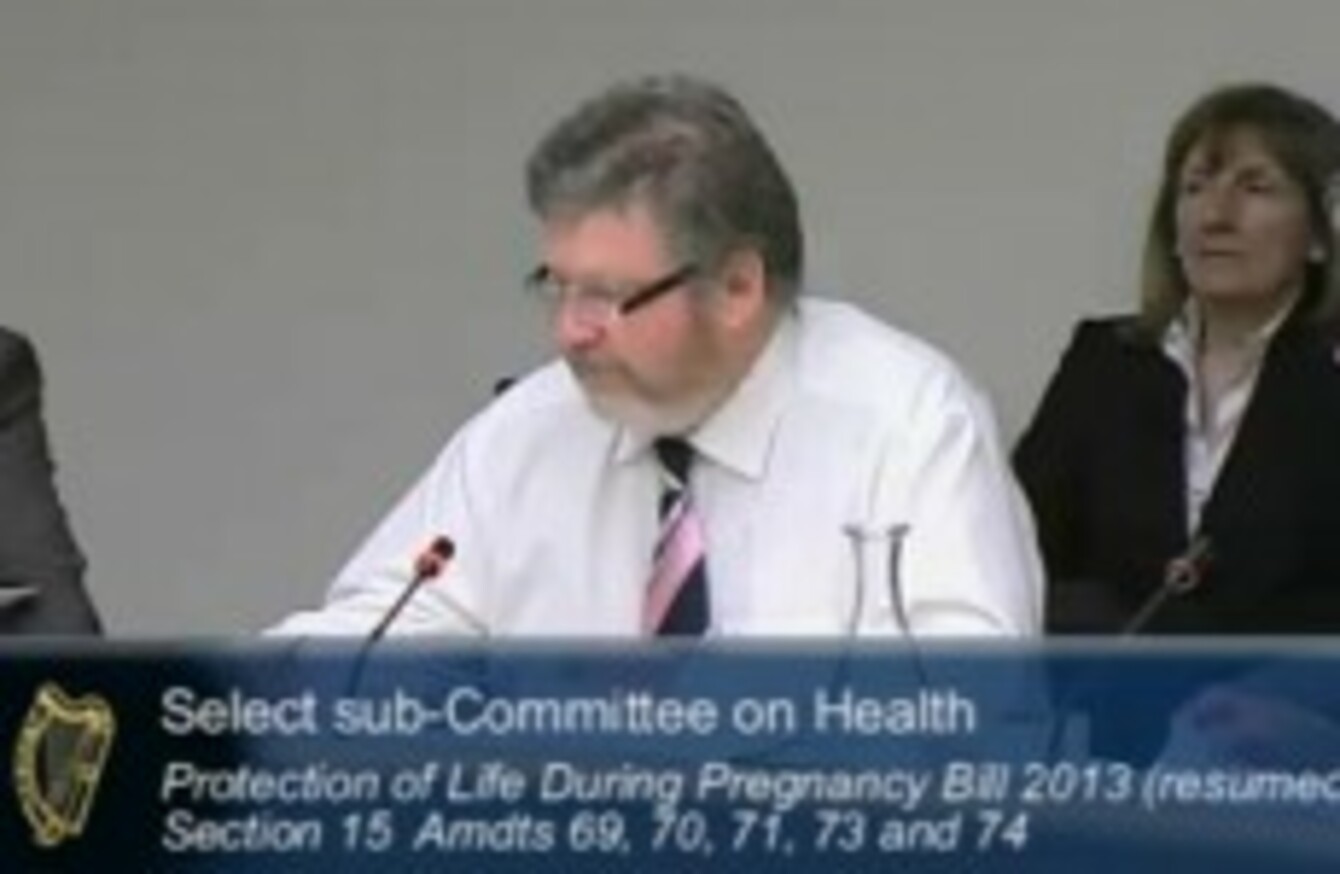 Heath Minister Dr James Reilly at the hearings today
Image: Oireachtas
Heath Minister Dr James Reilly at the hearings today
Image: Oireachtas
TWO TDS FROM the Oireachtas sub-Committee on Health voted today to remove the suicide clause from the so-called 'abortion bill'.
However, eight of their colleagues, including the Health Minister, opposed an amendment from Independent TD Denis Naughten to remove the clause from the Protection of Life During Pregnancy Bill 2013.
Balance
Speaking on the committee, Naughten said that balance has to be struck and that he has no doubt that "a sizeable proportion of the women who are currently going to the UK at present go on the basis of suicidal ideation".
He said he has "huge reservations with respect to section nine".
Fianna Fáil Deputy Eamon O Cúiv, substituting for Deputy Billy Kelleher, was the second TD to support the proposed amendment, saying that one of the issues he has is that there "seems to be major evidence from psychiatrists that they do not believe abortion is a treatment for suicide".
He said that there seems to be some evidence that any possible saving of life would be more than offset by the higher rate of suicide for people post-abortion.
If the legislation is drafted, Ó Cúiv said "you potentially could leave a large number of people with severe disabilities that were otherwise perfectly healthy".
He also said he thinks it is putting psychiatrists "in an impossible situation" and said that they have to make a judgement "where they know that the rate of accuracy clinically is very low" because there are no clinical markers.
He described it as "trying to get into the mind of another person" but that there is no blood test or anything you can do from a physical level to assess whether a person is suicidal.
He also raised the issue of suicide being a huge problem in Irish society that needs to be tackled.
Treatment for suicide
Sinn Féin Deputy Caoimhghin  Ó Caoláin said that that there is no view among the committee or those who came before them that abortion is a treatment for suicide.
He said that if someone presents as suicidal, even if they may not have had a history of mental health issues, "then they have at that time mental health issues in my view".
He said he has confidence that frontline service providers are doing everything and will do everything that they can to give every support possible.
He supported the inclusion.
Deputy Seamus Healy of the Workers and Unemployed Action group confirmed his support, and said that "what we want from this bill is clarity for the women concerned and the medical practitioners".
He also supported the section. Deputy Roisín Shortall said she had concerns in relation to the absence of gestational limits and that "a lot of people are disturbed by this".
She said that if it is not possible to do anything at this point, the very minimum would be a commitment to arrange a constitutional referendum on this specific issue, to be held with the other referenda in October and prior to commencement of this legislation.
Labour TD Ciara Conway said that "what we are talking about here is saving women's lives".
She said that a study on whether abortion is a 'treatment' for suicidal ideation is a "study that should never be done" and that the subtext "is a mistrust of women and their doctors".
Conway said she trusts women and trusts doctors to make the best decision for them, and supports section nine.
Real situations
Deputy Richard Boyd Barrett said "these are real situations" and that the X Case decision shouldn't be second-guessed.
#Open journalism No news is bad news Support The Journal

Your contributions will help us continue to deliver the stories that are important to you

Support us now
Labour TD Aodhán Ó Ríordáin said that if the section is deleted, it is leaving women with two options – that the State forces her to go through with the pregnancy, or she will be forced to go to the UK.
Deputy Catherine Byrne also supported the section, and said it will allow "an opportunity for medical professional people to intervene and hold the hand of those women who are in that distraught state and do need to be able to terminate a pregnancy because they feel there is no option for them".
Health Minister James Reilly said that the risk of suicide in pregnancy is "very, very low" as evidenced by incidents, and that the "conclusion drawn that the doctors' hands are tied is utterly untrue".
He said it is always down to the clinical judgement of the doctor and "it is a procedure to avert a real and substantial risk to the life of a woman where no other procedure is available".
He also pointed out that when it comes to physical evidence of suicidality, you could apply the same logic to areas such as schizophrenia, where there is also no blood test for this condition.
He said "that we have such a high incidence of suicide shows how very hard it is to predict and prevent" but agreed with Deputy Ó Cúiv that the high suicide rate does need to be addressed.
"I think we have to trust our doctors," said Reilly. "It is essential for the doctor-patient relationship that the trust is there. We must trust the mothers of this country, who are the mothers for the next generation."
Vote
Overall, those for keeping the section were: Minister James Reilly; Deputy Jerry Buttimer; Deputy Ciara Conway; Deputy Ann Ferris (substituting for Deputy Robert Dowds); Deputy Peter Fitzpatrick; Deputy Seamus Healy TD; Deputy Caomhghín Ó Caoláin; and Deputy Regina Doherty (substituting for Deputy Mary Mitchell O'Connor).
Those supporting Naughten's amendment were Deputy Naughten and Éamon Ó Cúiv (substituting for Billy Kelleher TD).