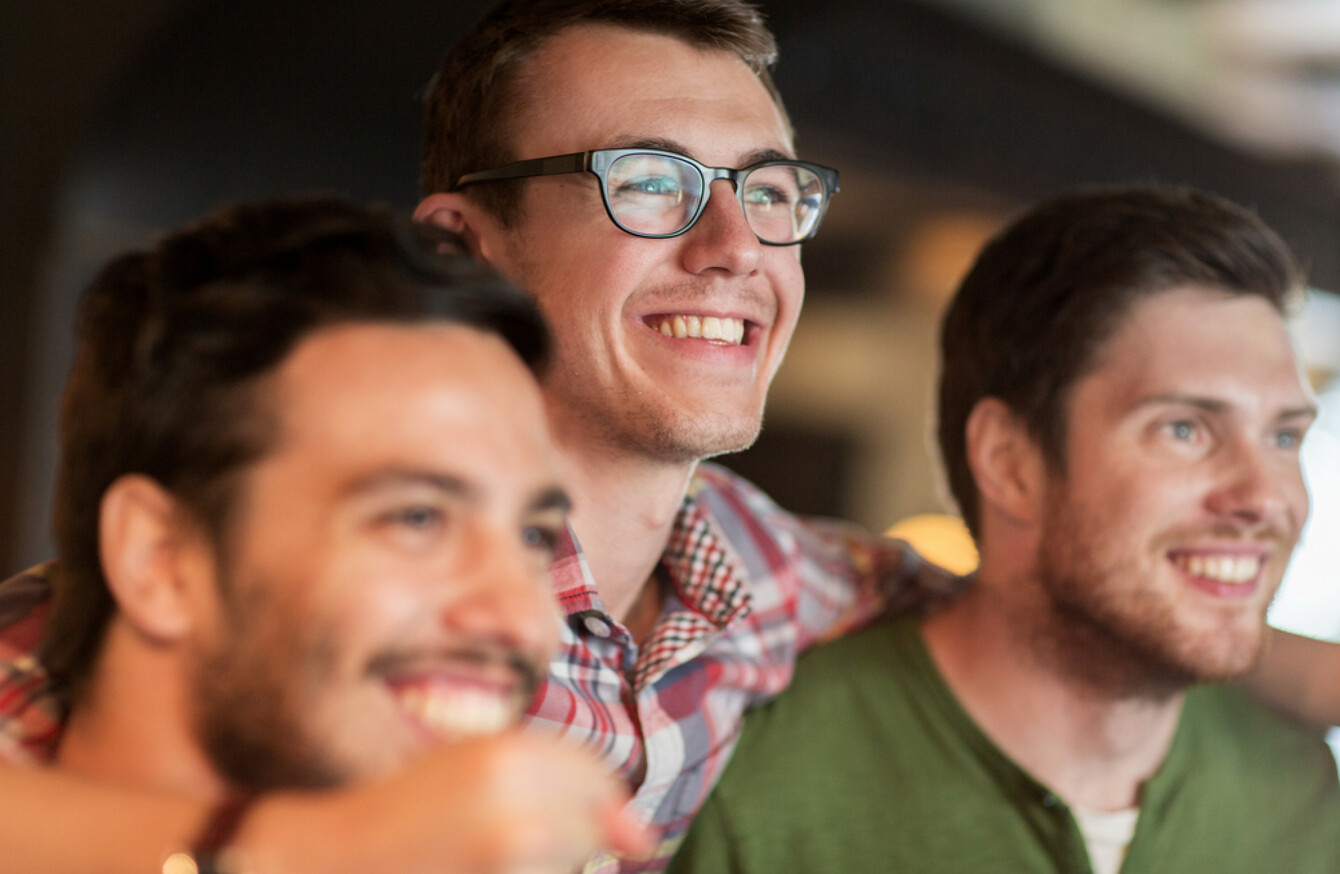 Many people who appear happy may be struggling with personal issues (file photo).
Image: Shutterstock/Syda Productions
Many people who appear happy may be struggling with personal issues (file photo).
Image: Shutterstock/Syda Productions
ALMOST 400 SUICIDES were registered in Ireland in 2017, with men accounting for about eight in 10 deaths. 
There were 392 suicides recorded in Ireland last year, compared to 399 deaths in 2016, according to provisional figures release today.
Figures from the Central Statistics Office (CSO) show there has been a downward trend in deaths registered as suicides in recent years. There were 425 such deaths in 2015 and 486 deaths in 2014.
The majority (335) of suicide deaths last year were among men. This high male to female ratio has been a consistent feature of deaths by suicide over the years.
The highest rates of suicide were observed among 45-54 year-olds (men) and 55-64 year olds (women). Ireland's overall suicide rate in 2015 was 10th lowest of 33 European countries. Although for young people (aged 15-19), it was seventh highest.
It should be noted that some suicides may not be registered as such, so the actual number of deaths may be higher.
The figures were released at the launch the HSE's National Office for Suicide Prevention (NOSP) 2017 Annual Report and the National Suicide Research Foundation (NSRF) Self-harm Registry Ireland 2017 Annual Report.
John Meehan, HSE Assistant National Director and Head of the NOSP and Mental Health Strategy & Planning, said the downward trends in suicide deaths are welcome, but added that suicide "remains a complex issue requiring evidenced and targeted approaches and interventions across many different sectors".
Self-harm
In 2017, the National-Self Harm Registry Ireland recorded 11,600 presentations to hospital due to self-harm nationally, involving 9,103 people. 
The rate of individuals presenting to hospital following self-harm was 199 per 100,000 – 3% lower than in 2016 and 11% lower than the peak rate in 2010.
However, the rate in 2017 was still 6% higher than in 2007. Despite this stabilisation, the Registry continues to identify groups at risk for self-harm and self-harm repetition.
The highest rates of self-harm were consistently recorded in young people. Since 2007, the rate self-harm among young people has increased by 21%. The increase has been most pronounced for females and young adults.
The findings indicate that the age of onset of self-harm is decreasing. Increasing rates of self-harm, along with increases in highly lethal methods, indicate that mental health promotion and targeted interventions in key transition stages for young people are warranted, the report notes. 
Homeless people 
In 2017, a total of 591 presentations were made by people of no fixed abode, an increase of 13% from 2016. While representing a small proportion of overall presentations, those who are homeless are a particularly vulnerable population, the report notes. 
A recent publication from the Registry found that the incidence of self-harm was 30 times higher among the homeless population, underlining the need to explore specific challenges of treating self-harm among the homeless is required.
In recent years, evidence-based programmes to manage self-harm in acute settings, such as the National Clinical Programme for the Assessment and Management of people presenting to the Emergency Department following Self-Harm, have been implemented. In 2017, three in every four patients (72%) who presented following self-harm received a mental health assessment.
Dr Eve Griffin, Manager of the National-Self-Harm Registry, said the increase in self-harm among young people "signals an unmet need in terms of mental health services for children and adolescents".
Effective interventions are needed for young people at risk of self-harm. School-based programmes to promote positive mental health should also be a priority.
Dr Paul Corcoran, Head of Research at the NSRF, noted that the Registry reports on referrals for patients who are discharged from the emergency department following a self-harm presentation.
"Obtaining information on subsequent care pathways for self-harm patients should be prioritised in order to better assess their outcomes," he added.
Self-harm in prisons higher among female inmates 
The first annual report on episodes of self-harm recorded in Irish prisons was also launched today. 
The Self-Harm Assessment and Data Analysis (SADA) Project for 2017 was developed by staff in the Irish Prison Service (IPS), in collaboration with the NOSP and the NSRF.
In 2017, there were 223 episodes of self-harm recorded in Irish prisons, involving 138 individuals. The annual person-based rate of self-harm was four per 100 prisoners.
The rate of self-harm was higher among female prisoners and those on remand. In 2017, there were four episodes of self-harm (2% of all self-harm episodes) which resulted in the loss of life.
Michael Donnellan, Director General of the IPS, welcomed the publication of the report.
The issue of suicide and self-harm is a major concern in today's society, and this problem is even more emphasised in a prison setting where people are separated from family, friends and community supports.
He said the research will hopefully help the IPS to "reduce incidents in the future".
Connecting for Life 
The NOSP 2017 Annual Report highlights initiatives undertaken as part of the ongoing implementation of Connecting for Life, Ireland's National Strategy to Reduce Suicide 2015-2020. These include:
The coordination and provision of free, evidence-informed suicide and self-harm training in communities nationwide. In 2017, over 12,000 individuals completed programmes such as safeTALK and ASIST (Applied Suicide Intervention Skills Training).
The publication of the Connecting for Life Implementation Plan 2017-2020, detailing milestones for each of the 69 actions in Connecting for Life over this three-year period.
The launch of a further 10 local Connecting for Life Action Plans during 2017, supporting the capacity of local communities to prevent and respond to suicidal behaviour. There are now 15 such plans in place. All 17 local action plans will be in place by the end of October 2018.
NOSP funding of more than €11.9 million was allocated to suicide prevention in 2017. The NOSP invested almost 60% of this in agencies and front-line services making coordinated efforts to meet Connecting for Life objectives and actions, across seven overarching strategic goals.
All three reports launched today can be read here. 
Need help? Support is available:
Samaritans 116 123 or email jo@samaritans.ie
Aware 1800 80 48 48 (depression, anxiety)
Pieta House 1800 247 247 or email mary@pieta.ie (suicide, self-harm)
Teen-Line Ireland 1800 833 634 (for ages 13 to 19)
Childline 1800 66 66 66 (for under 18s)
A list of HSE and HSE-funded services can be found here.