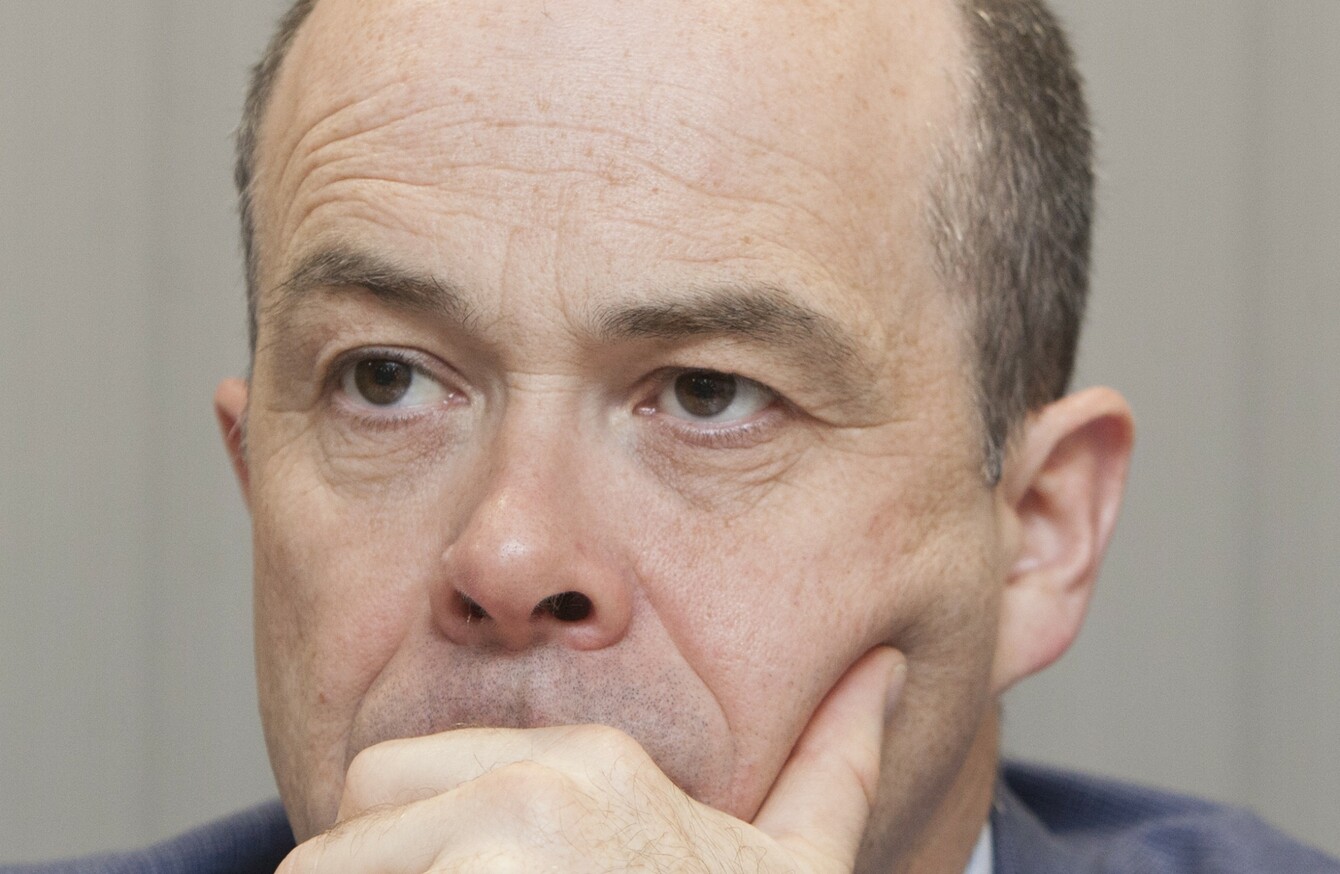 Minister Denis Naughton at the launch of the Press Council annual report today.
Image: Leah Farrell/RollingNews.ie
Minister Denis Naughton at the launch of the Press Council annual report today.
Image: Leah Farrell/RollingNews.ie
THE RATE OF suicide in Ireland is so high, it is vital that the media maintains high standards in responsible reporting around it, said Communications Minister Denis Naughten.
The minister made the call today at the launch of the annual report from the Office of the Press Ombudsman.
He said that while he believed there to be "high ethical standards" at work across mainstream print and digital media publications in Ireland, standards in particular on "difficult" issues such as suicide and mental health must be safeguarded.
Speaking to assembled national editors and media advisors, Naughten said:
Sadly, (suicide) is far too familiar in every parish across the country. I was just thinking coming down here today that on average someone attempts to take their own life in Ireland every nine minutes. It's an unbelieveable statistic.
Minister Naughten first quoted this figure of one suicide attempt every nine minutes in the Dáil in 2011. At that time, he said that his research on the issue had found that 60,000 people attempt to take their lives each year.
The World Health Organisation (WHO) has previously published data which showed that up to 200 out of every 100,000 Irish people (aged 15 or older) attempt suicide.
He praised the Press Council for its leadership on best practice for reporting on suicide: "The code of practice it set in relation to it and also ensuring that articles on this topic provide access and directions to people to help."
This guidance is "significant" and all the more important given the other platforms where information is being disseminated in the digital age, noted the minister.
His comments echoed concerns voiced by the Press Council Chairman Seán Donlon at today's report launch. Donlon referred in particular to social media giants and the difficulty of monitoring content published there.
He said that although social media platforms such as Facebook, Google, Twitter and YouTube are now among "the largest and most influential entities in the world of the news business" and are widely accessed in Ireland, they are not subject to regulation or oversight.
This is in contrast to Irish broadcasters, who are regulated by the Broadcasting Authority of Ireland, and to press and some digital publishers (including TheJournal.ie) who are members of the Press Council.
Donlon said:
Thus they (social media platforms) can and do carry offensive, inaccurate and inappropriate Irish content as, for example, the posting of a video of a young woman clearly in distress who later took her life and the grossly inaccurate reporting of the number of suicides in Cork.
He added: "I know that Ministers share our concerns and I hope that they will work nationally and internationally to curb the irresponsible activities of these new publishers."
Minister Naughten said that he was in contact with Children's Minister Katherine Zappone and Justice Minister Frances Fitzgerald in relation to establishing the office of a Digital Safety Commissioner.
On the advent of the fears of the impact of so-called 'fake news', Naughten said it would be difficult for any one country to legislate against it. The best defence, he claimed, was for media to maintain reporting standards and be a resource that the digital audience can refer to in order to check out claims they see made elsewhere on the internet.
Tongue firmly in cheek, the minister referred to a story early this year in which he was involved: "So, if Denis Naughten is involved in a bicycle accident – how bizarre that would be, but if he was – and people read it on Facebook or Twitter, that they can turn to a reliable content website and say, actually, this is an accurate story, they are covering it as well."
He also said that he believed that "by and large, the press (in Ireland) does not have a particular bias… it is prepared to put a case out there and let people decide for themselves. If you look across the globe, we are turning into a unique country on that here."
Press Ombudsman Peter Feeney said that "the shift to social media as the primary source of information is both a threat and an opportunity for traditional media". The threat comes from a move of advertising revenue to major online players like Google and Facebook, but the opportunity is for traditional media to re-establish itself as a trusted source.
#Open journalism No news is bad news Support The Journal

Your contributions will help us continue to deliver the stories that are important to you

Support us now
Releasing the outcomes of complaints brought against Irish media organisations in 2016, he praised "a noticeable trend (in) the increased willingness of editors to address complainants' concerns at as early a stage as possible".
Of the 261 complaints received by the Office of the Press Ombudsman last year:
80 were not pursued beyond preliminary stage by the complainant
23 were resolved by the editor to the satisfaction of the complainant (seven of these were resolved specifically by a formal conciliation process and 16 by the editor when the complainant was sent to them after receiving advice from the Ombudsman's Office)
2 complaints were withdrawn following a response from the editor
14 complaints were postponed because of legal proceedings
114 were outside the remit of the Press Ombudsman
5 were still being dealt with at the end of 2016
23 went to the Press Ombudsman for a decision
Of these 23 decided by the Ombudsman, nine complaints were upheld. This is the full breakdown:
Four principles of the Code of the Press Council of Ireland were breached in 2016. Three were relating to privacy, one to fair procedures and honesty, two to truth and accuracy and six to protection of privacy of children, although four of these related to the same court case as reported in four separate publications.
Read the full report from the Press Council and Press Ombudsman here>
If you need to talk, contact:
Samaritans 116 123 or email jo@samaritans.org
Aware 1800 80 48 48 (depression, anxiety)
Pieta House 1800 247 247 or email mary@pieta.ie (suicide, self-harm)
Teen-Line Ireland 1800 833 634 (for ages 13 to 19)
Childline 1800 66 66 66 (for under 18s)