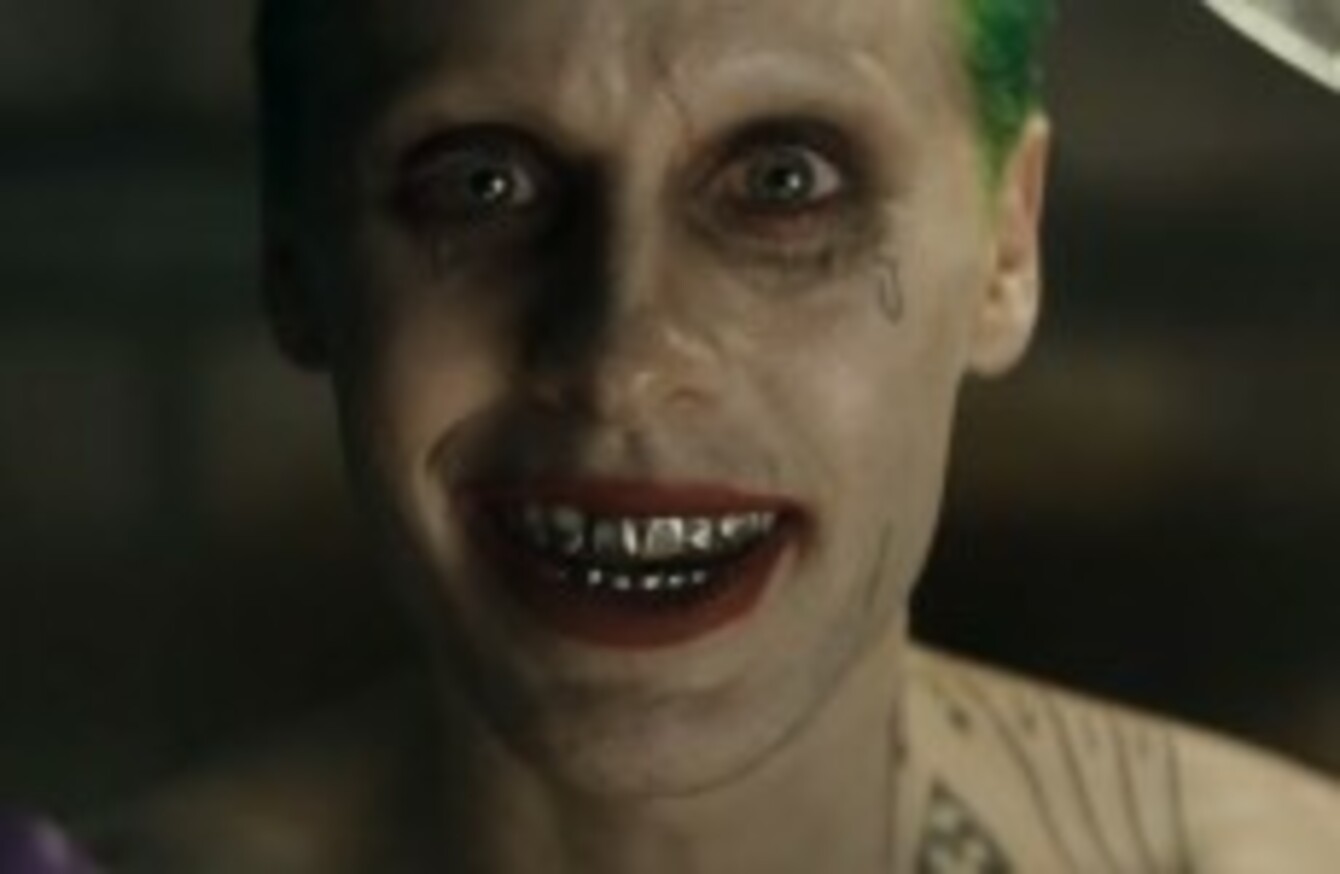 The response to the first clip of Jared Leto's as the Joker has been mostly positive.
The response to the first clip of Jared Leto's as the Joker has been mostly positive.
THE STUDIO BEHIND the upcoming movie Suicide Squad has condemned those who leaked footage of its first trailer.
Trailers for Batman Vs Superman: Dawn of Justice, Deadpool, X-Men: Apocalypse, and Suicide Squad were shown at Comic-Con during the weekend.
The response was mostly positive with much of the talk surrounding Suicide Squad and the first clip of Jared Leto as The Joker.
Some of the trailers were rough cuts, the trailer for Deadpool won't be officially released for another three weeks as the studio is still working on the final VFX shots, but they were seen as treats for the audience who attended the panels in Hall H, where some of the biggest panels are held during Comic-Con.
Source: Warner Bros. Pictures/YouTube
Yet shortly after they were shown, recorded footage was uploaded before the official versions were released, meaning that most people watched a poor-quality version of the trailer on services like Vidme.
While fans lapped up the leaked footage, the reaction from those behind Suicide Squad was less than positive. Its director, David Ayer, tweeted his displeasure at seeing the trailer being revealed this way.
While Warner Bros. Pictures, the studio behind the movie, decided to be more critical about it. It posted a HD version of the Suicide Squad trailer on Facebook and included a note which criticised those who leaked the footage.
Warner Bros. Pictures and our anti-piracy team have worked tirelessly over the last 48 hours to contain the Suicide Squad footage that was pirated from Hall H on Saturday. We have been unable to achieve that goal.
Today we will release the same footage that has been illegally circulating on the web, in the form it was created and high quality with which it was intended to be enjoyed.
We regret this decision as it was our intention to keep the footage as a unique experience for the Comic-Con crowd, but we cannot continue to allow the film to be represented by the poor quality of the pirated footage stolen from our presentation.
Unfortunately, leaks aren't anything new. The same thing happened with the trailers for Man of Steel and Guardians of the Galaxy back in 2013, and the problem is so vast that last year, Marvel had guards patrolling the floor looking out for anyone who tried to record footage.
Although Marvel has shown its more humorous side when dealing with leaks. When the trailer for Marvel's Avengers: Age of Ultron was leaked a week before its official reveal, it uploaded the trailer a few hours later and tweeted this dry response.