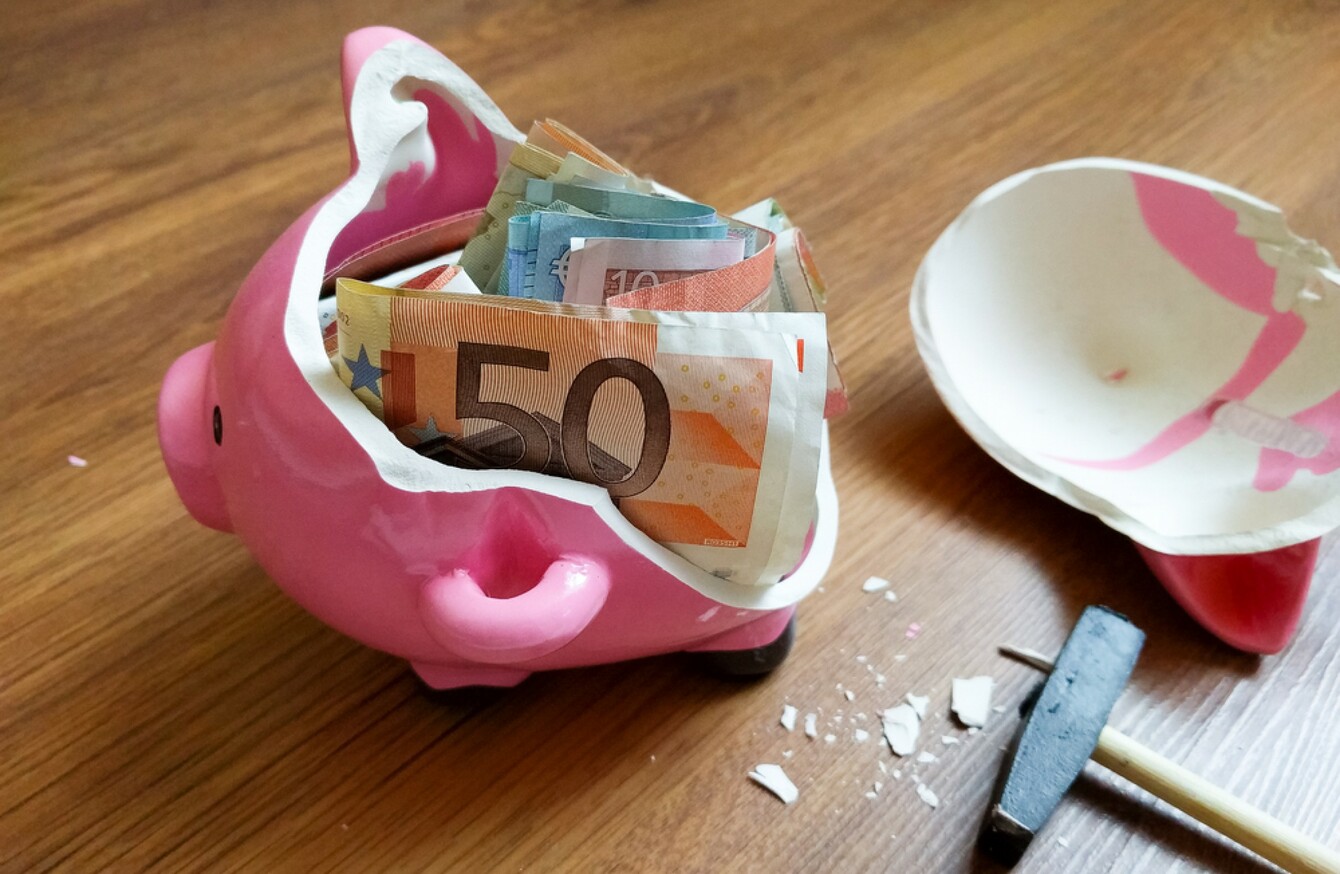 Don't expect a windfall Budget in October.
Image: Shutterstock/indukas
Don't expect a windfall Budget in October.
Image: Shutterstock/indukas
YOU'VE PROBABLY BEEN hearing a lot about the Summer Economic Statement today.
It all sounds like pretty boring stuff, but it does actually matter to our pockets.
So, what is the Summer Economic Statement?
What is actually being talked about is how much money the government has to spend in the next Budget – on the likes of new transport systems, better roads, and improved health services.
Don't get too excited though, there's not too much extra to play with this year.
During the recession, Budget Day wasn't exactly something to look forward to. This year, it also appears to be tight, with no windfall Budget expected.
How much extra money do we have to spend?
The new Finance and Public Expenditure Minister Paschal Donohoe said he has just €300 million more to spend on last year.
When this is added to items the government has already committed to spending money on, overall expenditure will increase by €2 billion. This means that in total spending will amount to around €60 billion.
What about taxes? Are they getting cut? 
Donohoe wasn't giving much away today and was pretty vague on the specifics. However, he did reiterate that the taxation system should reward those that work and said he was in favour of combining the Universal Social Charge and PRSI contributions.
Perhaps the biggest hint on income tax came from Junior Finance Minister Michael D'Arcy who said that hitting the higher tax bracket of 40% over €33,800 was a big issue for attracting businesses to Ireland in the context of Brexit, stating that it is something that will be looked at on Budget Day.
Are we spending any of the cash on BIG projects announced?
The minister remained tight-lipped about big projects like the Cork to Limerick road and Metro North, though he said he was aware of the speculation.
As of yet, he has not made choices as to what the next big projects should be, but said long-term planning is needed. The government hasn't had to deal with this problem for a number of years, due to the lack of funds.
"The time-frame to deliver these projects is long… Delivering new projects like the Metro is an eight to nine-year project," he said, stating that the planning and procurement process can take years.
For this reason, he said a ten-year capital spending plan will be announced in November.
How's the economy doing and what about jobs? 
The Irish economy is growing at a healthy pace, according to Donohoe.
In terms of jobs, he expects the economy to deliver an additional 50,000 jobs next year.
However, the minister said Ireland could reach a point where there is more work than there is people to do it, which could result in further progress slowing down due to such a labour market.
The economy is projected to grow by 3.7% in 2018. He said tax receipts were higher in the second half of last year, but he is not expecting that to be the case this year.
What about Brexit? Have they thought about that? 
"We live in an increasingly uncertain world and must plan accordingly," Donohoe told reporters today. He said this is why they will be establishing the 'rainy day fund'.
This is another term you have probably heard bandied around, but we're not actually going to start saving money for a rainy day until 2019.
The government have also decided not to save as much money in the 'rainy day fund' as it previously committed to.
The former Finance Minister Michael Noonan said it should put €1 billion in the bank.
However, today Minister Paschal Donohoe committed to putting just €500 million each year from 2019 into the fund, half of the amount which had previously been indicated.
But Donohoe defended the fund, stating that other countries have similar "fiscal buffers".
Fianna Fáil have criticised the government for not taking the challenges facing Ireland seriously enough.
Any more details of tax cuts and spending? Well, we'll have to wait until October.