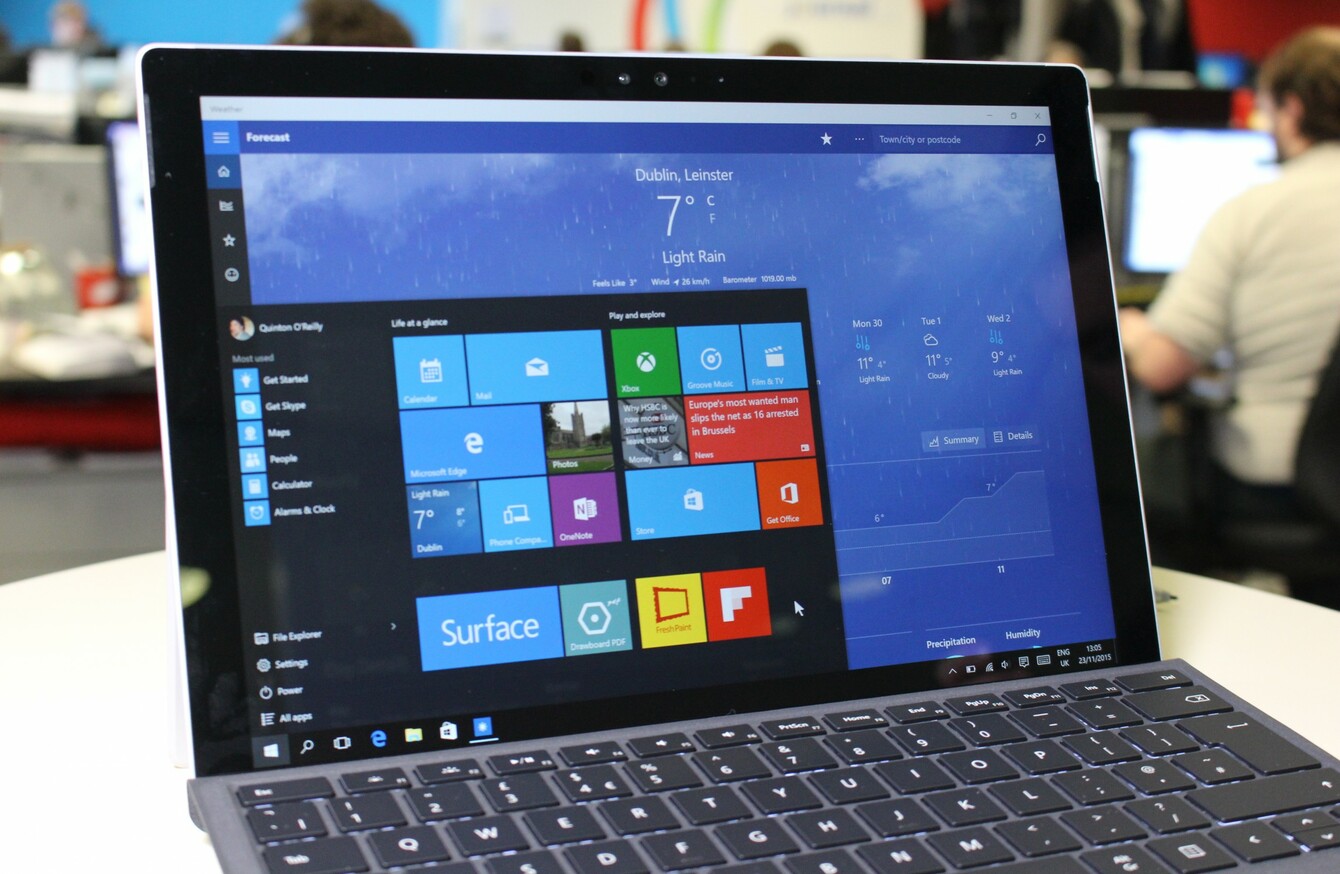 Score: 8.25/10
Verdict: Microsoft moves that bit closer to the ideal laptop/tablet hybrid, and it's now matching the experience of traditional laptops.
HOW MANY PEOPLE would have given Microsoft's first Surface a chance? It's worth thinking about because when it arrived, you would have been forgiven for thinking Microsoft had backed the wrong horse.
Tablets and laptops were entirely different beasts and to combine the two would mean compromises on both ends, and there were compromises.
Fast forward three years later and things are different. Tablets have diminished in popularity, laptops still hold onto their advantage and other companies like Apple and Google have adopted the hybrid idea in some form.
During all of this, the Surface range edges closer to an ideal middle-ground between the two. It's closer to that ideal thanks to the release of the Pro 4, a device that manages to fix most of its predecessors' flaws.
Each release has brought it closer to it fulfilling its promise of replacing your laptop and this time, it could actually fulfill it.
Refinement, refinement, refinement
Regarding looks, Microsoft hasn't changed a whole lot in comparison to the Pro 3. It's ever so slightly lighter this time although you'd be hard-pressed to notice the difference between the two. They were light to begin with and carrying one around is just the same as any regular tablet.
The Pro 4 does remove the standard Windows button that came with every version so far. While it made sense for Windows 8 and 8.1, Windows 10 doesn't need it, and its removal allows it to increase the screen size from 10.8-inches to 12.3-inches.
The ports, or lack of, is a bit of an issue. Only one USB port is a bit frustrating if you're the type of person who plugs in numerous peripherals, in which case you'll have to invest in a Surface Dock, a smaller block this time instead of the quite large stand for the Surface Pro 3 (one that didn't really make sense considering how the Surface already had a capable stand to begin with).
The kickstand can be adjusted to almost any angle, you can push it nearly upright if you really wanted to, and getting the right angle only takes a moment
Once you do, it's comfortable to use and the differences between it and a normal laptop are too small to notice, it's just as much at home on a desk as it is on your lap.
The charger port is also a bit awkwardly placed. Located at the bottom right-hand corner, it just a bit awkward as the cable travels down parallel to the side instead of perpendicular, meaning you will sometimes have to adjust it (or pop it back into the power slot) anytime you put it down on a desk.
Despite that, it's improved in all the right places. The type cover has seen a much-needed upgrade and while it's does still feel a tad flimsy – which can't be helped considering it's a cover – it's the closest Microsoft is to replicating a traditional keyboard.
It might not look like that from first glance, but when you start working, it really shows. Keys pop out more instead of being flat and it really helps with typing feedback.
One of the more frustrating elements of previous type covers was the margin for error when using the trackpad because it was small and located left of centre. Now, the increased size, its centralised position and glass cover solves many of its problems, bringing a smoother and more accurate experience.
(On a related note, if you already own a Pro 3, it's worth buying the Pro 4 type cover as it is a serious improvement.)
The major drawback to the type cover is it's still a separate purchase. This is genuinely frustrating as you would have hoped by now, Microsoft would include the type cover in the purchasing price instead of treating it as an add-on. Maybe it will in future, but you'll be adding another €155 to the price tag below.
The other improvement comes from the Surface Pen, which is included and can be attached to the side of the Pro 4. In comparison to previous versions, it now feels like a good addition to your workload instead of being a gimmicky extra.
Microsoft says the pen now has 1,024 levels of pressure sensitivity and you do feel it. It doesn't feel like you're hitting two solid objects together but closer to the feel of pen to paper.
The end acts as an eraser, meaning you can undo actions or erase specific parts if you wish. It's handier for quick notes but it's better to have the option in the first place.
Face to face
Since Windows 10 has been around for a couple of months now, the first devices with Windows Hello, which unlocking your device by scanning your face, iris or fingerprint, have arrived.
In this case, it comes in the form of an infrared lens, a regular lens and a 3D lens that searches for your face. In practice, it's surprisingly quick at recognising faces and you can add additional steps if it makes you feel more comfortable using it.
While we couldn't test it with similarly looking people, other tests seem to indicate that it's not easily fooled, and it won't mistake someone else for you.
You do have to be looking directly at it for it to work so the angle when having it perched on your lap is different to having it on a desk, but at least it's light so worst case scenario, you can just lift it for a moment so you get it right.
As for Windows 10, it's the same as it ever was, which isn't surprising considering it's only a few months old. Edge is lightweight and fast, but you'll likely opt for Chrome until it gets plugins, the marriage between the Start button and Windows apps still needs a bit of time before it gels together, but overall the logic behind it is better.
In fact, the Pro 4 better suited to Windows 10 purely because it's not forcing a tablet mode on you. It's learnt its lessons from Windows 8 and is all the better for it.
Microsoft's own products like Word, Excel and OneNote are in their element here, but even outside of that, most desktop programs run pretty well.
Under the hood
If you're comparing it directly to the Pro 3, there isn't a massive difference unless you look for them. When it comes to dealing with multimedia work like creating 3D models, you'll notice the extra improvements, but as a laptop, it's probably closer to the Macbook Air regarding specs.
The starting version has 128GB space, an Intel Core m3 and 4GB of RAM, but you can upgrade to 512GB storage, an Intel Core i7 and 16GB of RAM.
The starting version is nothing fancy, but it's enough to handle core tasks and to its credit, Windows 10 does run smoothly on less powerful devices. If you want to do more, however, you're better off looking at the Intel Core i5 and i7 versions first.
The speakers and screen quality is great for watching TV and movies; the sound quality in particular is loud and clear thanks to a dual, front-facing setup and the 3:2 ratio suits the likes of Netflix.
Despite the many improvements, the biggest disappointment is the battery life. Through mixed use (web browsing, working, and listening to Spotify in the background), you can expect in and around seven hours. It's not terrible, but it's one thing that most traditional laptops still have an advantage over.
While they won't be used that often, both cameras are surprisingly good. The rear end 8MP camera is sharp enough for standard photos while the front facing 5MP is good enough for Skype calls.
Should you buy one?
Despite the minor gripes, this is the closest Microsoft has come to creating a successful laptop/tablet hybrid. The devices were great once you got over the caveats but the Pro 4 puts forward a much stronger case.
Unless you're into gaming in some form, then this is certainly the first true contender for replacing your laptop. Part of that is down to Windows 10 being more accommodating to desktop users, but some good design choices help too.
Will it replace your laptop entirely? Well, that depends on what your priorities are. As a work device, its versatility and software makes it a great option to have but most importantly, you won't feel like you're missing out when you're using it instead of a regular laptop.
That's probably the biggest compliment you could give the Pro 4, and considering what it's been building towards, it's not a bad one to receive. Just don't settle for the basic version.
Pros
- Good specs even with the cheapest option.
- Surface Pen is now a joy to use.
- Comes the closest to replicating the feel of a traditional laptop.
Cons
- Battery life could be better.
- Type cover is still a separate purchase.
- Higher starting price point compared to traditional laptops.
The Surface Pro 4 starts at €1,029 and is available on Microsoft Store, PC World, Currys, and Harvey Norman.