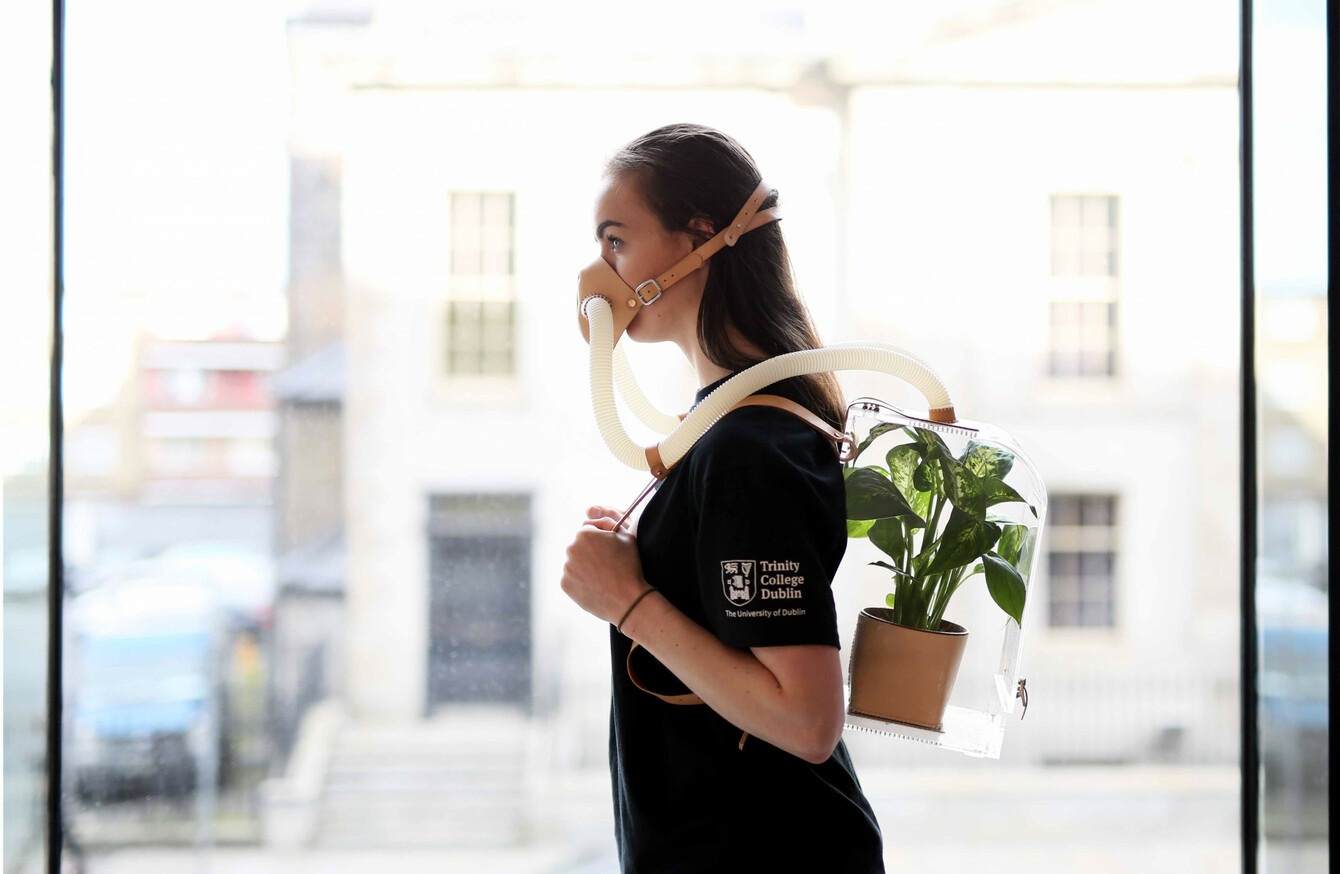 A plant breathing apparatus - one of the exhibitions on display as part of In Case of an Emergency.
Image: Mark Stedman via RollingNews.ie
A plant breathing apparatus - one of the exhibitions on display as part of In Case of an Emergency.
Image: Mark Stedman via RollingNews.ie
HOW WILL THE world end? With a bang or in a ball of flames? Nuclear disaster or a natural disaster? A quick demise or a slow phasing out of humankind?
Those are the questions asked at the Dublin Science Gallery's latest exhibition In Case of Emergency – a thoughtful, striking unique look at our demise and all the different ways it can happen.
It includes a series of guides on how to build tools to help you survive in the wild, a probing group of paintings that look at the species we have lost in the past two centuries, an experiment which reinvents mining for a more sustainable future, and the Situation Room, which is a lot of fun for people who love to debate.
Then there's the exhibition New Survivalism, which looks at the different things a person might need in an apocalyptic scenario.
The artist, Jessica Charlesworth, told TheJournal.ie that a survival kit can be an "embodiment of your hopes and fears" and that it doesn't have to be about the first level of survival.
"In a post-apocalyptic society, what happens to our philosophic and psychological needs?" she asks.
The exhibition sets aside a limited set of objects to embody their owners core values and needs that can be used as a "comfort blanket for their uncertain future".
So – which one would you be?
Option 1: The Re-Wilder
This is your average Action Man type, who wants "to return to the hunter-gatherer lifestyle".
A sample extract from this survivor's diary says:
"'Lifestyle.' Pah! It's not a lifestyle. It's nature. It's how life's meant to be lived. We've just been led astray.
"I'm turning technology against itself. Using it to wean myself off. Going feral."
The items laid out are all about enhancing this person's physicality – there's a follicle-growing supplement to help retain body heat, steroids, and gadgets to strengthen various parts of the body.
In essence, it's the survival of the fittest put into practice.
Option 2: The Biophotovoltaics Hacktivist
A solar-powered apothecary box is the main tool of this survivor, who's a fusion of scientist, environmentalist, and a health food shop owner.
"The photosystem protein was a bit of a hassle to extract from grass clippings," the Hacktivist writes.
"Pulverising them, straining through cheesecloth, adding detergent, whirling them around in the centrifuge."
But it's not just the self-sustaining talents that are important here, but this survivor's possible ability to heal others.
"I've got enough chemicals here to power a village. And when the grid shuts off, I have a feeling I'll be in demand."
Option 3: The Object Guardian
This survivor is a culture nut. Collecting artefacts, oral histories, and documenting dates and times of events in the world (from what is left of it) is what keeps this person going.
There is a dismissive air about this option, because it's not very practical, but in a world's end situation and society left to be rebuilt, a broad range of talents would be needed.
"Trying to memorise just some of them seemed ridiculous, but what if I'm the only one left to remember? Sure, they've got their Integrated Emergency Management plan all tied up, but who is the real guardian? Who is taking the memories of these artefacts to the people, when people can no longer come to them?"
Options 4, 5, and 6
There are three other survival kits that aren't on display at the Science Gallery, but the artist Charlesworth gave us a quick run-though (in case you don't fancy your survival chances with the above options).
The Decision-maker: This person's survival kit is a jacket with lots of different decision-making tools. "But the main problem with the decision making jacket is you still have to choose a tool to help make your decision," the artist says.
There are business tools, a fortuneteller cards and other items to help make decisions.
The Futurist Storyteller: This is like a Dungeons and Dragons/World of Warcraft type kit that helps you plot out your future. There's a series of maps and mathematical tools to help map out your own destiny.
The SETI Reserves Member: This is about the search for extra terrestrials even when electricity stops. This group of survivors would gather together and try to build a satellite to communicate with other life forms. "This one's a bit crazy," Charlesworth says.
So, do you know which one you'd be?
Find out more on the Science Gallery's website here, or read more about this particular instalment here.