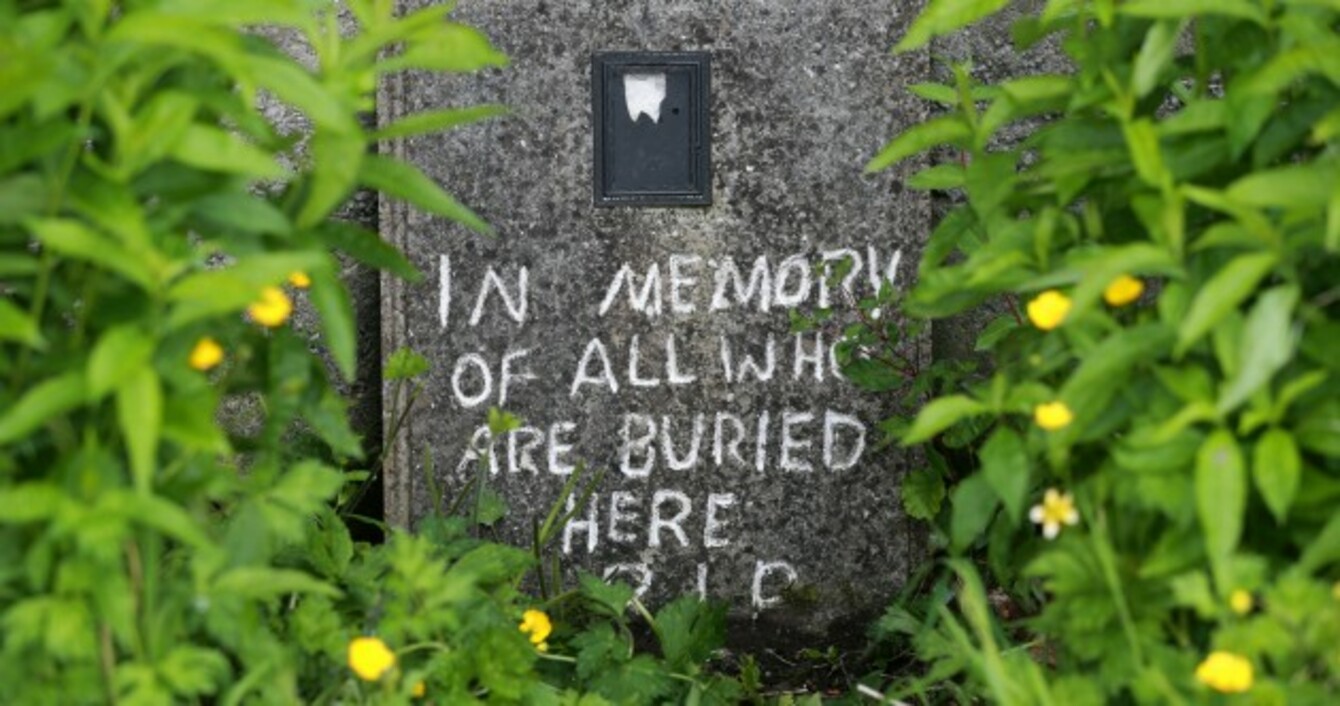 A memorial stone at the mother-and-baby home in Tuam.
Image: Laura Hutton/Photocall Ireland
A memorial stone at the mother-and-baby home in Tuam.
Image: Laura Hutton/Photocall Ireland
CHILDREN'S MINISTER CHARLIE Flanagan has been advised that the Commission of Investigation being set up to examine mother-and-baby homes may need to examine over 100 institutions.
Flanagan held a meeting with a number of groups campaigning on behalf of survivors today, as the Government continues its interdepartmental review of information spanning a number of Departments.
It's expected the Commission, set up in wake of the recent scandal over the mother-and-baby home in Tuam, will be established before the summer recess.
"We've come up with a list of around 100 institutions,"  Susan Lohan of the Adoption Rights Alliance told TheJournal.ie following their meeting today.
That would be including, but not limited to, county homes, mother-and-baby homes, Magdalene Laundries, private nursing homes, hospitals, mental institutions, and really very small mother-and-baby homes that would otherwise slip through the radar.
"I got the impression he was relieved that our initial estimates were putting it at a figure of about 100."
Along with the ARA, representatives of the 'First Mothers' group also met with the Minsiter this morning. Sean Lucey, a historian from Queens University and an expert on the county homes, also attended — as did Katherine O'Donnell, a senior lecturer in Women's Studies in UCD and an advisor to the Justice For Magdalenes group.
Survivors of the Bethany Home and other Protestant-run institutions attended a later meeting with Flanagan, at midday.
'Rocky start'
Lohan said the meeting had got off to a "rocky start" as the campaigners briefed Flanagan on meetings they held with Stormont politicians last week on opening the planned probe up into a cross-border investigation.
"The Minister was a little dismissive of that and didn't want to talk about it because he didn't have any jurisdiction there.
But we would urge him, and politicians both sides of the border, to look at the Good Friday Agreement and see what scope there is for taking a 32-county approach to some aspects of this.
Regarding the inclusion of the county homes in the probe, Lohan said "the minister didn't say 'no' but he was at pains to suggest that this would be an independent Commission of Inquiry".
I think he might have been taken aback when we said the starting point for the inquiry should be the foundation of the state in 1922.
'Learning curve'
Lohan said the group was "still in a learning curve as well" on the matter of how many institutions should be included, and stressed the need for an appropriate publicity campaign to encourage survivors to come forward.
"We could name maybe seven really big mother-and-baby homes in Ireland," Lohan said.
There are probably victims out there who haven't spoken about their experiences.
"Let's start advertising in the media that this Commission wants to hear from people who had this type of experience… Forced adoption, incarceration, vaccine trials, medical experiments, forced labour, cruel and unusual punishment, withholding of adequate medical attention."
Lohan said care should be taken to ensure the media notices avoid an "adversarial" tone.
Protestant homes
Following their meeting with the Minister, campaigners representing survivors of the Bethany and other Protestant-run homes said they were broadly satisfied with the proceedings.
The Minister confirmed on the day the Commission was announced that the home, on Dublin's Orwell Road, would be included in the current process, and a campaign has been ongoing to have other Church of Ireland institutions examined too.
Niall Meehan, who chairs the Bethany Survivor's Campaign, said Flanagan had told them he was anxious to see the other homes, including the Westbank and Ovoca orphanages in Wicklow, included.
The Minister listened "with intent" to the testimony of former residents, Meehan said, and the meeting ended in a positive tone.
"Other protestant groups have been excluding like Bethany in the past. We don't want them to suffer the same kind of stress at being excluded as we did," Meehan told TheJournal.ie.
All of these institutions were related to the Bethany. All of them contained very young children.
#Open journalism No news is bad news Support The Journal

Your contributions will help us continue to deliver the stories that are important to you

Support us now
Speaking ahead of his meeting with the Minister, Meehan said there was a danger that the inquiry could be elongated "to such an extent that people start dying".
"Our oldest survivor was born in 1929. Many are in their 60s, 70s and 80s. If the inquiry goes on too long, they will simply die."
Response
In a statement released in the wake of today's meetings, Minister Flanagan acknowledged calls had been made "for the inclusion of a range of other institutions and concerns" in the weeks since the Commission was announced.
"These will be given consideration as part of the process underway," the statement said.
I am pleased to have an opportunity to meet with a number of advocacy groups as well as the Opposition spokespersons this week. Any submissions made to me during these consultative meetings, which are ongoing, will be fed into the process.
"I am working on an inclusive basis on this important initiative and I wish to see an effective Commission in place which will address these important matters on a sensitive and timely basis."
Flanagan is also meeting with religious leaders this week as part of the ongoing process.
His statement added:
Agreement on the terms of reference of the Commission is a matter for Government and it is my intention that the Oireachtas will agree the terms of reference under the Commission of Investigations Act 2004, before the summer recess.
An email address — motherandbabyhomes@dcya.gov.ie — was set up last week for people to make submissions on the terms of reference.
A deadline of next Monday at midday has been set for those wishing to submit their views.
Originally published 4.53pm