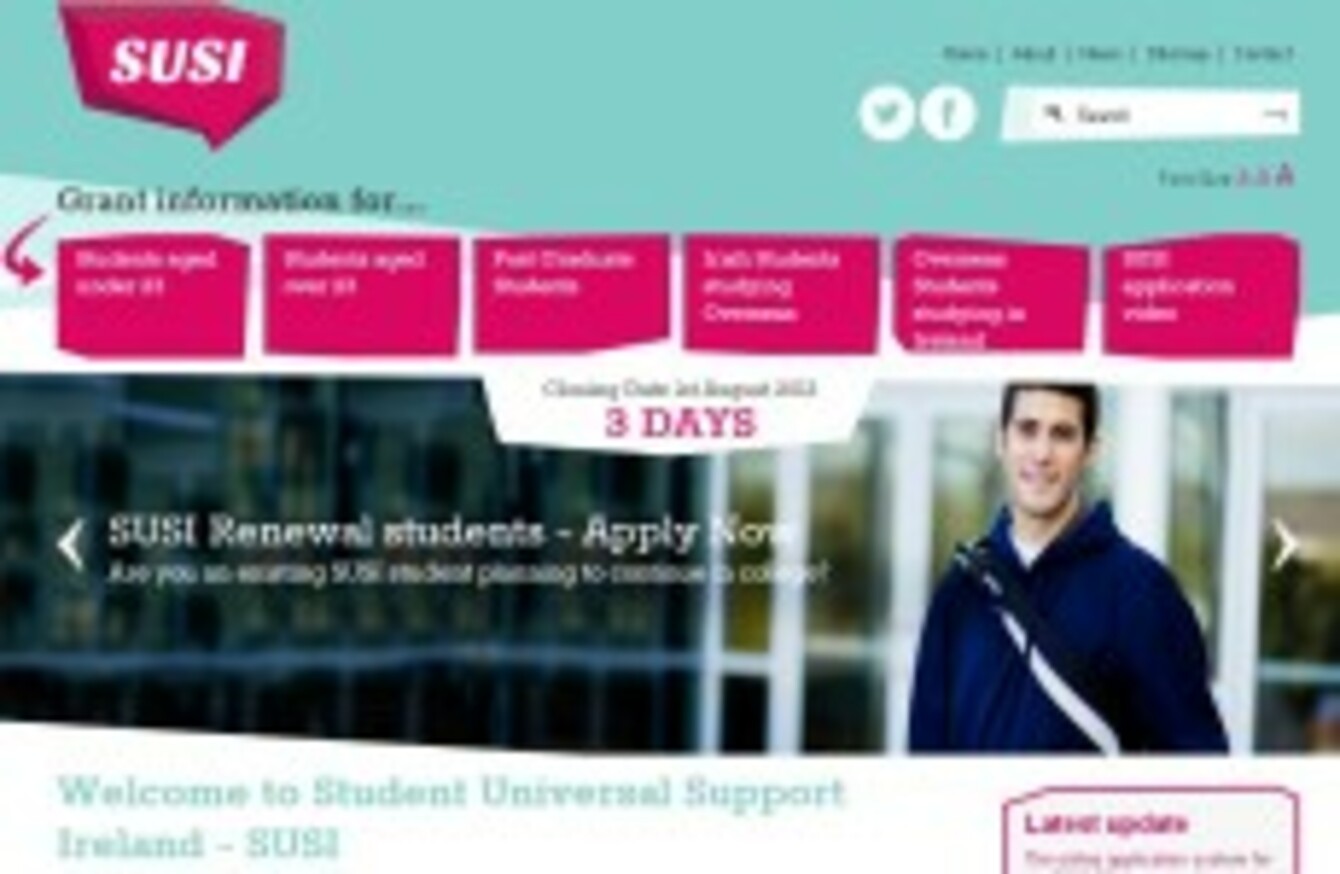 The SUSI website
The SUSI website
A NUMBER OF shortcomings were identified with the student grants system last year, but the head of operations at Student Universal Support Ireland (SUSI) said today that it has undergone improvement in many areas.
Alan Murphy, head of operations at SUSI, spoke to Morning Ireland today, and indicated that there is now less bureaucracy involved, as students don't have to submit as much documentation. He also said that applications submitted by a certain date will be prioritised.
Murphy said that there is a closing date for applications of 1 August which means that applications submitted by that date will be prioritised for being reviewed by SUSI, and have a good chance of being in a position to be awarded and in payment by the time the student returns to college in October.
He also said that when students have made their application they can track it using the SUSI site online, with no need to ring.
Documentation
"Significant" steps have been taken to reduce the amount of documents required from students, added Murphy, who said that SUSI has been engaging with government agencies to make sure they have direct links to get data from them.
He said that it seems that 20 per cent of applications this year only have to send in one piece of documentation to SUSI. There are also additional assessment staff in place this year, and at the present time SUSI's work is running ahead of the number of applications that it receives.
It has been given increased resources by the Minister of Education, so staff numbers are up from 65 to 88 full time equivalents, while there are 126 staff on the floor assessing applications, said Murphy.
If students miss the 1 August deadline, which is one of SUSI's published dates, their application won't be refused.
Students can check their eligibility online. Murphy also assured that what occurred last year – where many people were still waiting for the grant at Christmas time – won't happen this year.
He did state that at Christmas time last year, 30,000 out of the 40,000 grants awarded were already in payment, with 93 per cent of grants awarded by April.
In May, Education Minister Ruairí Quinn admitted the government 'got it wrong' with the way the students grant system was managed last year. He said that a comprehensive report into the failings at SUSI had identified some significant shortcomings.