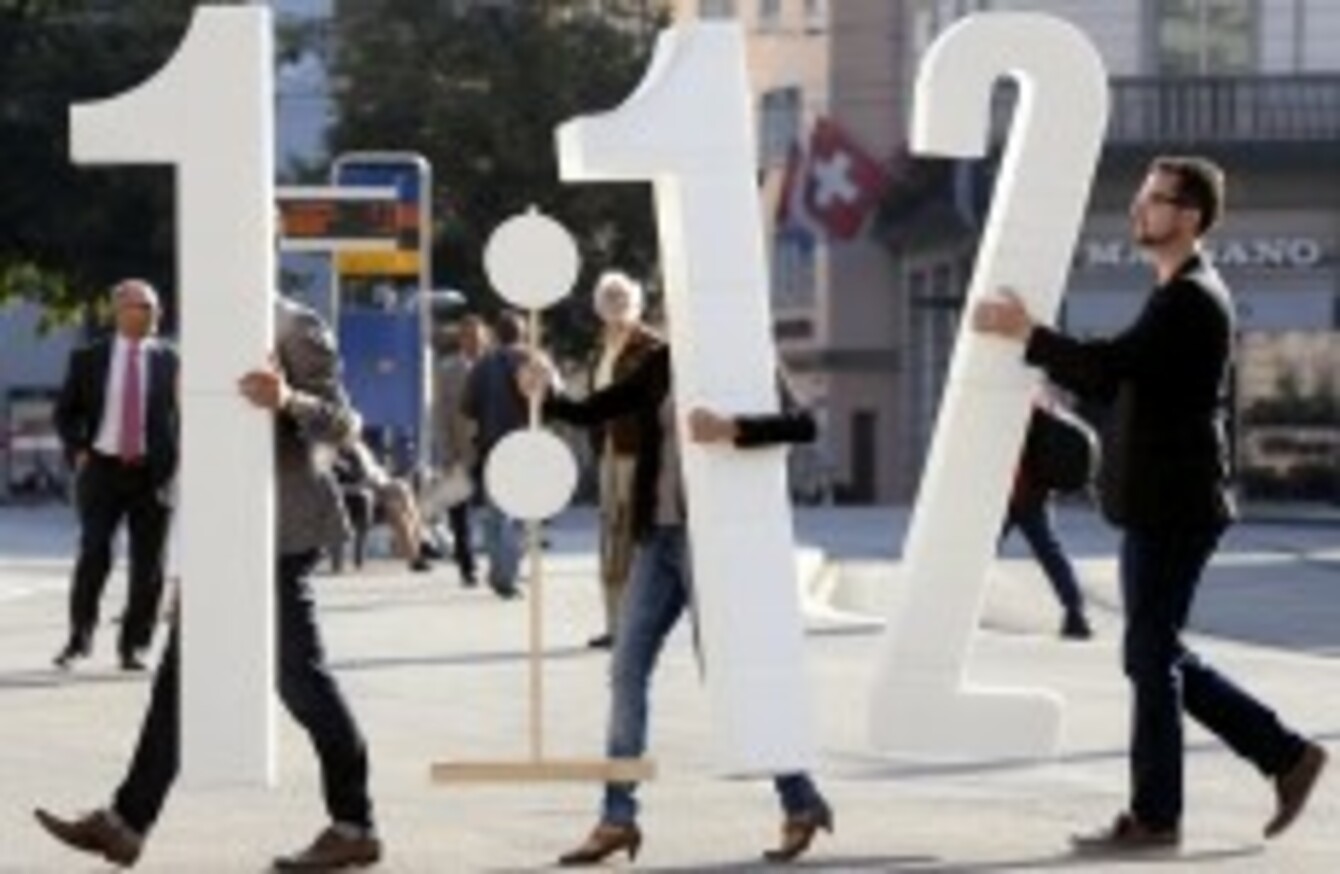 Members of the Unia workers union demonstrate in Zuric in support of the referendum.
Image: AP Photo/Keystone,Walter Bieri
Members of the Unia workers union demonstrate in Zuric in support of the referendum.
Image: AP Photo/Keystone,Walter Bieri
SWISS VOTERS HAVE massively rejected a proposal to cap executive pay at 12 times the wage of a firm's lowest earner, according to official referendum results yesterday.
Two thirds voted against the measure, which had been expected to fail in spite of widespread discontent at excessive pay for top bosses.
Dubbed the "1:12″ initiative after the legally-binding ratio it would have set between the top and bottom salaries in a firm, the plan met with stiff opposition from Switzerland's business community and political right.
Ahead of the vote, its critics issued stark warnings that inscribing salary restrictions into the law would make the wealthy Alpine nation less competitive and break with a Swiss tradition of limited official meddling in business.
In March the Swiss massively backed rules to rein in golden handshakes, amid a public outcry over high-profile severance payments.
"Shooting ourselves in the foot"
Christoph Darbellay, head of the centre-right Christian Democratic Party, told AFP that voting Yes would be tantamount to "shooting ourselves in the foot".
Switzerland's cross-party government had urged a No vote, saying a 1:12 law would dent tax revenues and scare off foreign firms.
Their message was heard as all of Switzerland's 26 cantons and a full 65.3 per cent of all voters rejected the initiative, according to final results released by public broadcaster RTS.
Swiss Economic Affairs Minister Johann Schneider-Ammann hailed the result, saying it would allow the Swiss economy to remain competitive.
But he urged big bosses to take note of the public outrage over some of their salaries, pointing out to reporters that "I do not appreciate the excessive salaries received by a handful of managers".
A banner in support of the referendum is fixed at the window of a house in Wildhaus (Image Credit: (AP Photo/Keystone,Arno Balzarini)
Switzerland has long boasted a business-friendly climate coupled with some of the highest average salaries in the world, and has largely avoided the economic crisis dogging the European Union, of which it is not a member.
The referendum campaign was spearheaded by the Socialist Party's youth wing, along with the Greens and trade unions.
They argued that it was time to clip the wings of the vastly overpaid, underlining that an informal ratio of around 1:12 was the norm as late as 1998, before things went awry.
The debate led to intense scrutiny of bosses' pay packets, which the 1:12 proponents said were an average 43 times higher in 2011 than those on the bottom of the ladder.
According to 2012 figures published by the campaigners, the then boss of pharmaceutical giant Novartis made 219 times the firm's lowest salary.
#Open journalism No news is bad news Support The Journal

Your contributions will help us continue to deliver the stories that are important to you

Support us now
At banking group UBS, the lowest-paid employee would have had to work 194 years to make the same amount the head of its investment bank earned in 12 months.
'Rip-off'
On Sunday, Swiss Socialist Youth chief David Roth acknowledged that "we did not manage to persuade people that the rip-off going on in companies' executive circles must end".
Under Switzerland's direct democratic system, campaigners can put any issue to a plebiscite by collecting more than 100,000 signatures.
Switzerland hosts a range of popular votes on national issues each year, grouped together on four different Sundays.
Two other federal initiatives were struck down in Sunday's vote, which saw a participation rate of 53.6 per cent, considered very high in Swiss referenda that usually fail to draw even half of eligible voters.