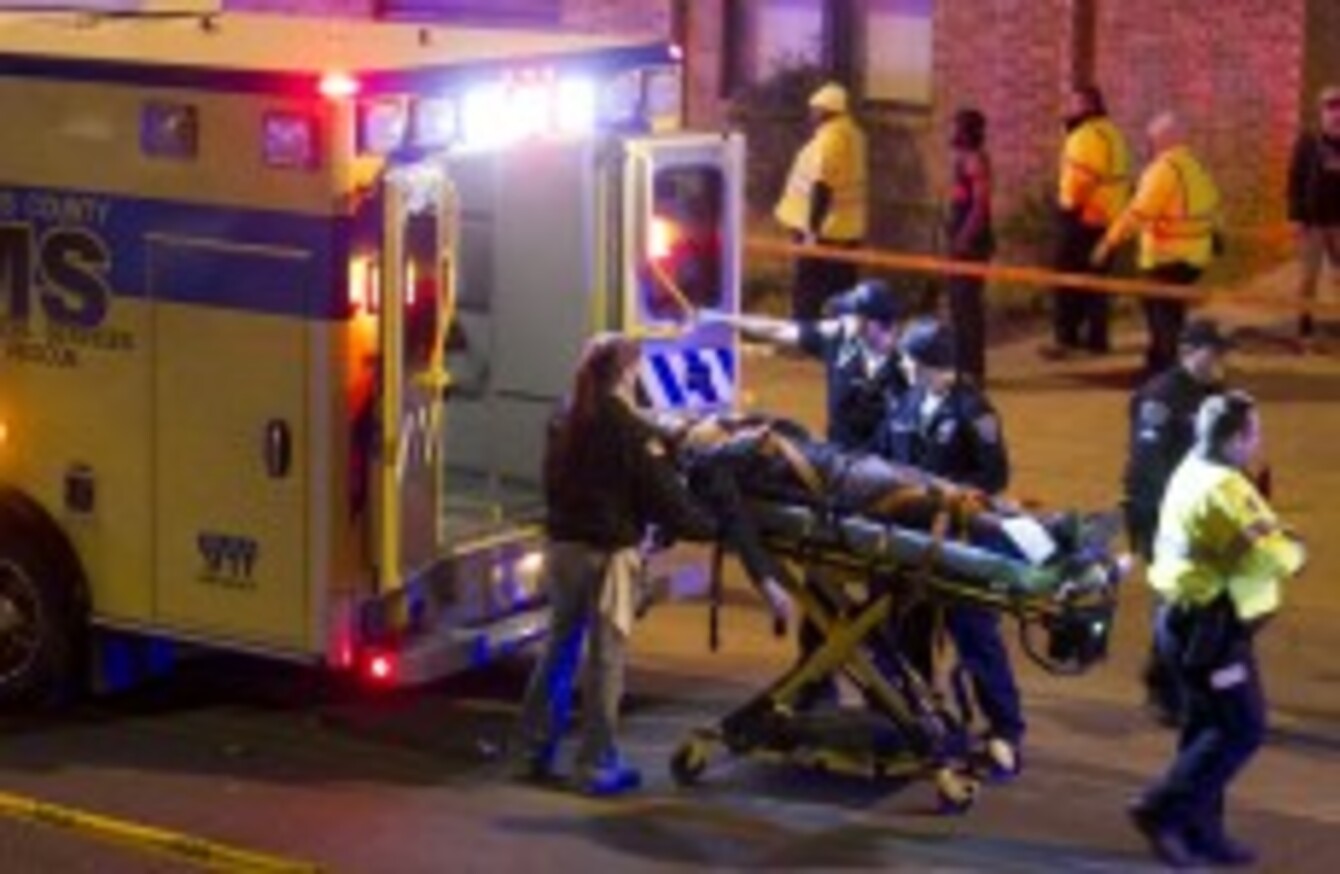 Image: (AP Photo/Austin American-Statesman, Jay Janner)
Image: (AP Photo/Austin American-Statesman, Jay Janner)
A MAN AND woman were killed in the early hours of this morning at the South By Southwest festival in Austin, Texas.
Austin-Travis County Emergency Medical Services said they received a call at about 12.30am (local time) after a car sped through a barricade outside the venue.
Two people were pronounced dead at the scene with a further 25 transported to hospital within 50 minutes. Five were described as being in a critical condition, another five serious and 13 with minimal injuries.
Of the five critical patients, one had CPR performed and medics obtained a return of pulses.
According to reports, the car was being driven by a man suspected of being over the alcohol limit.
(AP Photo/Austin American-Statesman, Jay Janner)
Austin Police Chief Art Acevedo said the driver was trying to evade a pursuing police officer. The two people who died were on a moped that the motorist hit. The chief said the man also hit pedestrians in front of a club that was emptying.
Acevedo told reporters during a news conference that the motorist also struck a cab before crashing, jumping out of his car and trying to run. A pursuing officer shocked him with a stun gun and took him into custody.
The man, whose name was not released, faces two counts of capital murder and 23 counts of aggravated assault with a vehicle.
The accident stunned those attending the annual music, film and interactive conference that draws tens of thousands to Austin each year.
The street was full of concert-goers just minutes earlier, but officials had cleared the area because it is a fire lane.
"We had a large crowd," Acevedo said.
I just thank God that a lot of the folks had already been pushed on the sidewalk or this could have been a lot worse.
Acevedo did not identify the driver or the victims and asked witnesses and those who may have taken video to contact police rather than post it to the Internet.
Background
Police said the man pulled into a nearby gas station in a silver Toyota sedan after an officer working a drunken-driving patrol tried to stop him. He wove his way through a series of parked cars, then took off at high speed the wrong way down a one-way street. He took a right turn on Red River Street, crashing through a barricade and narrowly missing a police officer who was standing guard.
He hit some of the victims in front of The Mohawk, a local club hosting Spin events during the five-day music conference. He continued down the street where he struck and killed the two victims on the moped and then hit the cab before finally crashing.
Reporting by Associated Press