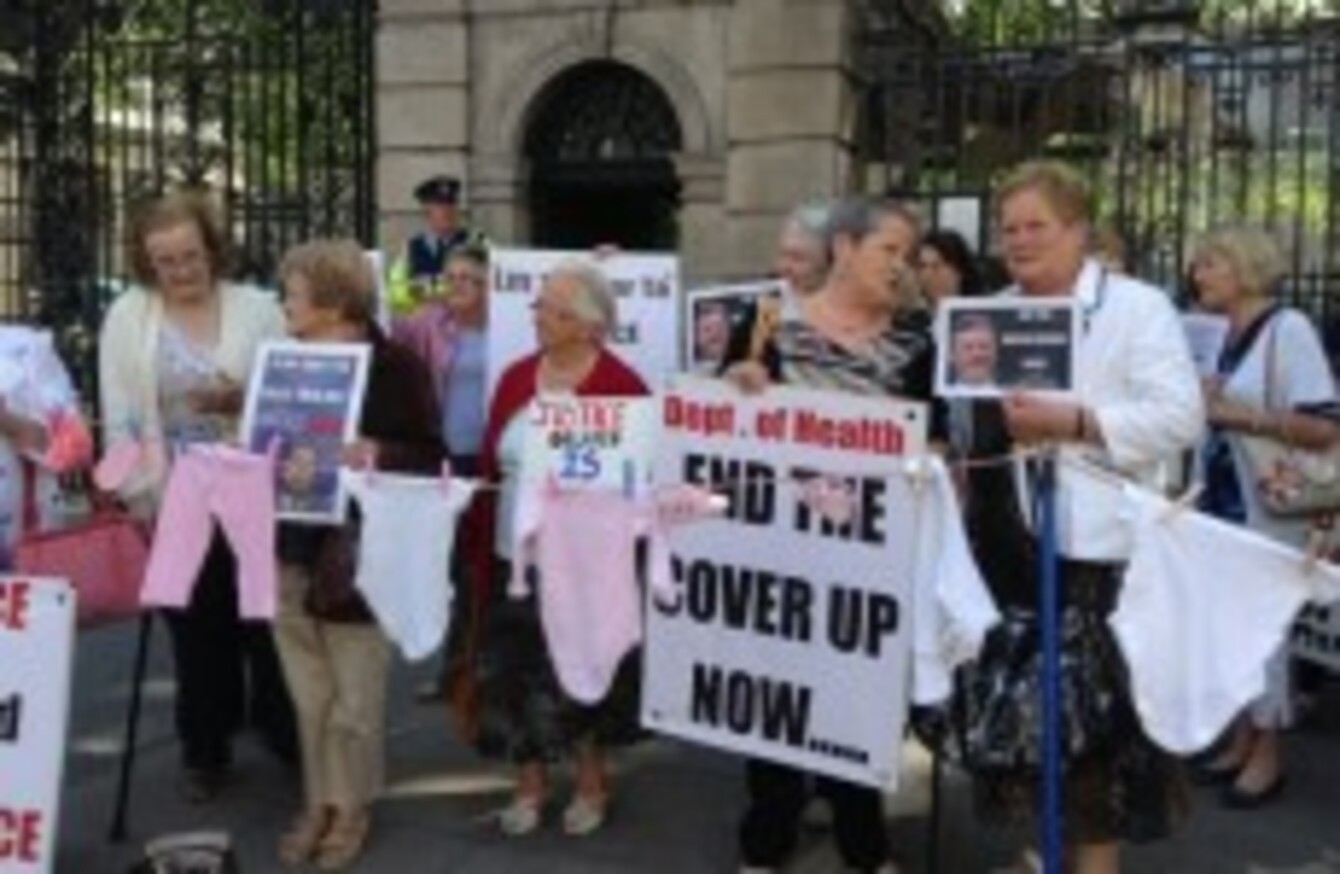 A 'Survivors of Symphysiotomy' protest outside Leinster House.
Image: Sinéad O'Carroll/TheJournal.ie
A 'Survivors of Symphysiotomy' protest outside Leinster House.
Image: Sinéad O'Carroll/TheJournal.ie
SURVIVORS OF SYMPHYSIOTOMY have said they will not be cooperating with any Magdalene type redress scheme following a meeting with Health Minister James Reilly today.
Some 25 people from three different groups met with Reilly at his department today for almost two hours. A spokesperson for the minister told TheJournal.ie that the meeting was "powerful" as many of the women spoke of their "very traumatic experiences".
"The minister made it very clear that it is his view, and the government's view, that we want to work in earnest and quickly to resolve this issue", they said. They added that there was a two-track approach – one was following the legal route and the other would involve funding from the state.
However speaking after the meeting, chairperson of Survivors of Symphysiotomy, Marie O'Connor said that the women involved have seen how Bethany home survivors "have been shafted" and they don't want to go down that route.
"At no stage during today's meeting did Minister Reilly condemn the practice of symphysiotomy," she said.
Matilda Beehan, who had a symphysiotomy operation performed on her without consent in Holles Street in 1959 also said she doesn't think that the minister has "acknowledged openly that a wrong has been committed".
"You want to deal with this issue, and the first step is to acknowledge that the operations were wrong", she said. "In the end I am not just the victim, my family has suffered as well, I can never forgive them."
Statute of Limitations
O'Connor also said that the minister gave no firm commitments to meet the group's demands for a negotiated just and fair settlement or the lifting of the Statute of Limitations. The group wants the statute lifted to allow them rapid access to the courts to seek justice.
Reilly's spokesperson said that he was "absolutely empathetic" to the stories he listened to and that he "expressed an incredulity as to why these things were sometimes done". However they said that there are "real difficulties" as regards the lifting of the Statute of Limitations and that theminister conveyed this to the women at the meeting.
"Having said that, he did say he would write to the attorney general to see if there is any way it could be lifted," they added.
The minister also suggested a negotiated mediation by a judge rather than litigation as a possible solution that could save time and money. This was welcomed by the other two groups attending the meeting, Patient Focus and SOS Ltd this evening.
"Patient Focus and SOS Ltd believe such a process could be less traumatic and time consuming for the injured women enabling them to find some closure and move on with their lives," the groups said in a joint statement.
It is expected that the long-awaited report on the outdated surgical procedure will be published in late Autumn.