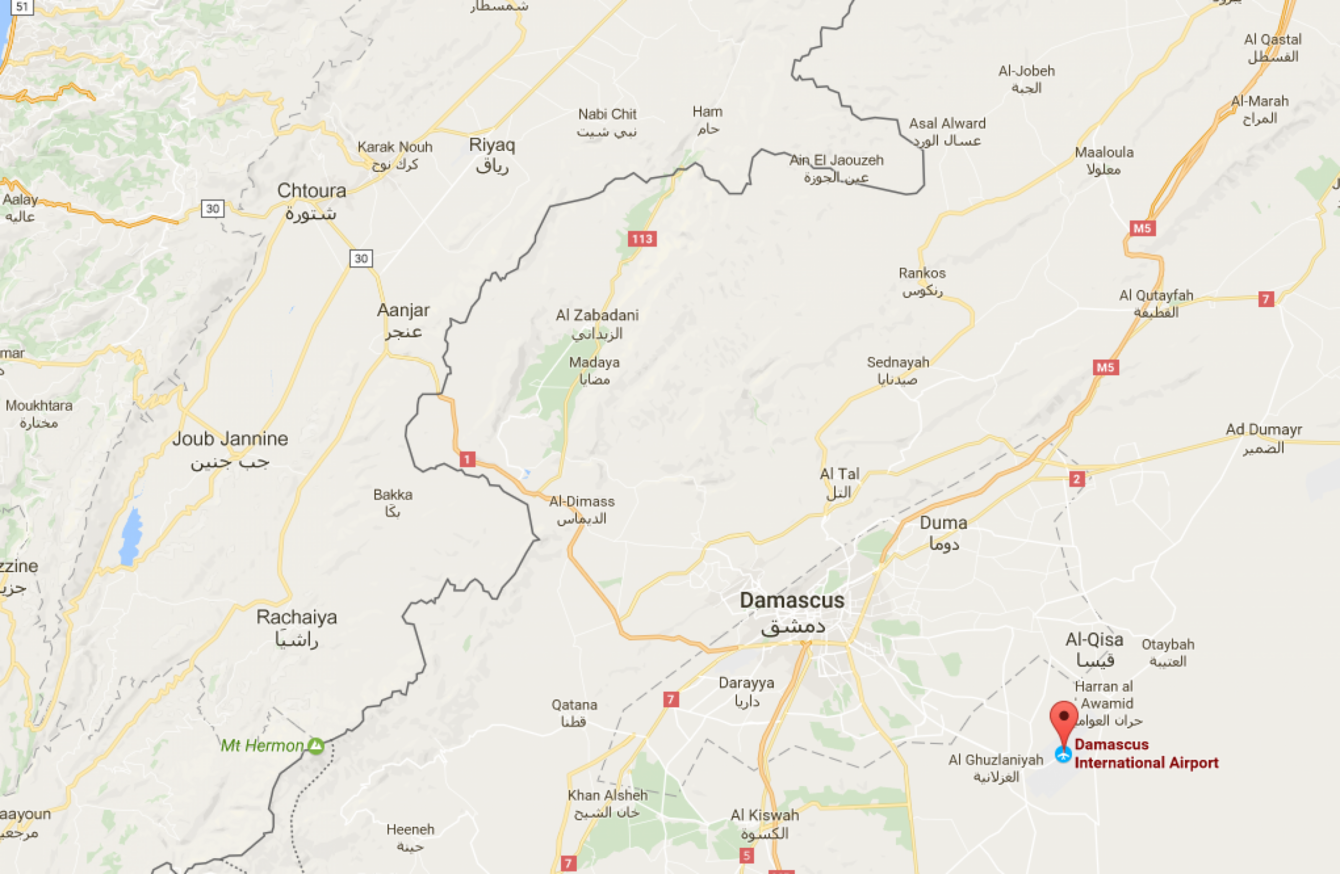 A MASSIVE EXPLOSION struck near Damascus International Airport this morning setting off large fires, a monitoring group said, without specifying the cause.
The blast was outside the airport itself. It was not immediately clear whether it was the result of an air strike or a ground attack, the Syrian Observatory for Human Rights said.
Israeli warplanes have hit the airport and other bases around the capital in the past, targeting what it said were weapons stockpiles of its Lebanese foe Hezbollah, which is allied with the Syrian government.
Hezbollah's Al-Manar television said the explosion was "probably" caused by an Israeli air strike.
"The blast was huge," Observatory chief Rami Abdel Rahman told AFP.
It's unclear what caused the explosion but there are fires raging at the site.
Al-Manar said the strike caused only material damage.
"Al-Manar's correspondent reported that an explosion struck at dawn on Thursday in fuel tanks and a warehouse near Damascus International Airport and that it was probably the result of an Israeli strike," the channel said.
Air strikes 
The airport lies about 25 kilometres southeast of the capital.
It was hit by Israeli air strikes in December 2014, Syrian state media reported at the time.
Israel does not usually confirm or deny each individual raid it carries out.
But last month, it said it had carried out several strikes near the Syrian desert city of Palmyra, targeting what it said were "advanced weapons" belonging to Hezbollah.
The strikes prompted Syria to launch retaliatory ground to air missiles, one of which was intercepted over Israeli territory in the most serious flare-up between the two neighbours since the Syrian civil war began six years ago.
Israeli Defence Minister Avigdor Lieberman threatened to destroy Syrian air defence systems if they were used again.
On January 13, Syria accused Israel of bombing Mazzeh air base in the western suburbs of the capital. There were several strikes near the same base last year.
In April 2016,  Prime Minister of Israel Benjamin Netanyahu admitted for the first time that Israel had attacked dozens of convoys in Syria that he said were transporting weapons destined for Hezbollah.
Israel and Syria are still technically at war, though the armistice line had remained largely quiet for decades until 2011 when the Syrian conflict began.
Israel and Hezbollah fought a devastating 34-day war in 2006 which killed 1,200 people in Lebanon, mainly civilians, and 160 Israelis, mostly soldiers.