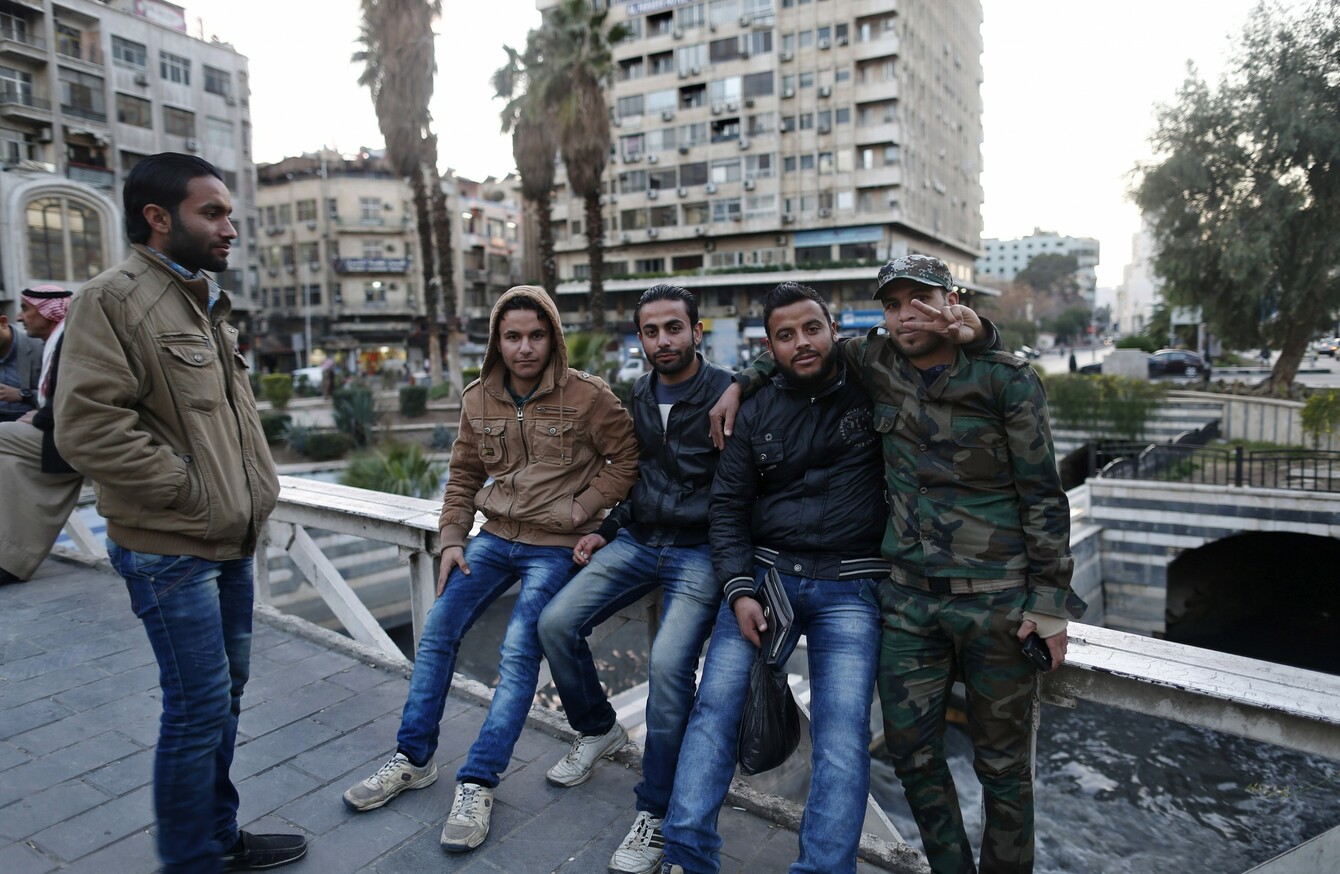 File photo: Syrian men pose for a picture as they gather in the Marjeh square in Damascus.
Image: Associated Press
File photo: Syrian men pose for a picture as they gather in the Marjeh square in Damascus.
Image: Associated Press
FIGHTING HAS SUBSIDED across much of Syria today as the first major ceasefire of the five-year war takes hold and an international task force prepares to begin monitoring the landmark truce.
Guns fell silent at midnight in suburbs around the capital and the bomb-scarred northern city of Aleppo after a day of intense Russian air strikes on rebel bastions.
State media said "terrorist groups" fired a number of shells at residential neighbourhoods in Damascus, but it did not report any casualties and appeared to play down the attack.
Rebels also accused the government of intermittent "truce violations" in parts of the country.
The nationwide cessation of hostilities, brokered by Washington and Moscow, is seen as a crucial but fragile step towards ending a war that has claimed 270,000 lives and displaced more than half the population.
It faces formidable challenges including the exclusion of the Islamic State (IS) jihadist group and Al-Qaeda's Syria affiliate Al-Nusra Front which control large parts of the country.
"Honestly, I was surprised that the calm lasted through the night," said Ammar al-Rai, a 22-year-old medical student in Damascus.
I think this is the first time we've woken up without the sound of shelling.
United Nations envoy Staffan de Mistura said peace talks would resume on 7 March if the truce holds and more aid is delivered – a key sticking point in negotiations.
The special task force is due to meet in Geneva today to oversee developments.
Its co-chairs Moscow and Washington have set up rival offices to monitor the truce along with a UN operations centre and would be first to deal with any infractions.
De Mistura said it was important that any incidents are "quickly brought under control" and a military response should be the "last resort".
Russia, which has waged nearly five months of intense air strikes against rebels in support of Syrian President Bashar al-Assad, said it had halted bombing in all areas covered by the truce.
Moscow has vowed to keep striking IS, Al-Nusra and other "terrorist groups", but said its warplanes would not fly any sorties over Syria on the first day of the ceasefire to avoid potential "mistakes".
Visits to parks
Calm held throughout the night in Aleppo, Syria's second city which has been almost encircled by pro-regime troops after a massive Russian-backed offensive that has caused tens of thousands to flee.
Residents said they were considering taking their children on a normally unthinkable visit to the park.
"I hope the truce continues even for a limited time so we can get back part of our old lives from before the war," said Abu Nadim, who lives in Aleppo with his wife and four children.
In the flashpoint rebel town of Daraya, west of Damascus, the local council said there was no shelling this morning.
The Syrian Observatory for Human Rights, a Britain-based monitoring group, said it was also relatively quiet in the central provinces of Homs and Hama.
But fighting continued in areas where IS and Al-Nusra are present, including in the patchwork of territory in Aleppo province.
Twin suicide bombings killed six people outside the town of Salamiyeh in Hama province, where IS is present, state news agency SANA reported.
The jihadist group also launched an attack on Tal Abyad in Raqa province, clashing with the Kurdish People's Protection Units (YPG) there.
A US-led coalition targeted the town with air strikes in an attempt to push back IS, according to the Observatory.
#Open journalism No news is bad news Support The Journal

Your contributions will help us continue to deliver the stories that are important to you

Support us now
Scepticism remains
The complexities of a conflict which escalated from anti-government protests into a full-blown war drawing in rival world powers make brokering a lasting halt to the fighting a huge challenge.
Assad has been bolstered by the support of Russia and Iran while the West, Turkey and Gulf states back rebel groups.
"I'm extremely sceptical about the chances of the ceasefire holding, in view of the entanglement of rebel groups branded terrorist by Russia and others who avoid this label," said Francois Heisbourg, director of the International Institute for Strategic Studies in London.
Less than an hour before the ceasefire began, the UN Security Council gave its unanimous backing to the truce in a resolution drafted by the US and Russia.
Syria's top opposition grouping, the High Negotiations Committee (HNC), said Friday that 97 opposition factions had agreed "to respect a temporary truce", but only for two weeks initially.
It said Damascus and its allies must stop attacking rebel forces "under the pretext of fighting terrorism".
US State Department spokesman Mark Toner said Washington had received assurances from Moscow that it would not bomb the "moderate opposition" after the truce.
"I don't know how to put it any better than saying: 'It's put up or shut up time,'" he told reporters.
Iran has said it is confident the regime will abide by the agreement.
But rebels on the ground have been less optimistic, and Al-Nusra chief Mohammad al-Jolani urged regime opponents Friday to intensify attacks, saying: "Negotiations are the ones conducted on the battlefield."