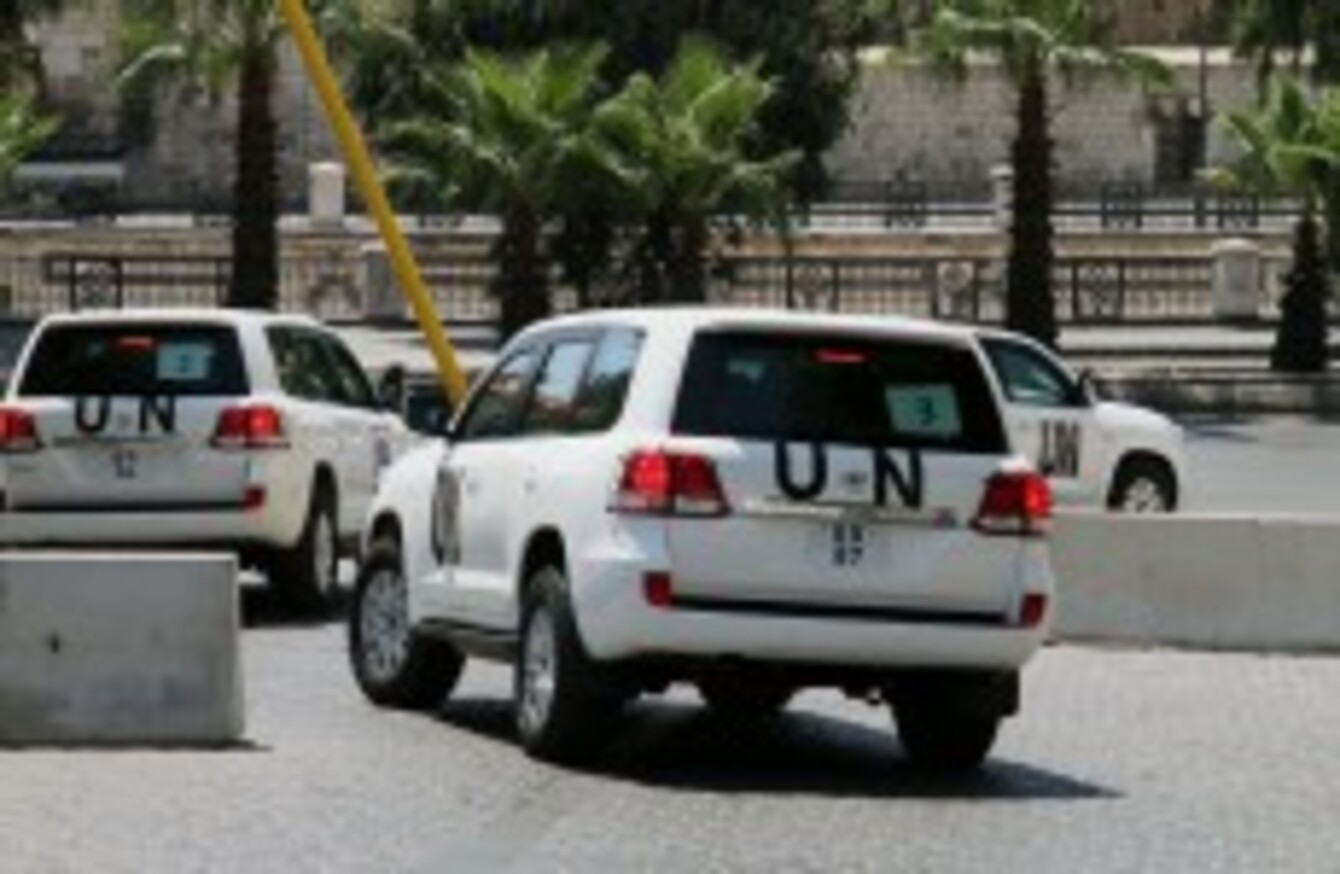 Image: AP/Press Association Images
Image: AP/Press Association Images
A TEAM OF United Nations inspectors have left Syria, arriving in Lebanon this morning.
The convoy, escorted by Lebanon security forces, crossed the border at about 7.40am (local time) after travelling from their Damascus Hotel.
Led by Dr Åke Sellström, the 13-strong team will now head to The Hague where they will assess the evidence gathered during their probe.
The inspectors have been examining allegations that Bashar Assad's regime used chemical weapons in an attack against its own people. The investigation was carried out in just under two weeks but it was not without problems and delays.
Since 18 August, the team has visited the site of the alleged incident during which up to 1,300 people were reportedly killed, as well as field hospitals. They interviewed survivors and doctors, collecting biomedical samples along the way.
Those samples will be taken for analysis in designated laboratories in Europe.
Following process, quickly
A spokesperson for the UN said everything will be done to expedite the process but the team "also have to keep in mind something else which is the need for rigorous attention to maintaining the integrity of the process, in other words, the scientific side of this process".
"We have to be very clear here that before the mission can draw any conclusions about this incident, the evaluation of all available information including the laboratory analysis of all samples must be completed."
Once complete, a report will be given to Secretary-General Ban Ki-Moon who will share it will the Security Council and all Member States. There has been no timeline given by the UN for the completion of the probe or report.
Ban is due to meet the UN High Representative for Disarmament Affairs Angela Kane in New York today. She arrived in Lebanon with the team today after spending the previous weeks in Damascus meeting with the Syrian Government to facilitate access for the team of inspectors. She is expected to brief the UN chief on the work of the mission and the way ahead.
The exit by the team of inspectors has heightened expectations of a possible international military strike against the regime.
US President Barack Obama said yesterday that the United States was weighing "limited, narrow" action against Syria, insisting the world had a duty to act after hundreds of women and children were gassed to death.
He emphasised that no "final decision" had been made but it was his clearest indication yet that an attack was imminent.
France suggested such action could come by Wednesday, despite Britain's rejection of any planned, military intervention.
Additional reporting by AFP