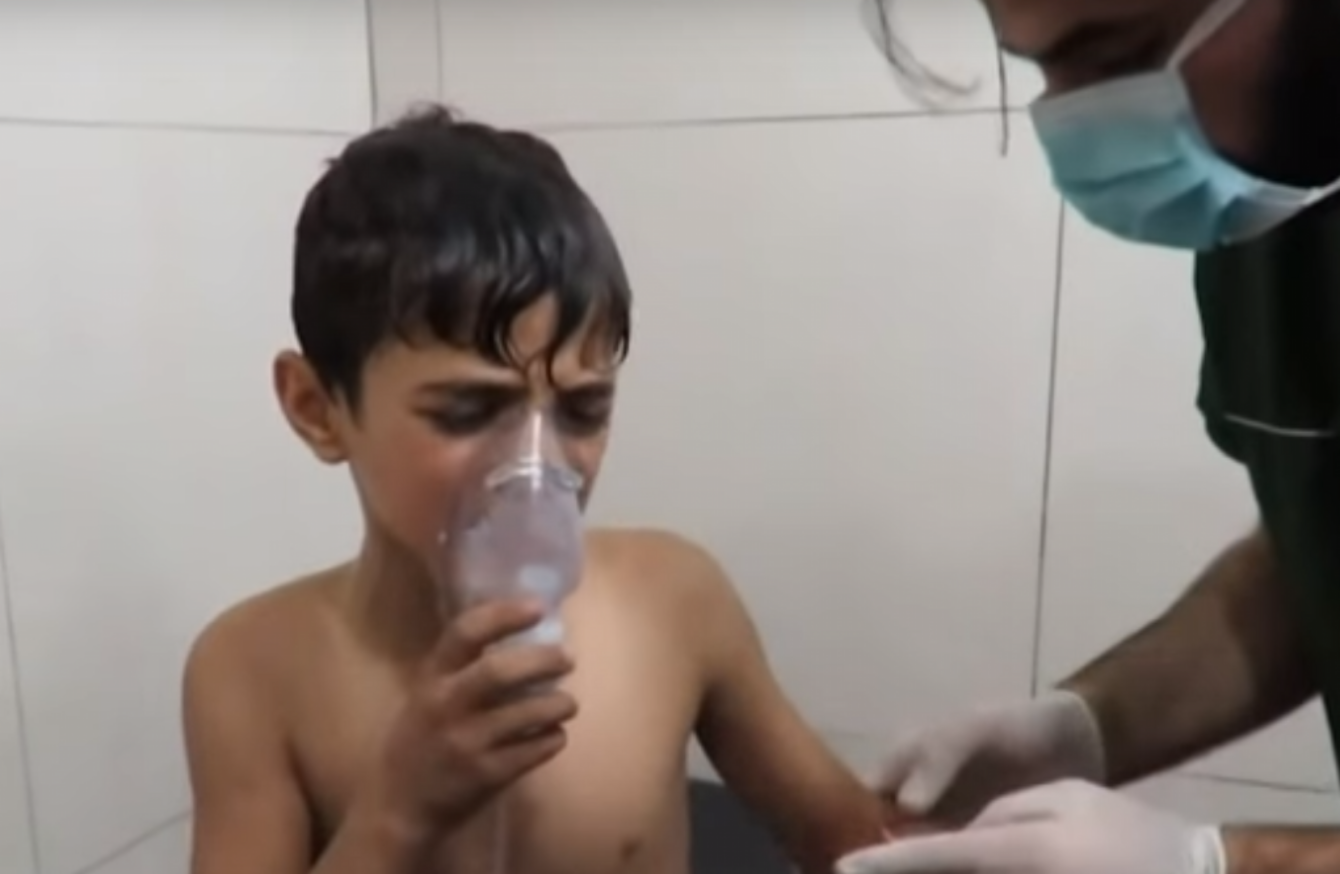 Image: Syrian Civil Defence
Image: Syrian Civil Defence
THE WHITE HOUSE has today condemned the Assad regime's "defiance" of international norms after United Nations experts found the Syrian army had conducted three chemical weapons attacks against its own people in 2014 and 2015.
As part of its ongoing probe, the UN-led joint investigative mechanism found the Syrian army attacked the village of Qmenas with chemical weapons in March last year.
In its fourth report, investigators concluded that there is now "sufficient information" that the attack on Qmenas "was caused by a Syrian Arab Armed Forces helicopter dropping a device from a high altitude which hit the ground and released the toxic substance that affected the population."
Investigators say the substance may have been chlorine gas, based on the symptoms the victims displayed.
In Kafr Zita, however, the JIM could not confirm that the Syrian army had used barrel bombs to dump toxic substances because "the remnants of the device allegedly used had been removed," the report said.
Condemnation 
Of the nine alleged chemical attacks it is considering, the investigation has now attributed three to the Syrian government and one to the Islamic State group.
"We condemn in the strongest possible terms the Assad regime's defiance of the longstanding global norm against chemical weapons use and Syria's abrogation of its responsibilities under the Chemical Weapons Convention, which it joined in 2013," National Security Council spokesman Ned Price said in a statement.
"The Syrian regime has violated the Chemical Weapons Convention and UN Security Council Resolution 2118 by using industrial chlorine as a weapon against its own people."
He warned the United States was continuing to work with its allies to hold those responsible to account.
"We strongly urge all UN member states and parties to the Chemical Weapons Convention, including Russia and Iran, which continue to conduct military operations on behalf of the Assad regime, to unequivocally support these efforts and sustain our shared commitment to the international standard against chemical weapons use."
Weapons of mass destruction
Washington and Moscow are in the midst of a major diplomatic spat over Russian support for the Assad regime, with relations reaching a new low not seen since the Cold War.
"Russian military and economic support to Syria enables the Assad regime to continue its military campaign against its own people, which it has done in violation of international law as demonstrated by the findings of this report," Price said.
"Together, we must send a strong signal that the use of weapons of mass destruction will not be tolerated by the international community."
- © AFP 2016.