Syrian army soldiers search a building in Damascus for rebel fighters
Image: STR/AP/Press Association Images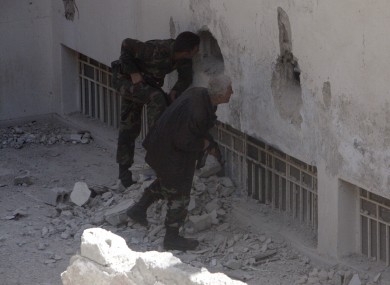 Syrian army soldiers search a building in Damascus for rebel fighters
Image: STR/AP/Press Association Images
UN SECRETARY-GENERAL Ban Ki-moon has warned that the conflict in Syria is growing increasingly deadly, and represents the most pressing issue currently facing humanity.
Ban said there was "no time to waste" for the international community in acting to stop the violence between regime forces and a growing rebellion in the Middle Eastern country.
His comments came as Human Rights Watch said opposition forces were guilty of serious human rights abuses. Rebel fighters have kidnapped and tortured members of the security forces and may have summarily executed civilians, the group said.
Ban called on UN members to work towards a ceasefire in Syria, adding that many countries had been working "tirelessly" to achieve this.
The situation in Syria has become now the most troubling and most concerning issue for the international community and for humanity [...] We have no time to waste, no time to lose. Just one minute, one hour, delay will mean the death of more and more people.
More than 8,000 people have been killed so far amid a brutal crackdown on the uprising that began early last year.
Human Rights Watch has called on opposition leaders to openly condemn human rights abuses by their fighters, and forbid further crimes.
It cited witness reports that government workers had been kidnapped and some tortured to death by armed groups opposing the regime.
Yesterday regime forces, backed by tanks, seized the eastern city of Deir el-Zour from rebels. Some 31 civilians were killed across the country according to the London-based Syrian Observatory for Human Rights.
- Additional reporting from AP