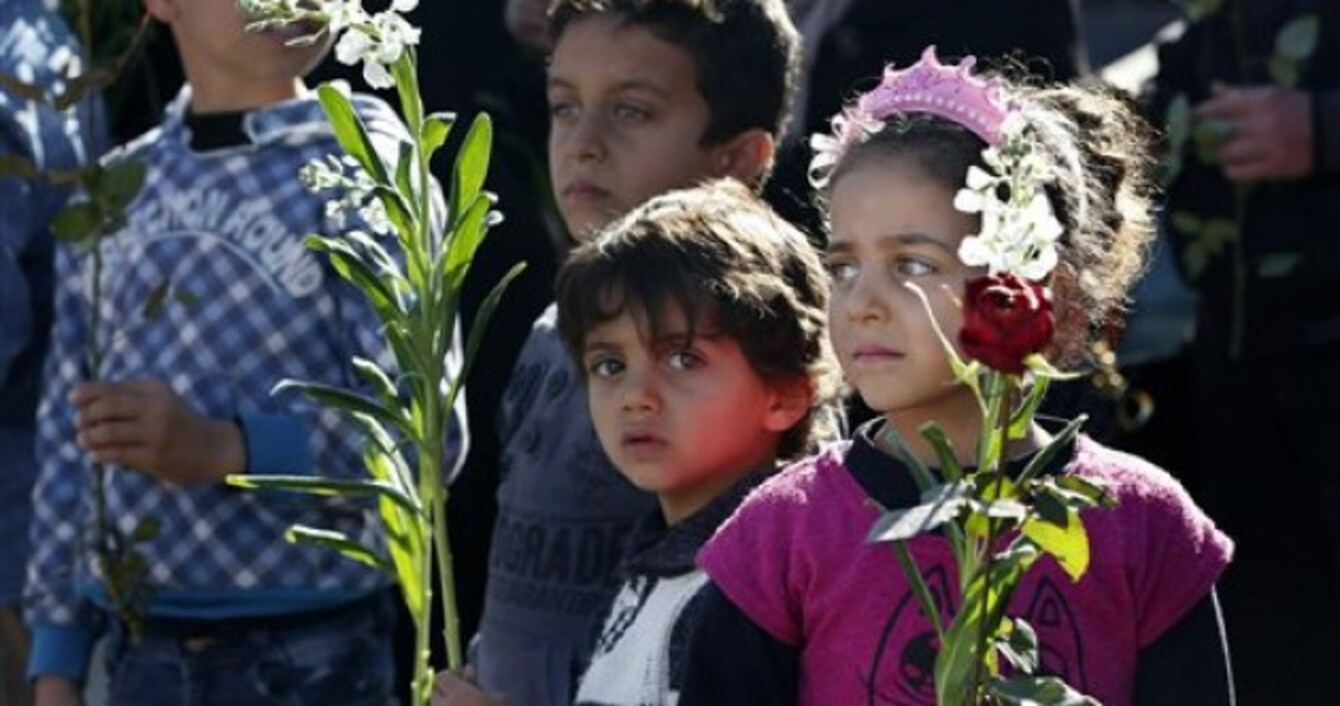 Families of wounded Syrian opposition fighters wait for their release at the Lebanese border crossing point of Masnaa.
Image: AP
Families of wounded Syrian opposition fighters wait for their release at the Lebanese border crossing point of Masnaa.
Image: AP
A RARE UNITED Nations-backed deal between Syria's warring sides saw hundreds of fighters and civilians evacuate three towns today, as deadly bomb blasts rocked the regime-held city of Homs.
The Syrian Observatory for Human Rights (SOHR) monitoring group said the death toll is at least 32 people.
President Bashar al-Assad's regime has agreed to several ceasefires with rebel groups in the past but today's evacuation plan was one of the most elaborate in the nearly five-year war.
The UN has been pushing for such local deals as global powers pursue wider efforts to resolve a conflict that left more than 250,000 people dead and forced millions from their homes.
More than 450 fighters and civilians, including wounded people, have started to leave three flashpoint areas in Syria as part of a six-month truce reached in September. According to SOHR, more than 120 people began leaving Zabadani, the last rebel bastion on Syria's border with Lebanon.
They were to travel across the border to Lebanon and fly from Beirut to Turkey, before travelling back into opposition-held areas in Syria, SOHR head Rami Abdel Rahman said.
Another 335 people, including civilians, began travelling from two regime-controlled villages in northwestern Syria to other government areas, also via the neighbouring countries, he said.
Residents of the mainly Shiite villages of Fuaa and Kafraya were to cross into Turkey, then fly into Beirut and travel overland into Damascus.
It is the first time the neighbouring countries are involved in such an evacuation deal.
The next part of the deal, according to the Britain-based observatory, would see humanitarian aid delivered into the towns.
SOHR's Abdel Rahman said Assad's regime was keen to reach such agreements as part of its "efforts to secure the capital by seizing control of rebel-held areas or through ceasefire deals".
Al-Manar, a Lebanese television station affiliated with pro-Assad Shiite group Hezbollah, broadcast live footage of the evacuation of Zabadani.
Amid the ruins of bombed-out buildings, dozens of bearded fighters wearing military-style fatigues boarded large buses.
Residents on crutches hobbled into ambulances, as rebel fighters watched from nearby rooftops.
'Cowardly attacks'
Al-Manar also provided live coverage of the evacuations from Fuaa and Kafraya, showing dozens of people, among them women and children, gathering near buses and ambulances.
Similar ceasefire deals have been implemented in other parts of the country throughout Syria's war, often after crippling sieges of rebel-held areas.
Government figures and local leaders reached a deal last week to evacuate thousands of jihadists and civilians from southern Damascus, but the agreement was apparently derailed after the death of rebel chief Zahran Alloush on Friday.
Alloush, the head of Jaish al-Islam, the foremost rebel group in Damascus province, was killed in an air strike claimed by Syria's government.
In one of the most significant such deals so far, anti-government rebels earlier this month quit the last opposition-held district of the central city of Homs, once dubbed "the capital of the revolution".
But violence has since rocked the city.
In today's blasts at least 32 people were killed and dozens wounded in the city's Al-Zahraa neighbourhood, state television reported.
It said two explosions caused by car bombs and a blast caused by a suicide attacker wearing an explosives-laden belt hit Al-Zahraa's main square.
The station broadcast scenes of chaos in the central city, as firefighters tried to extinguish flaming cars and rescue workers carried bloodied victims.
The residents of Al-Zahraa are mostly Alawites, the minority sect of Syria's ruling clan.
"These terrorist, cowardly and desperate attacks come in response to the growing spirit of national reconciliation throughout Syria," Prime Minister Wael al-Halqi said in comments carried by state news agency SANA.
The attack came less than three weeks after the Islamic State jihadist group claimed explosions in the same neighbourhood that left 16 people dead.
Originally published: 16.50