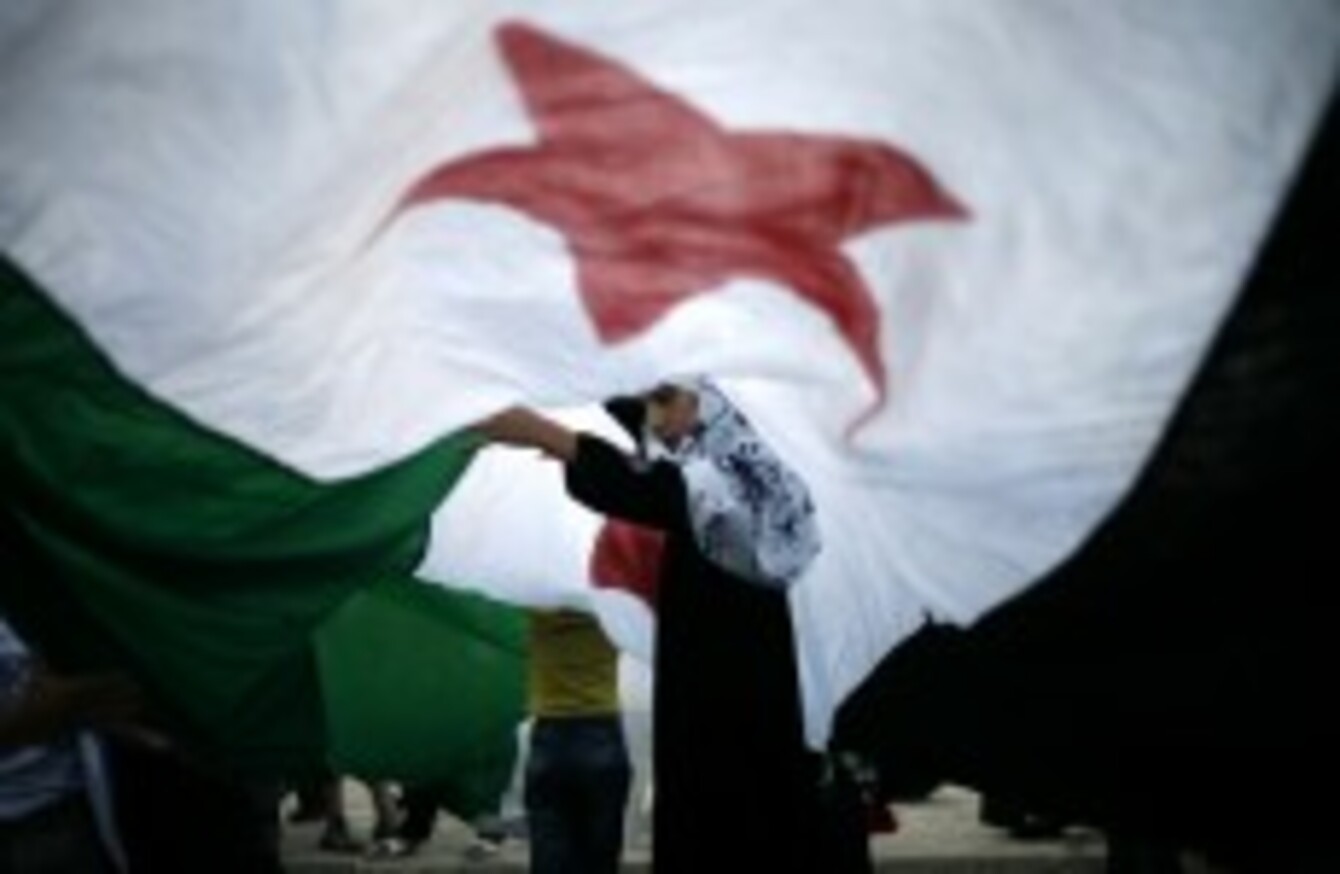 A Syrian girl lifts the center of a giant revolutionary flag during a protest against Bashar Assad, in front the Syrian embassy in Amman, Jordan.
Image: Mohammad Hannon/AP/Press Association Images
A Syrian girl lifts the center of a giant revolutionary flag during a protest against Bashar Assad, in front the Syrian embassy in Amman, Jordan.
Image: Mohammad Hannon/AP/Press Association Images
WHAT HAVE BEEN described as the most violent battles since the beginning of Syrian unrest were witnessed in the capital Damascus ovenight.
President Bashar Assad's forces have resumed shelling this morning, according to local activist groups.
The morning fighting comes after the Red Cross declared civil war across the entire country and the United Nations launches a fresh appeal for China and Russia to back tougher sanctions against the Assad regime.
The Local Coordination Committees, a grassroots network of activists, said that rebel fighters of the Free Syrian Amry have clashed with regime troops in the Damascus district of Kfar Sousa.
Last night's clashes between rebel fighters and troops loyal to Assad started amid shelling and after tanks entered certain areas south of the capital. The most violent battles were seen in Tadamon, Dfar Sousa, Nahr Aisha and Sidi Qadad.
"The security forces are trying to reclaim these neighbourhoods but they have failed so far," said the British-based Syrian Observatory for Human Rights director Rami Abdel Rahman.
BBC News reporter Jim Muir has said that the fighting is nearing closer and closer to the city centre – the heart of Assad's power base.
Allies
On the diplomatic side this morning, the UN has launched a double-pronged plan to get Russia and China to stop supporting the current regime. Both countries have offered backing to Assad and his forces since pro-democracy protests began as part of the wider Arab Spring movement last March.
Both countries have stalled international calls for a transition of power.
Today, UN special envoy Kofi Annan is heading for Russia, while Secretary-General Ban Ki-moon is en route to China to press the two Security Council members into backing tougher action and suggested sanctions.
The Security Council has until Friday to renew its mission in Syria but the international community is not unanimous about what sanctions – if any – to impose.
Russia has led the resistance for any action and Annan is to meet President Vladimir Putin and Foreign Minister Sergei Lavrov during two days of talks in Moscow, said his spokesman Ahmad Fawzi.
Russia's reluctance to act against its Damascus ally has seen it hold up a UN Security Council statement condemning the massacre of more than 150 people in the village of Treimsa on Thursday.
A draft statement which said the Syria government is in "violation" of its international commitments was circulated among the 15 council nations on Friday, diplomats said. Russia's envoys said they could not agree without approval from Moscow.
China has supported Russia's rejections and Ban heads for Beijing on Monday. Although officially for a China-Africa summit, Syria will top his talks agenda when he meets President Hu Jintao, Premier Wen Jiabao, Foreign Minister Yang Jiechi and other leaders, said a UN official.
UN observers said that the massacre in Treimsa last week appeared to target army defectors and activists. According to the team, Syrian troops went door-to-door in the small farming community, checking residents' IDs – then killing some and taking others away.
"Pools of blood and brain matter were observed in a number of homes," they said in a statement, adding that it was "unclear" how many people were killed.
Some 16,000 to 17,000 people have died since the Syrian conflict began in March 2011. The Red Cross's declaration of civil war has significant implications for potential war crimes prosecutions. International humanitarian law, or the rules of war, now applies across the country.
The Geneva-based group's assessment is an important reference for determining how much and what type of force can be used, and it can form the basis for war crimes prosecutions, especially if civilians are attacked or detained enemies are abused or killed.
Previously, the Red Cross committee had restricted its assessment of the scope of the conflict to the hotspots of Idlib, Homs and Hama.
-Additional reporting by AP and - © AFP, 2012