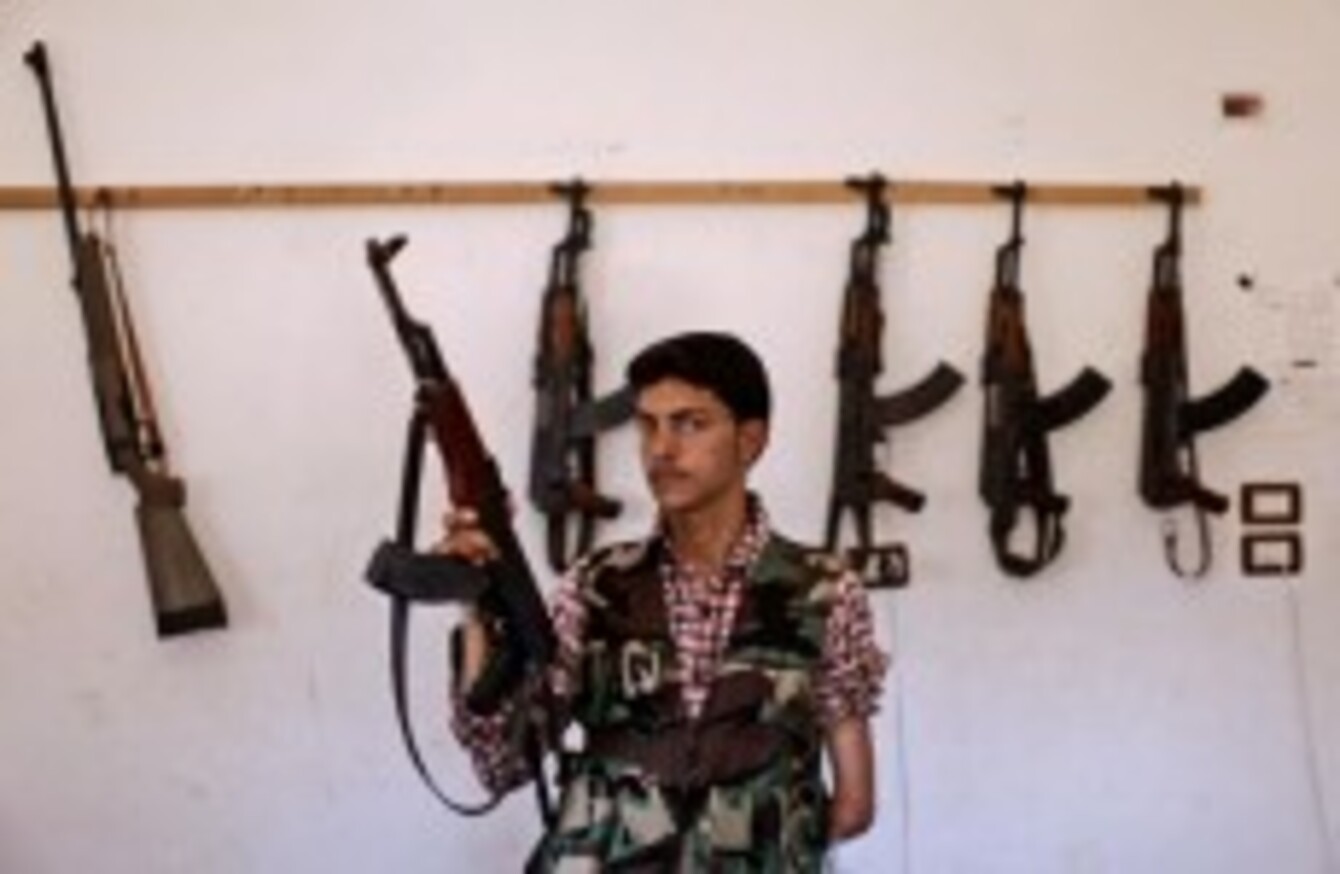 Syrian rebel fighter Ali Alnajjr, 20, in Marea near Aleppo.
Image: Muhammed Muheisen/AP/Press Association Images
Syrian rebel fighter Ali Alnajjr, 20, in Marea near Aleppo.
Image: Muhammed Muheisen/AP/Press Association Images
UN LEADER BAN Ki-moon is "shocked" by the reports of a new massacre in Syria and demands an independent inquiry, his spokesman said Monday.
Reports of hundreds of bodies found in Daraya near Damascus on Sunday after raids by government troops highlighted the lack of protection for civilians in the Syria conflict, said Ban's spokesman Martin Nesirky.
"The secretary general is certainly shocked by those reports and he strongly condemns this appalling and brutal crime," Nesirky told reporters. "Where hundreds of civilians have been killed in Daraya, this needs to be investigated immediately in an independent and impartial fashion."
The UN Human Rights commissioner Navi Pillay is trying to get information on the massacre, Nesirky said.
More than 330 bodies have been found in Daraya after President Bashar al-Assad's troops went on house-to-house raids, according to the Syrian Observatory for Human Rights.
"Wherever there are atrocities, whoever is responsible needs to be held accountable," Nesirky said. The Daraya case "underscores again the lack of protection for civilians that there is in Syria and the urgent need to prevent loss of life."
Syrian activists say about 25,000 people have been killed since an uprising against Assad started in March last year.
Provisional government
French President Francois Hollande warned Monday that the use of chemical weapons by the Syrian regime would be a legitimate reason for a foreign intervention.
"We with our allies remain very watchful to prevent the use of chemical weapons by the regime, which would be for the international community a legitimate cause for direct intervention," Hollande said in a speech to French diplomats.
Hollande also said France was ready to recognise a provisional Syrian government once it was formed and urged rebels to establish one as soon as possible.
Calling for an "intensification of efforts for the political transition to take place quickly," Hollande urged the Syrian opposition to form a "provisional, inclusive and representative" government.
"France will recognise the provisional government of the new Syria as soon as it is formed," he said.
Hollande also confirmed France was working with its partners on the possible establishment of buffer zones within Syria to receive people displaced by the conflict and prevent them flooding over the borders with neighbouring states.
Turkey in particular has been pushing for such a move, which would require military back-up to ensure the security of the refugees.
"We are working … (on) the initiative of buffer zones proposed by Turkey," Hollande said, adding that "we are doing so in coordination with our closest partners."
Hollande also said the opposition of Russia and China to action against the Syrian regime was weakening the United Nations.
"I am saying to Russia and to China that their attitude in the Syria crisis is weakening our capacity to fulfill the mandate given us by the United Nations charter," he said.
"Our country only participates in operations to keep the peace or protect civilians by virtue of a mandate and therefore a resolution of the United Nations Security Council," Hollande said.
"For this the (Security Council) members must take their responsibility to allow it to take decisions," he said.