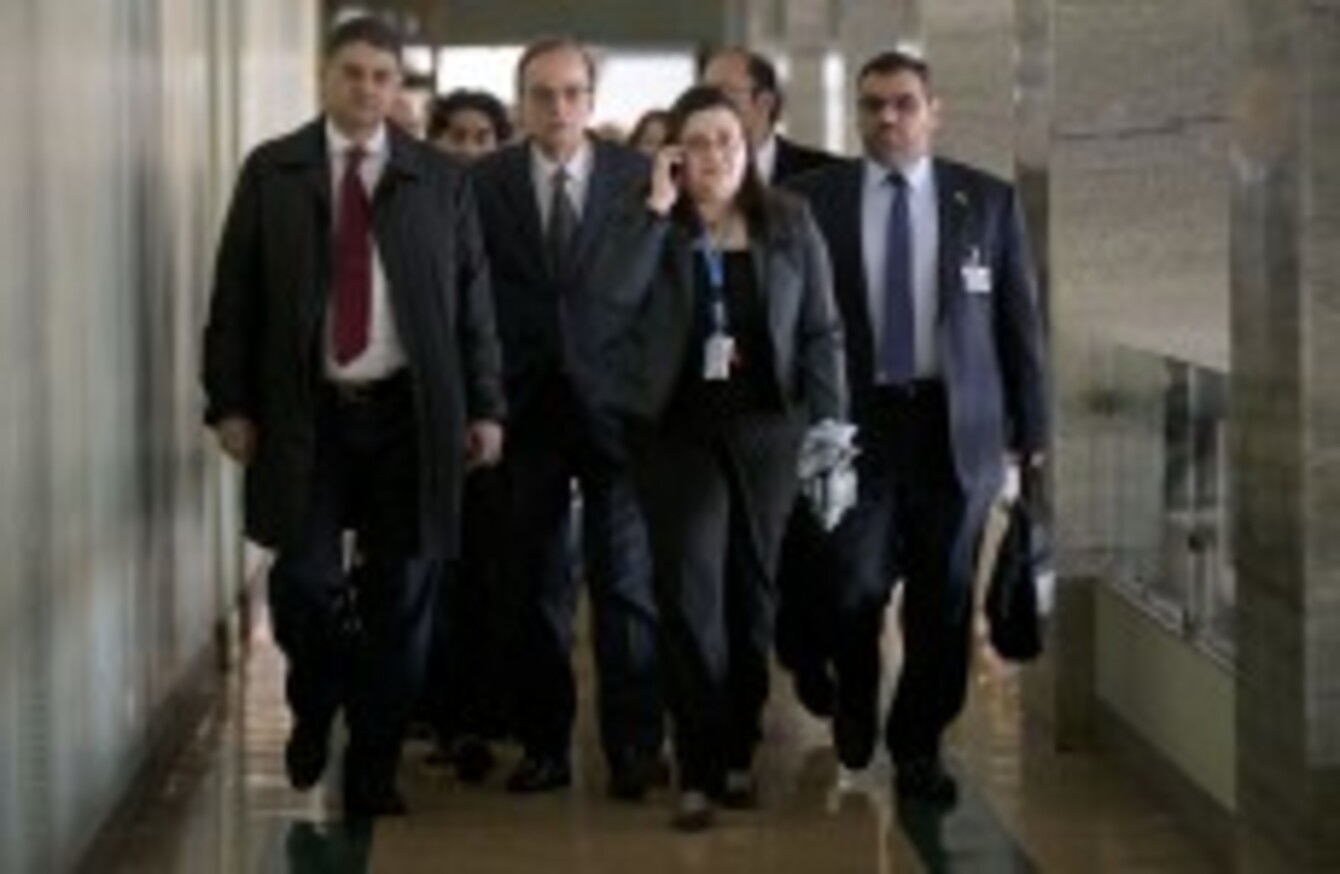 Members of the Syrian National Coalition, Syria's main political opposition group, arriving for a meeting with U.N. mediator Lakhdar Brahimi at the United Nations headquarters in Geneva
Image: AP Photo/Anja Niedringhaus
Members of the Syrian National Coalition, Syria's main political opposition group, arriving for a meeting with U.N. mediator Lakhdar Brahimi at the United Nations headquarters in Geneva
Image: AP Photo/Anja Niedringhaus
SYRIA'S GOVERNMENT AND opposition delegations are set to meet face-to-face today after a first day of peace talks in Geneva stumbled with the regime threatening to walk out.
After meeting with both sides, UN-Arab League Syria envoy Lakhdar Brahimi said Friday they had agreed to "meet in the same room".
Geneva
Pulled together by the United Nations, Russia and the United States, the delegations had been due to sit down early Friday at UN headquarters in Geneva for their first direct talks.
But that plan fell apart after the opposition insisted the regime must be prepared to discuss Assad leaving power.
"We never expected this to be easy," Brahimi told reporters, adding that:
I think the two parties understand what is at stake.
Foreign Minister Walid Muallem had earlier warned Brahimi that the Syrian delegation would leave Geneva if no "serious sessions" took place today.
Still, Brahimi appeared confident no one would be immediately quitting the talks, insisting that "both parties are going to be here tomorrow and they will be meeting."
Issues
The talks have yet to touch on concrete issues.
"We have not discussed the core matters yet," Brahimi said, adding: "we hope that both parties will give concessions that will be to the benefit of the process."
Syrian Deputy Foreign Minister Faisal Muqdad blamed the opposition for obstructing yesterday's talks, telling reporters:
The problem is that these people do not want to make peace, they are coming here with pre-conditions.
Nazir al-Hakim, a member of the opposition National Coalition's delegation, told AFP it would only accept negotiations based on the agreement reached at the "Geneva I" peace conference in 2012, which called for the creation of a transitional government.
"We need guarantees that Geneva I will be discussed," he said.
The regime has said it supports Geneva I, but rejects the opposition's contention that the agreement requires Assad to go.
Brahimi admitted there were "some differences on the interpretation" of parts of the document, saying he hoped the talks would help "clarify the ambiguity."
Talks to touch on 'siege of Homs'
Expectations are very low for a breakthrough at the Geneva II discussions, which are expected to last about a week.
But simply bringing the two sides together for the first time could be an important first step, diplomats said.
At the World Economic Forum in the Swiss town of Davos, State Department spokeswoman Jen Psaki described the agreement on today's meeting as "a positive step forward in what we expect will be a long and complicated process."
With no one appearing ready for serious concessions, mediators will be focusing on short-term deals to keep the process moving forward, including on localised ceasefires, freer humanitarian access and prisoner exchanges.
Opposition Coalition official Ahmad Ramadan told AFP talks on Saturday and Sunday would focus on the central city of Homs, where hundreds of families are living under siege with near-daily shelling and the barest of supplies.
"We will talk exclusively about… how to put an end to the siege of Homs, ensuring humanitarian corridors to besieged areas and stopping the regime's bombing and killing," Ramadan said.
The start of the conference in the Swiss town of Montreux on Wednesday was marked by fiery exchanges, with Muallem labelling the opposition "traitors" and agents of foreign governments.
Erupting after the regime cracked down on protests inspired by the Arab Spring, Syria's civil war has claimed more than 130,000 lives and forced millions from their homes.