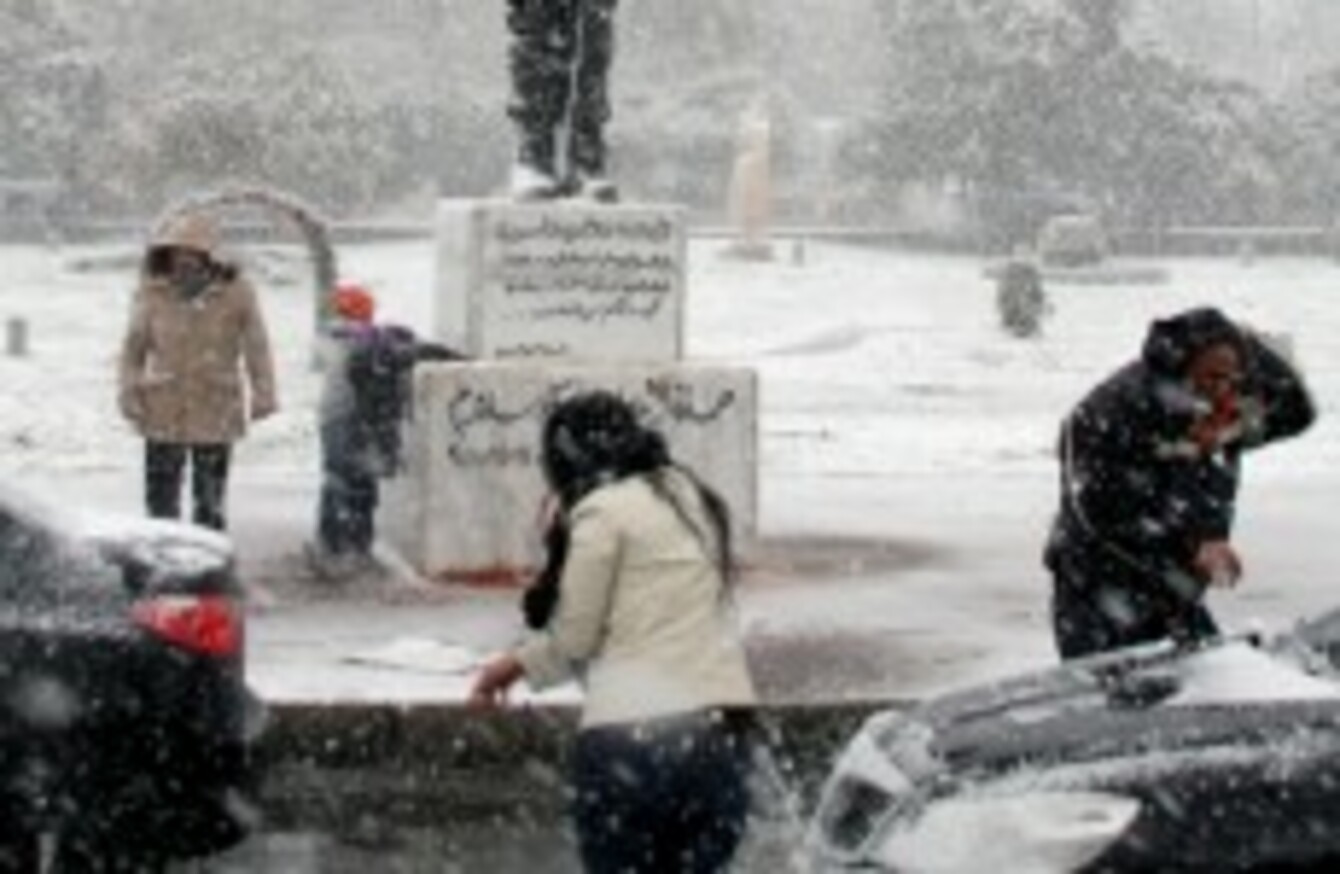 People in the snow in Damascus on Friday.
Image: AP Photo
People in the snow in Damascus on Friday.
Image: AP Photo
A REBEL COMMANDER has frozen to death in the bitter cold brought by a snowstorm that has swept Syria this week, a monitoring group has said.
"The body of a rebel commander who was on his way from (the northwestern province of) Idlib to Homs (in central Syria) has been found. He died during the snowstorm," said the Syrian Observatory for Human Rights.
Observatory director Rami Abdel Rahman told AFP there were no signs of gunshots or other wounds and that the body was "frozen."
Abdel Rahman said the unnamed commander, in his 40s, was a member of the Islamist Suqur al-Sham brigades.
The Britain-based Observatory also reported that the frozen bodies of two men in their 30s were found in Homs province on a road to neighbouring Hama province.
It could not say whether they were rebels or civilians.
Syria has been struck by a severe snowstorm that has brought icy temperatures to several countries in the Levant.
Starting last Wednesday, the snowstorm brought sudden, low temperatures, below zero in some areas, not only to Syria, but other countries in the region.
People play in the snow in Damascus (AP Photo)
By Saturday temperatures were starting to improve but several areas were completely covered in snow including Damascus, battle-torn Qalamoun, Aleppo province and Homs.
People living in rebel-held areas, where there are fuel, electricity and food shortages, have been especially affected by the storm, as have refugees living in tents in neighbouring countries.
The main opposition National Coalition reported on Thursday that a baby and a child died of cold in Aleppo, northern Syria, and Rastan, in Homs.
Fighting continues
But the icy weather did not stop the fighting on a key front at Adra, east of Damascus. Battles have been raging there for four days, ever since Islamist rebels launched an offensive aimed at capturing one of the main entrances to the capital.
The army hit back with a broad counter-offensive, and on Saturday, a security source in Damascus told AFP "the army's operations are continuing. Starting yesterday, we identified the areas where the terrorists are positioned and we are attacking them."
President Bashar al-Assad's regime brands rebels and dissidents as "terrorists."
The source also said a "savage massacre" had been committed in Adra on Wednesday, without specifying a toll.
The Observatory had reported 15 civilians were killed Wednesday and Thursday. On Saturday, it said another 12 bodies had been found near Adra, and that "activists have accused the regime of killing them."
Syria's war has killed more than 126,000 people in nearly three years, and forced millions more to flee their homes.