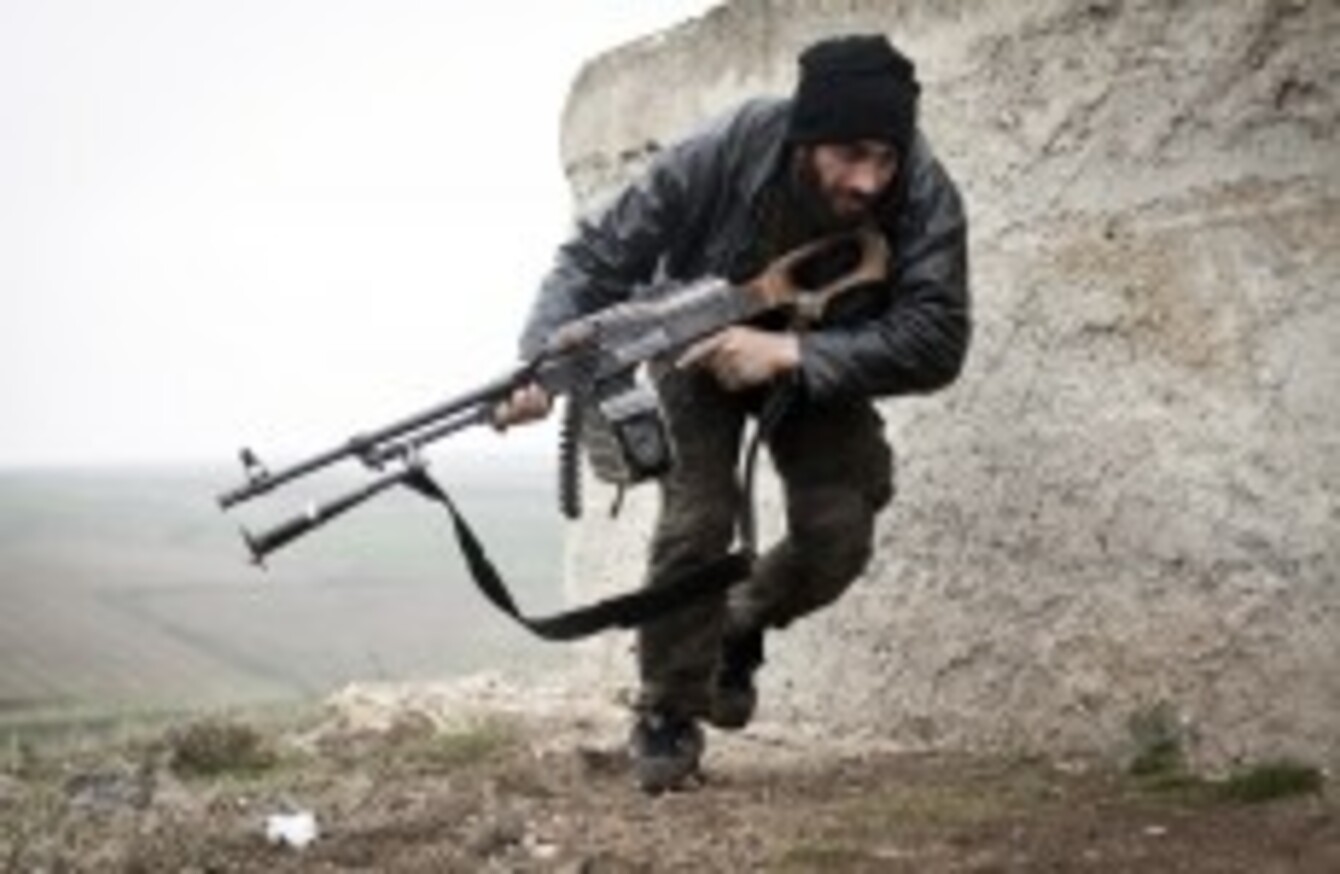 In this December 2012, file photo, a Free Syrian Army fighter takes cover during fighting with the Syrian Army in Azaz.
Image: Virginie Nguyen Hoang/AP/Press Association Images
In this December 2012, file photo, a Free Syrian Army fighter takes cover during fighting with the Syrian Army in Azaz.
Image: Virginie Nguyen Hoang/AP/Press Association Images
SYRIA'S REBEL MOVEMENT has been a constantly shifting array of groups and alliances since the uprising against President Bashar al-Assad began nearly three years ago, with opposition formations increasingly overtaken by Islamist groups.
As new leaders have emerged within the opposition, infighting reached a new level this month, with several rebel factions declaring war against the radical Islamic State of Iraq and the Levant (ISIL).
Some 2,300 rebel fighters have died fighting each other this year alone.
Below is a description of some of Syria's main rebel groups:
Islamic State in Iraq and the Levant (Jihadist)
ISIL was formed by breakaway elements from the Nusra Front, al Qaeda's official affiliate in Syria, which joined with al Qaeda's Iraq branch.
The group is headed by the Iraq branch's leader, known as Abu Bakr al-Baghdadi. He has ignored calls from al Qaeda central to stay out of Syria and focus on Iraq.
On Monday, al Qaeda's general command said it had no links with ISIL, in an apparent attempt to assert authority over Islamist militant groups in Syria.
ISIL is seen as the most hardline of all the Islamist forces in Syria and has made enemies of several rebel groups since it seized many towns and checkpoints in opposition areas.
An ISIL fighter in Iraq. (Image: PA Wire)
The group was largely accepted by Syrian civilians at first due to its strict policies against looting and its attempts to provide social services. It lost favour as its members began kidnapping and killing critics and rival groups.
ISIL is now fighting on several fronts. In Syria, many rebel factions are trying to retake territory and force the group out of their areas. At the same time, Iraqi military forces have launched a heavy campaign inAnbar province, where ISIL fighters took control of some towns.
While its numbers may be smaller, perhaps around 6,000 to 7,000, the ISIL's hardline fighting force is very committed and backed by foreign militants.
The group has vowed to use assassinations and other strategies to retaliate against attacks. In a 7 January statement, it vowed to crush the Syrian rebels and made no gestures toward reconciliation despite the Nusra Front's calls for a truce.
Nusra Front (Jihadist)
A Syrian boy shouts slogans against the regime in front of a flag of the armed Islamic opposition group, the Nusra Front, during a demonstration in the Bustan al-Qasr neighborhood of Aleppo, Syria during September 2012. (Image: Manu Brabo/AP/Press Association Images)
This powerful rebel group is comprised of both Syrians and foreign militants and has been formally recognised by the central leadership of al Qaeda as its franchise in Syria.
The group was one of the first to use techniques such as suicide attacks and car bombings in urban areas. Despite this, it is seen as more tolerant and less heavy handed in its dealings with civilians and other rebel groups, compared with ISIL.
The Nusra Front, estimated at around 7,000 to 8,000 members, has worked with most rebel factions fighting in Syria but follows an austere version of Islam and calls for the creation of an Islamic state.
It works closely with many other Syrian Islamist groups member groups. It has joined in some recent rebel-on-rebel battles against ISIL.
Islamic Front
An amalgam of six major Islamist groups, this alliance is believed to be the biggest rebel army working in Syria. Its formation last November gutted the Western-backed Syrian Military Council, depriving it of some of its main members, such as the Tawheed Brigade, and further distanced it from powerful Islamist groups like the Ahrar al-Sham Brigades.
Children of followers of the banned Islamic-oriented Hizb Al-Tahrir take part in a demonstration in front of the Syrian embassy to condemn the peace talks in Switzerland between the Syrian government and the opposition, in Amman, Jordan on 22 January. The Arabic writing on the girls' placards reads, "I am shy of your treason," and "I can see you, the army of my nation, but what I can't see is your chivalry." (AP Photo/Mohammad Hannon)
The Islamic Front's members are hardline Sunni Islamists who want Syria to become an Islamic state, but they have been more tolerant of other groups than ISIL and Jabhat al-Nusra.
Analysts say the number of fighters brought together by the Front is between 40,000 to 50,000. It is still not clear, however, whether it will be more successful in coordinating and leading Syria's notoriously fractious rebel groups compared to the failed moderate opposition alliances, loosely joined under the name the Free Syrian Army (FSA).
Units from the Islamic Front have fought against ISIL this year.
Supreme Military Command/Council (SMC)
The Supreme Military Command is a moderate, non-ideological group and the foundering successor to the FSA leadership.
The SMC's predecessors in the FSA, the original umbrella group for the rebels, were never able to form a coherent organisational structure or leadership and the SMC has faced similar challenges.
The group has backing from Western powers such as the United States, as well as Turkey and Gulf Arab countries, and has never been able to shake the impression among local rebel groups that it was a leadership coming from abroad.
Many of its commanders spent much of their time outside the country. They were also unable to secure consistent supplies of arms or funding from foreign donors.
While still functioning nominally, the SMC was dealt a heavy blow by the formation of the Islamic Front alliance in November 2013, which deprived it of some of its largest members and allies and further damaged the SMC's legitimacy.
#Open journalism No news is bad news Support The Journal

Your contributions will help us continue to deliver the stories that are important to you

Support us now
It's affiliates include the Martyrs of Syria Brigades, Northern Storm Brigade, Ahrar Souriya Brigade.
Syrian Revolutionaries Front (SRF)
This alliance of largely non-ideological rebel units was formed in December and helped launch a growing campaign against hardline ISIL fighters.
The backbone of the group is the Syrian Martyrs Brigade, a once powerful group from the northern province of Idlib led by Jamal Maarouf.
Maarouf and his fighters were largely discredited in Idlib by rival Islamist groups who accused them of diverting funds meant for the front lines into their own pockets.
Unlike most other rebel formations, the group does not appear to have strong ideological leanings, though its units are mostly moderate Islamists.
The SRF is believed to receive funding from large Gulf countries like Saudi Arabia. It has poor relations with the Islamic Front but has expressed support for the SMC.
Some analysts suggest that the SRF may be another attempt at reviving the main components of theFree Syrian Army, but it still lacks the regional scope to try that, as most of its member units hail from the north.
Mujahideen Army
The result of conflict: a displaced Syrian child plays at a refugee camp in Idlib. (Image: Manu Brabo/AP/Press Association Images)
This recent formation of eight Syrian militant groups was announced early in January and almost immediately launched a campaign against ISIL, leading many observers to believe it may have been formed by Gulf Arab backers for the purpose of challenging the radical Islamist grop.
The Mujahideen Army, which claims to have 5,000 members, is seen as moderately Islamist. Most of the factions that joined the Mujahideen Army are relatively minor and little is known about the group so far.
However, this new group, along with the Syrian Revolutionaries' Front, spearheaded the campaign against ISIL that has broken out in many opposition-held parts of northern and eastern Syria.
Note: On the diplomatic front, he Syrian opposition is also deeply divided with the National Coalition for Syrian Revolutionary and Opposition Forces, the Syrian National Council, the National Co-Ordination Committee and the Kurdish Supreme Committee.
Copyright 2014 Thomson Reuters/ Click for Restrictions.