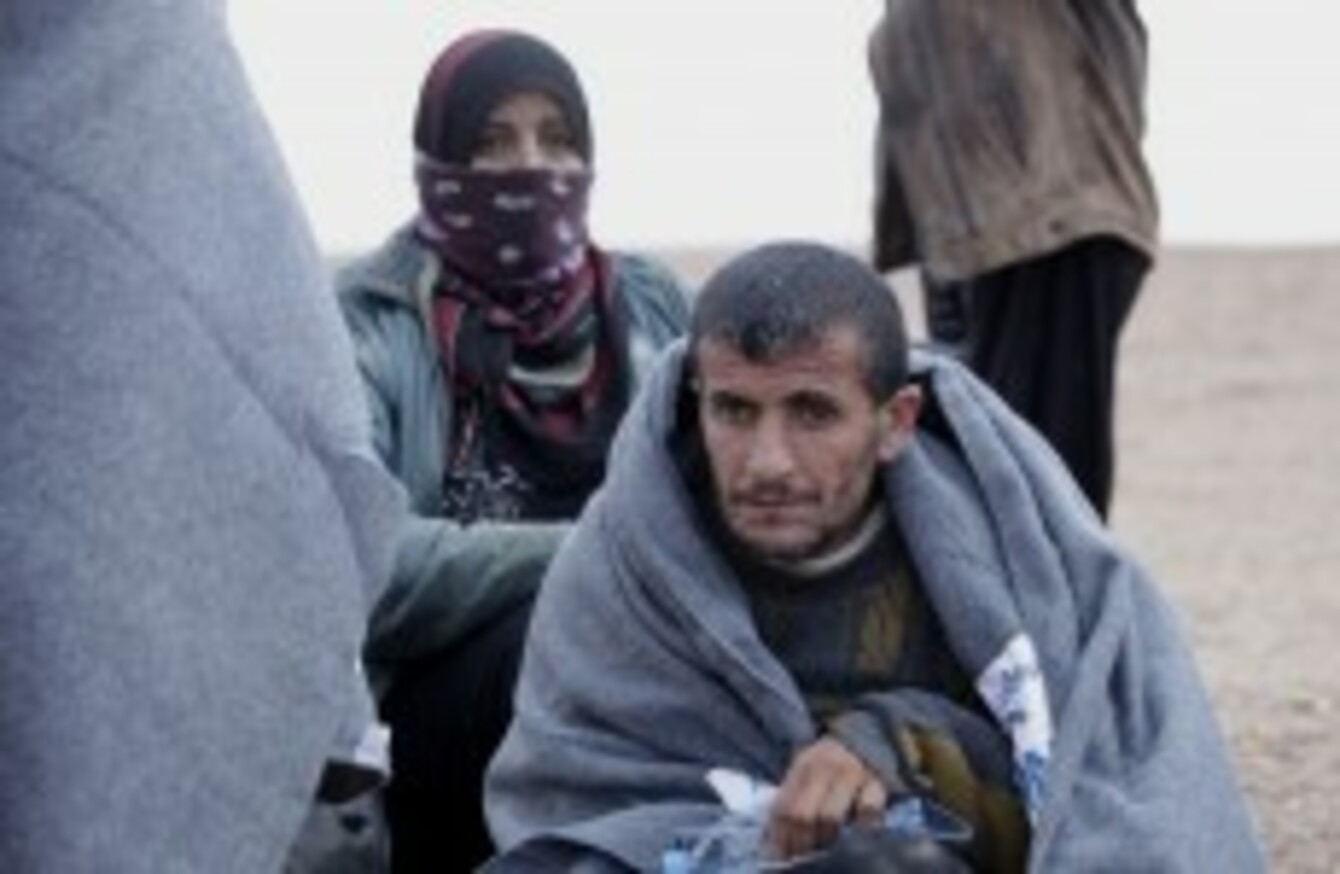 Talaa, background, and her disabled son, Mohammed, 45, front, sit among the newly-arrived Syrian refugees after crossing into Ruweishid, Jordan
Image: Mohammad Hannon/AP/Press Association Images
Talaa, background, and her disabled son, Mohammed, 45, front, sit among the newly-arrived Syrian refugees after crossing into Ruweishid, Jordan
Image: Mohammad Hannon/AP/Press Association Images
THE EUROPEAN UNION has 'failed' to play its part in helping Syrian refugees resettle, Amnesty International has said.
In a scathing statement today, Amnesty said that European leaders should "hang their heads with shame" over the "pitifully low" numbers of refugees from Syria they are prepared to resettle.
Refugee crisis
The organisation has detailed today how EU member states have offered to open their doors to around 12,000 of the most vulnerable refugees from Syria. That represents just 0.5 per cent of the 2.3 million people who have fled the country.
Colm O'Gorman, Executive Director of Amnesty International Ireland, said:
The EU has miserably failed to play its part in providing a safe haven to the refugees who have lost all but their lives. The number of those it's prepared to resettle is truly pitiful. Across the board European leaders should hang their heads in shame.
The closest European capital – Nicosia – lies 200 miles from Damascus.
Amnesty International breaks down the figures:
Only 10 EU member states offered resettlement or humanitarian admission places to refugees from Syria.
Germany is the most generous – pledging to take 10,000 refugees or 80 per cent of total EU pledges.
Excluding Germany, the remaining 27 EU member states have offered to take 2,340 refugees from Syria.
France offered just 500 places or 0.02 per cent of the total number of people who have fled Syria.
Spain agreed to take just 30 or 0.001 per cent of refugees from Syria.
Eighteen EU member states – including the UK and Italy – offered no places at all.
A smoke covered refugee camp in the town of Harmanli, Bulgaria. Pic: AP Photo/Valentina Petrova
Amnesty said that conditions for the 2.2 million people who have fled Syria to neighbouring countries are deteriorating rapidly as winter approaches.
It notes that tens of thousands of refugees have reached Europe trying to claim asylum "having risked life and limb in arduous journeys, on boats or across land".
Amnesty International's research reveals that first they have to break through the barricades of 'Fortress Europe'.
"Many are faced with violent push-backs by police and coastguards, or detained for weeks in deplorable conditions," said Amnesty.
Hundreds of people die attempting to cross the Mediterranean every year. In October it is estimated that as many as 650 refugees and migrants died when three boats sank attempting to reach Europe from North Africa.
More than 10,000 refugees from Syria are reported to have arrived along Italy's coast in the first 10 months of this year.
In two of the main gateways to the EU, Bulgaria and Greece, refugees from Syria are met with deplorable treatment, said Amnesty.
Newly-arrived Syrian refugees ride a Jordanian military vehicle after crossing into Ruweishid, Jordan. Pic: AP Photo/Mohammad Hannon
Refugees have told Amnesty International how Greek police or coastguards, "wielding guns and wearing full face hoods, ill-treat them, strip them of their belongings and eventually push them back to Turkey".
In Bulgaria, an estimated 5,000 refugees from Syria arrived between January and November 2013. The majority are housed in emergency centres.
Amnesty International found refugees living in squalid conditions in containers, a dilapidated building and in tents.
So far, 55,000 Syrian refugees have managed to claim asylum in the EU. Amnesty said that for those who make it into Europe, many head for Sweden or Germany, which have offered the most help to asylum seekers.
In the two years to the end of October 2013, Sweden has received 20,490 new Syrian asylum applications and Germany received 16,100 such applications. Less than 1,000 people have claimed asylum in each of Greece, Italy and Cyprus.
Amnesty International is calling on European member states to:
Significantly increase the number of resettlement and humanitarian admission places for refugees from Syria
Strengthen search and rescue capacity in the Mediterranean to identify boats in distress and assist those on board
Ensure that those rescued are treated with dignity and have access to asylum procedures;
Ensure that unlawful push-back operations are ended
Provide legal safe passage for Syrian asylum seekers wishing to travel to European member states
The EU, its member states, and the international community should continue to provide support to countries hosting the largest numbers of refugees, particularly Jordan and Lebanon.