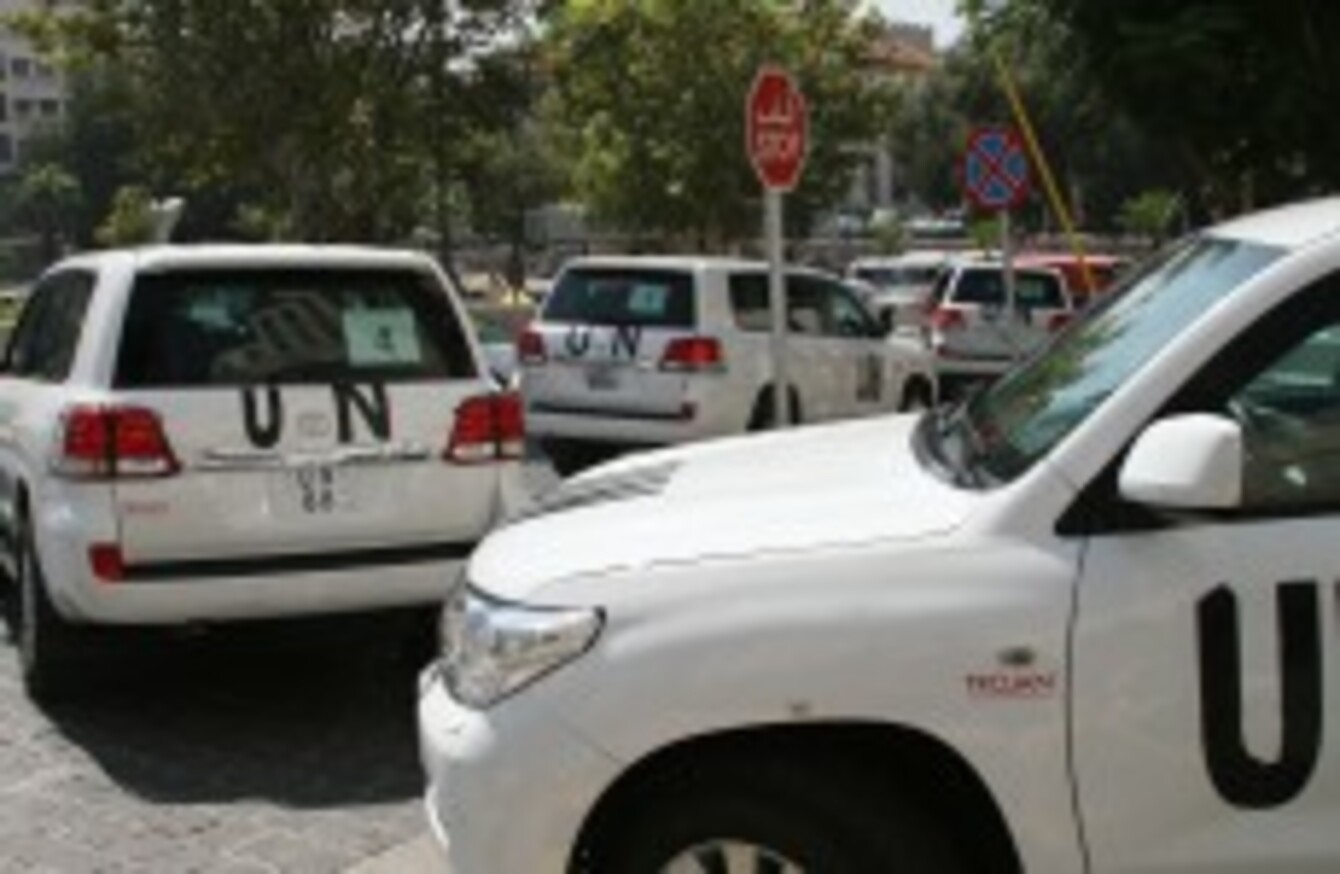 UN vehicles in Syria
Image: STR/AP/Press Association Images
UN vehicles in Syria
Image: STR/AP/Press Association Images
LATEST REPORTS FROM Syria say that the UN inspection in Damascus has been delayed until tomorrow, Wednesday.
Syrian Foreign Minister Walid Muallem said the UN mission investigating alleged chemical weapons attacks in Damascus has been delayed until Wednesday after rebels failed to guarantee the experts' safety.
He told a televised news conference:
Today, we were surprised by the fact that they were not able to get there because the rebels did not agree to guarantee the mission's security. So the mission has been delayed until tomorrow.
The dispute centres on claims that chemical weapons were used in Damascus and led to thousands of people suffering 'neurotoxic' symptoms.
Armed forces
Also today, Britain's armed forces are drawing up contingency plans for military action in Syria, Prime Minister David Cameron's spokesman said, but no decision had been made about what action may be taken.
Cameron will decide later today whether to recall parliament from its summer recess to debate a possible military intervention in the wake of a chemical weapons attack that Washington, London and Paris believe was carried out by the Syrian regime, Downing Street said.
We are continuing to discuss with our international partners what the right response should be, but, as part of this, we are making contingency plans for the armed forces.
The prime minister will continue talks with other world leaders to agree a "proportionate response" to the gas attack near Damascus last Wednesday.
Cameron has cut short his summer holiday in order to deal with the Syria crisis and is due to chair a meeting of Britain's National Security Council in London on Wednesday.
Cameron is facing an increasing number of calls from lawmakers across the political spectrum to allow them to vote before Britain takes any military action.
The government has previously pledged to give lawmakers a vote before any moves to arm the rebels fighting the regime of President Bashar al-Assad.