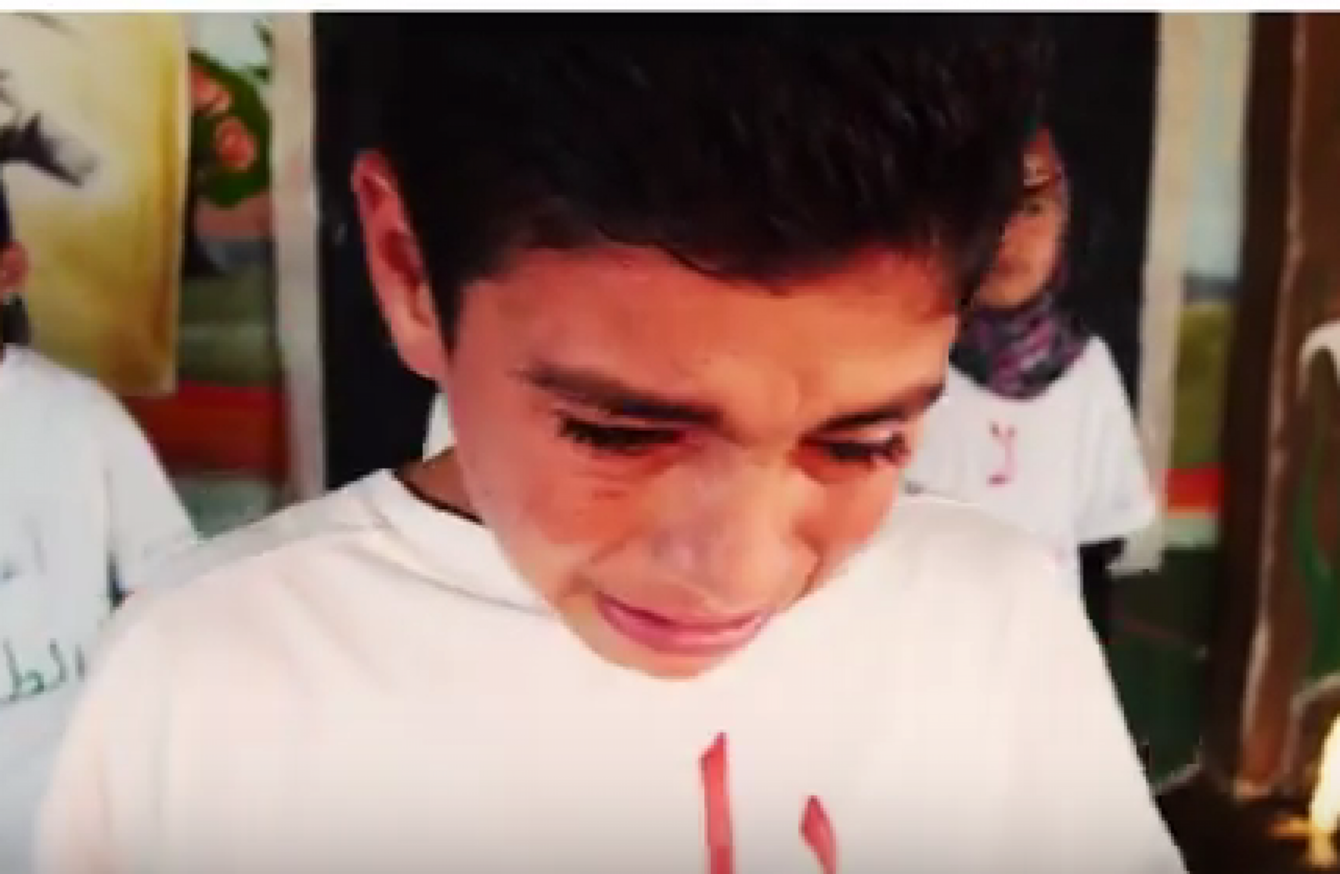 Image: Concern
Image: Concern
MOST 12-YEAR olds have outgrown Tom and Jerry, graduating to more sophisticated television choices.
But not many have direct requests in with the UN's Ban Ki-Moon or US Secretary of State John Kerry.
The complex childhoods of Syrian pre-teens mean they have been stuck for five years – remembering a time as young kids before the war when they could play ball in the streets and watch cartoons. Today, they are more familiar with diplomats and politicians.
They are now victims of war – injured, scarred, bereaved and displaced.
Children in a refugee camp in Akkar, northern Lebanon have illustrated their own plight and wishes better than any writer, ambassador or world leader can. The group, supported by Concern Worldwide, wrote and performed a rap telling the world that they want to be the children "playing with the ball, watching Tom and Jerry, not Ban Ki Moon and Kerry".
The eldest of these children is 12.
Watch:
Source: Concern Worldwide/YouTube
Here are the full lyrics – written by themselves – of their rap:
Syria, it was people who destroyed you…
…your children going to school saying goodbye to their Mom
afraid of being blown up by a bomb.
I want to see the last bullet fired
even if it's into my body.
I wish I could go back to the alley
where I once wrote my name.
I wish I could be the child
playing with the ball
watching Tom and Jerry
not Ban Ki Moon and Kerry.
Churches next to Mosques
the Eastern Gate still standing
and the sectarians all gone away.
This foreign air hurts me
and the water doesn't quench me.
Let me drink from the spring of Ain al-Fijah
All the weapons in the world
can't destroy you, Syria.
You need your children
you don't need strangers.
Syria be strong, tomorrow we'll rebuild you
dry your tears
please don't cry
I'm madly in love with you
You're the dearest thing to me.
Spring is coming and you will blossom.
Hand in hand fellow Syrians will rebuild you.
We will light candles
where blood was shed.
Syria needs freedom
a rebellion against arms
so we can unite
and build what was destroyed.
Weapons were made for destruction
guns won't help.
Syria needs roses.
Syria is bleeding – wake up for God's sake.