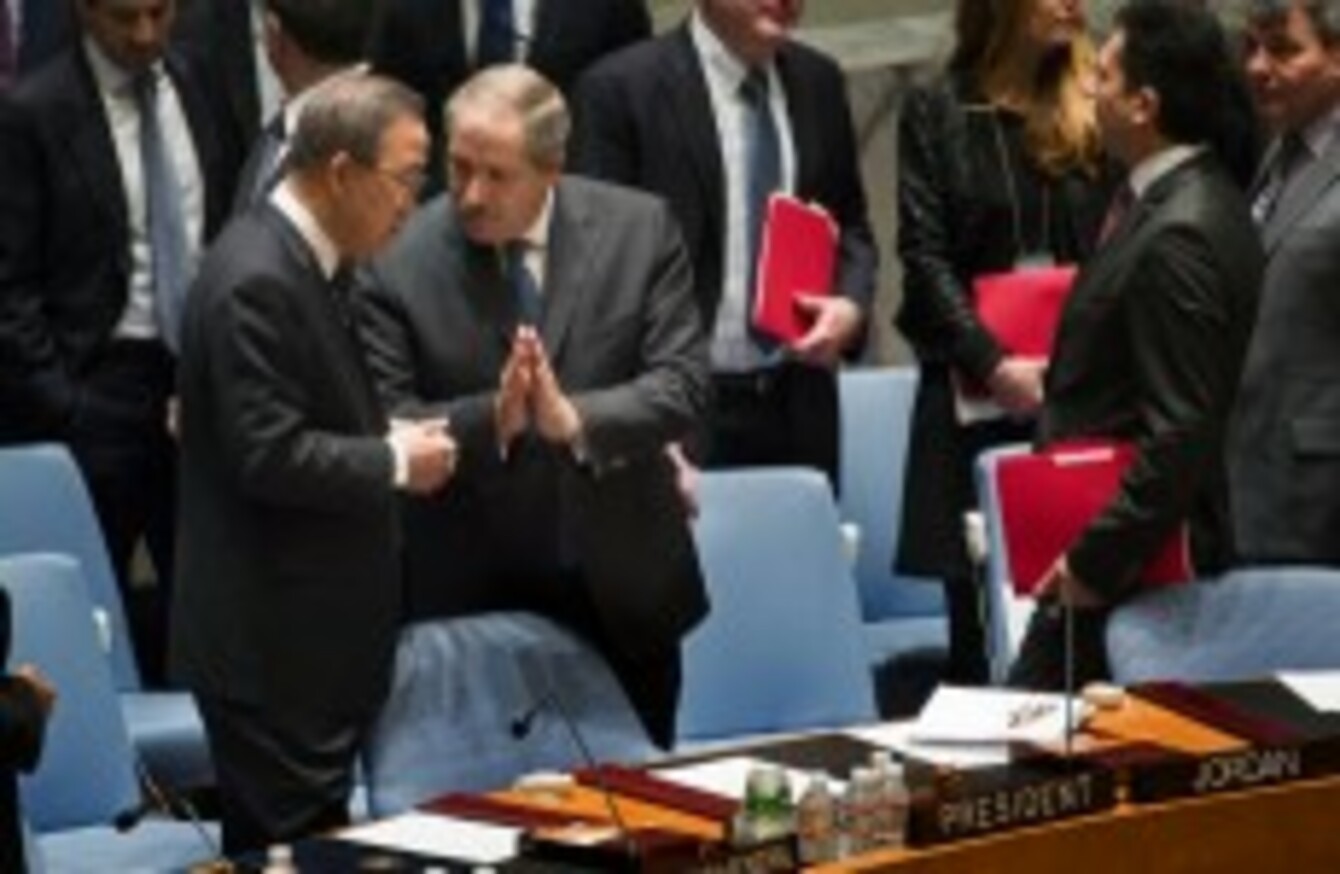 Jordanian Foreign Minister Nasser Judeh has a conversation with U.N. Secretary-General Ban Ki-moon.
Image: Craig Ruttle/PA Wire
Jordanian Foreign Minister Nasser Judeh has a conversation with U.N. Secretary-General Ban Ki-moon.
Image: Craig Ruttle/PA Wire
THE UN HAVE cancelled an invitation to Iran to attend a Syria peace conference this week over its refusal to back calls for a transitional government in Syria.
UN leader Ban Ki-moon is "deeply disappointed" at Iran's statements rejecting a communique adopted by international powers on ending the Syria war UN spokesman Martin Nesirky said this evening.
The United States and United Nations were scrambling this afternoon to rescue the much-heralded Syrian peace talks after the were thrown into disarray by a surprise UN invite to Iran.
The deeply divided Syrian opposition, which had struggled to agree to join the so-called Geneva II conference, threatened a boycott unless the invitation to Tehran is withdrawn.
They have now said that they attend Geneva II talks now that Iran has been excluded.
Just before the UN announcement, Iran's UN envoy Mohammad Khazaee reaffirmed his government's rejection of the communique adopted in Geneva in June 2012.
"Iran has always been supportive of finding a political solution for this crisis," Khazaee said in a statement.
"However the Islamic Republic of Iran does not accept any preconditions for its participation in Geneva II conference. If the participation of Iran is conditioned to accept Geneva I communique, Iran will not participate in Geneva II," he said.
Adding to the tensions, Syrian President Bashar al-Assad bluntly ruled out a power-sharing deal and said in an exclusive AFP interview that the talks opening on Wednesday should focus on what he called his "war against terrorism".
Amjad Al-Saleh, whose family fled their home in Marea 11 days ago due to Syrian government shelling at their house. (Pic: AP Photo/Muhammed Muheisen, File)
UN leader Ban Ki-moon, who sparked the furor with his invitation to Tehran on Sunday, was "dismayed" by Iran's refusal to back an international statement calling for a transitional government in Syria and by the Syrian opposition's threat to boycott the talks.
"The secretary general is currently urgently considering his options in light of the disappointing reaction of some participants," UN spokesman Martin Nesirky told reporters.
Nesirky said Ban is in contact with the US and Russian foreign ministers over the mounting storm just two days ahead of the start of the peace conference in the Swiss town of Montreux.
A senior US State Department official had earlier said that they "expect the invitation will be rescinded".
The Geneva II conference has been nine months in the making and is the most intensive diplomatic effort yet to end the brutal three-year conflict.
And a US official said Washington had received messages from members of the Damascus regime keen to find a peaceful solution to the conflict.
Washington, London and Paris have said Tehran would have to clearly and publicly support the idea of a transitional government, as agreed in a communique adopted by major powers in Geneva in June 2012, if it was to join the talks.
Regional powerhouse Saudi Arabia, which supports the Syrian rebels, also said Iran was "unqualified to attend."
The surprise invitation came as an interim deal with world powers aimed at containing Tehran's nuclear ambitions came into effect on Monday although it was not clear if the two events were linked.
Iran remained defiant, with a foreign ministry spokeswoman saying it will participate "without any preconditions."
The conference is aimed at setting up a transitional government to find a way out of the civil war that has claimed 130,000 lives and created a humanitarian disaster with million of people homeless.