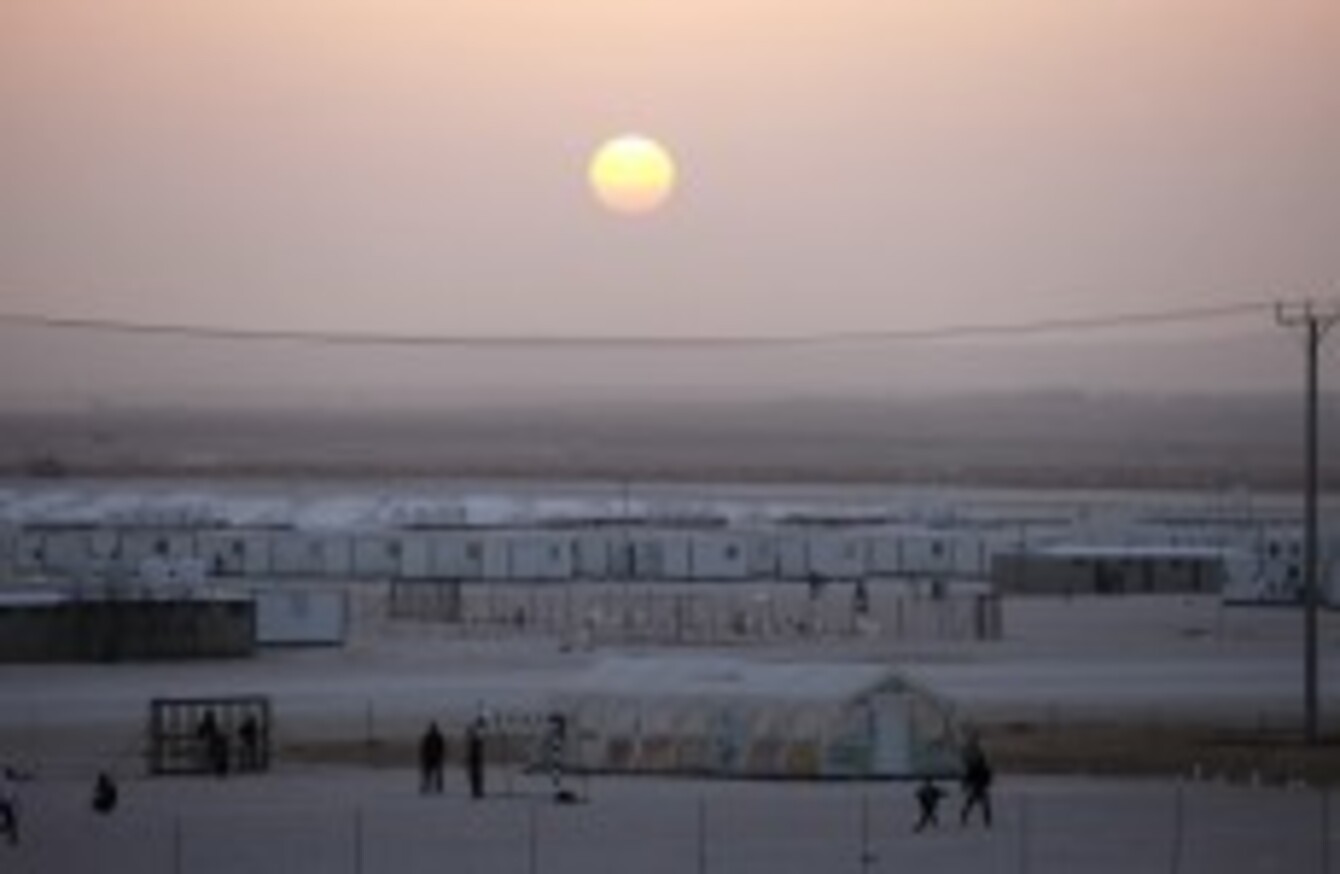 Young Syrian refugees play football at the Zaatari refugee camp in Jordan on Christmas Day.
Image: Mohammad Hannon/AP/Press Association Images
Young Syrian refugees play football at the Zaatari refugee camp in Jordan on Christmas Day.
Image: Mohammad Hannon/AP/Press Association Images
INTERNATIONAL ENVOY LAKHDAR Brahimi has warned that the Syrian war is worsening "by the day" as he announced a peace plan he believed could find support from world powers, including key Syria ally Russia.
Brahimi's comments came as Russia despatched a third warship to its naval base in the Syrian port of Tartus in readiness for a possible evacuation of its nationals and as Turkish Prime Minister Recep Tayyip Erdogan told Syrian refugees that victory over the "tyrant" President Bashar Assad was at hand.
The situation in Syria "is very bad and getting worse by the day," Brahimi told reporters in Cairo, a day after warning in Moscow that Damascus faced a choice between "hell or the political process."
He said he had crafted a ceasefire plan "that could be adopted by the international community".
"I have discussed this plan with Russia and Syria…I think this proposal could be adopted by the international community," the UN and Arab League envoy said, without giving details.
"There is a proposal for a political solution based on the Geneva declaration foreseeing a ceasefire, forming a government with complete prerogatives and a plan for parliamentary and presidential elections," he added, referring to a peace initiative that world powers agreed to in Geneva in June.
That plan was rejected by Syria's opposition, which is adamant that Assad's departure is a given before any national dialogue such as that under the Geneva initiative can take place.
Russia and China have so far vetoed three Security Council draft resolutions seeking to force Assad's hand with the threat of sanctions.
Brahimi held talks in Moscow on Saturday with Russian Foreign Minister Sergei Lavrov on his end-of-year bid to accelerate moves to halt the conflict that monitors say has killed 45,000 people.
Yesterday, Free Syrian Army fighters fire at enemy positions during heavy clashes with government forces, in the Salaheddine district in Aleppo. Image: Abdullah Al-Yasin/AP/Press Association Images
The talks came amid signs that Russia was beginning to distance itself from Assad's government.
Moscow dispatched a third naval vessel to the eastern Mediterranean on Sunday in readiness for a possible evacuation of Russian nationals, many of them women who married Syrian men during the Cold War years of close relations.
The Novocherkassk landing ship joined the Azov and Nikolai Filchenkov amphibious vessels already en route for Syria since Friday and is expected to dock in Tartus in the first 10 days of the new year, Russian news agencies reported.
The Tartus base is Russia's only remaining naval station outside the former Soviet Union and is seen as a major strategic asset for Moscow.
Russia has been accused of using the base to supply Assad's government with secret military shipments supplementing the official weapons sales that Moscow has made to Damascus since Soviet times.
But recent rebel gains prompted Russia to admit for the first time this month that Assad's days in power may be numbered.
The Turkish premier visited a Syrian refugee camp near the border accompanied by armed opposition National Coalition chief Ahmed Moaz al-Khatib.
"I can see it clearly that the help of God is near," Erdogan said. "You have suffered so much but do not despair."
#Open journalism No news is bad news Support The Journal

Your contributions will help us continue to deliver the stories that are important to you

Support us now
Turkey is currently home to almost 150,000 Syrian refugees. It is also the principal rear-base for the rebels.
On the ground, at least 63 people were killed in violence on Sunday, 40 of them civilians, according to a preliminary toll from the Syrian Observatory for Human Rights.
Among seven people killed in an air strike in the central province of Hama were a man, his wife and young daughter, the Britain-based watchdog said.
South of second city Aleppo, rebels spearheaded by fighters of the jihadist Al-Nusra Front — blacklisted by Washington for its suspected links to Al-Qaeda — launched a fierce assault on besieged troops in the Hamidiyeh base near the strategic crossroads town of Maaret al-Numan.
Kader Arif, French Minister for Veteran affairs, second left, visits one of the tents of the French military mobile hospital at Zaatari Syrian refugee camp, near the Syrian border in Mafraq, Jordan on Christmas Day. (AP Photo/Mohammad Hannon)
In Idlib province in the northwest, rebels downed a military helicopter near the Taftanaz airbase, the Observatory said.
In Homs province in the centre, troops shelled rebel positions around Krak des Chevaliers, a UNESCO-listed Crusader castle that is one of the jewels of Syria's architectural heritage.