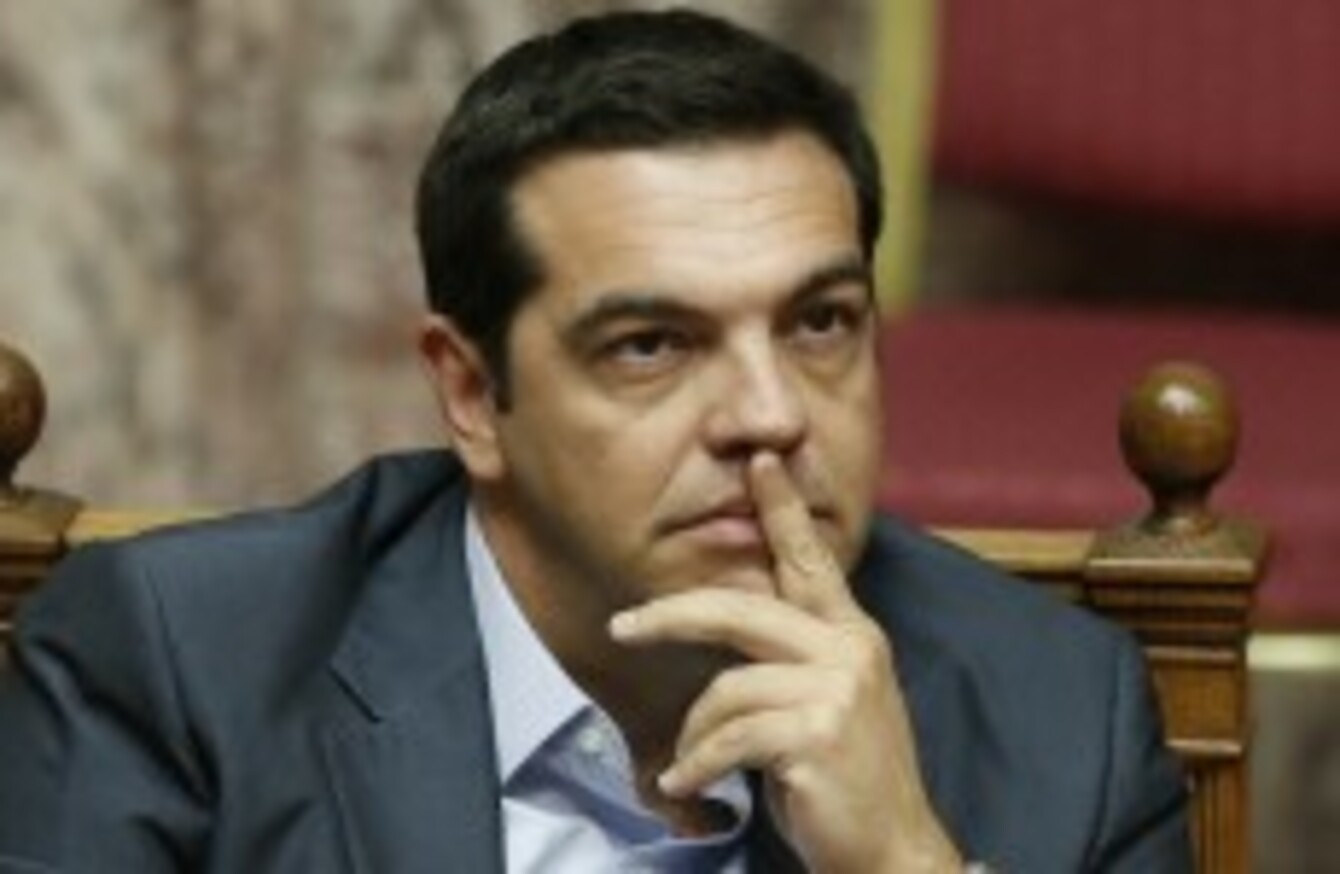 Alexis Tsipras has much thinking to do.
Image: AP/Press Association Images
Alexis Tsipras has much thinking to do.
Image: AP/Press Association Images
Uopdated: 22.37
SOME HARDLINE MPs from the Greek Syriza party are to break away and form their own political party according to local media.
A day after Prime Minister Alexis Tsipras resigned and announced a snap election, 25 colleagues have now committed to a new party, Laiki Enotita (Popular Unity).
The 25 members have been listed in the Greek newspaper Ta Nea and include those who were opposed to Greece's latest bailout deal.
It will be lead by former energy minster Panagiotis Lafazani.
Former finance minister Yanis Varoufakis was not listed among its members.
Tsipras had argued that the recent €86 billion rescue package, Greece's third bailout, was the only way to prevent the country from defaulting and crashing out of the eurozone.
But for furious critics within his hard-left party Syriza say agreement represented capitulation to "blackmail" from the creditors and an unacceptable betrayal of everything they stood for.
"Every corner and beauty of Greece is being sold," railed parliament speaker Zoe Constantopoulou, decrying the bailout deal as a "crime against humanity".
Despite her strong objections to the deal, Constantopoulou was not listed among the 25 Syriza members who've signed up for the breakaway party.
The fresh political uncertainty shook the markets, with stocks in Athens shedding 2.5%, while Greece's European creditors urged it to implement the terms of the massive new bailout whoever wins the poll, which is likely to be held on September 20.
#Open journalism No news is bad news Support The Journal

Your contributions will help us continue to deliver the stories that are important to you

Support us now
Source: FRANCE 24 English/YouTube
Tsipras has been battling a major rebellion within the party for weeks, with dozens of his MPs refusing to back the bailout in three successive parliamentary votes.
Each time, he was forced to rely on the opposition to get crucial bills approving the rescue passed — meaning he had effectively lost his parliamentary majority.
Yesterday, he once again leapt fiercely to the bailout's defence as he announced his resignation, saying: "I want to submit to the Greek people everything I have done so that they can decide once more."
Despite being unable to keep his lawmakers in line, the 41-year-old nonetheless remains widely trusted by Greeks as the best man to be leading the country through the crisis, and is far ahead of any of his rivals in opinion polls.
With reporting by © – AFP 2015
Originally published: