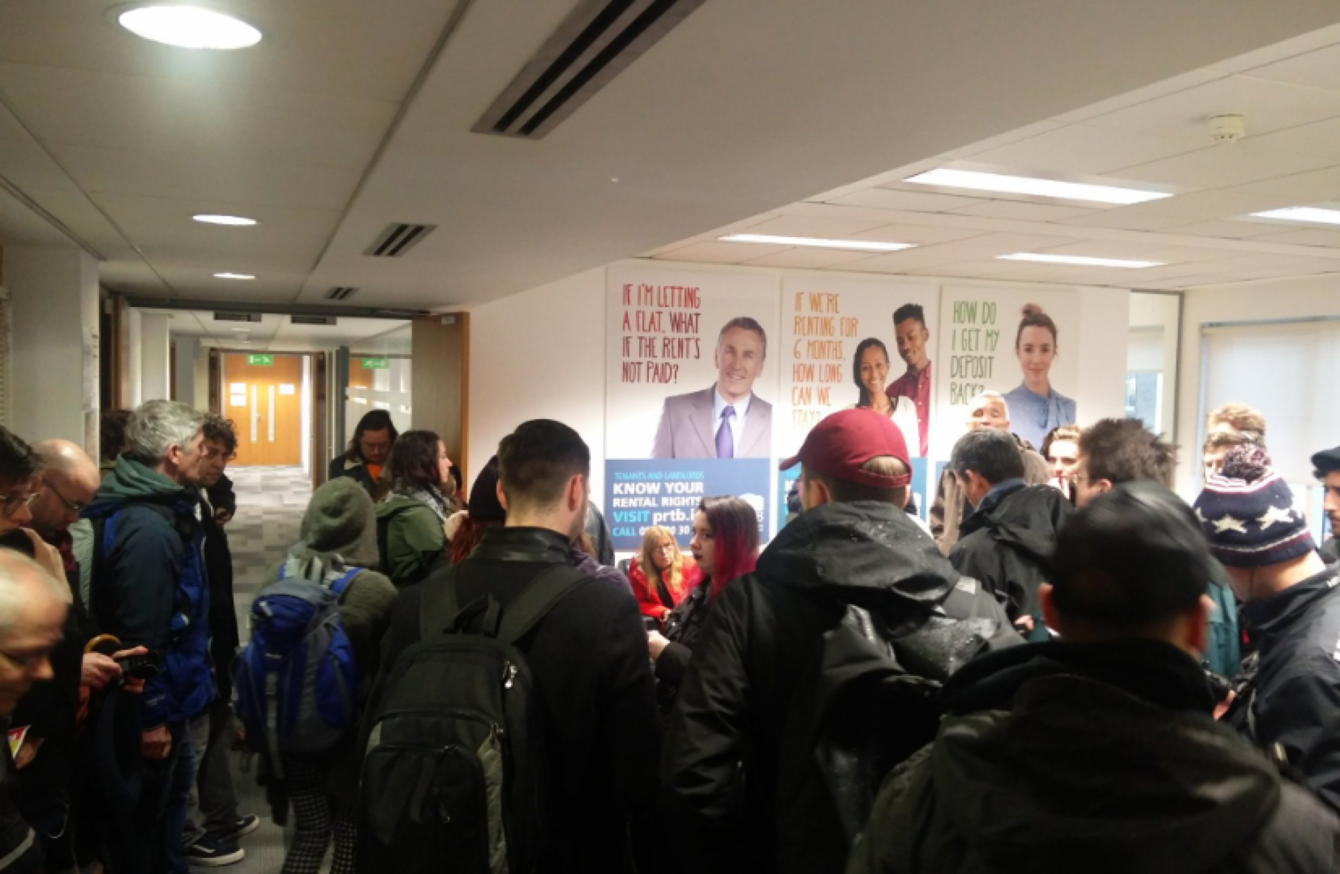 HOUSING ACTIVISTS FORCED the cancellation of a Residential Tenancies Board (RTB) tribunal hearing this morning after occupying the board's office for almost 90 minutes.
The Take Back the City Protest group gathered on O'Connell Street at 9.30am to highlight the case of a mother and two children who have recently been evicted from their accommodation.
The group also demonstrated to call for greater independence of the RTB, an end to evictions, and a licencing system to be introduced for landlords.
Patrick Nelis of Dublin West Housing Action told reporters that the protesters had gathered to support tenants and present the RTB with a set of demands.
"The members who sit on the tribunal, one is chair of the Landlords Association of Ireland; that's not good enough, that's not an independent body and we also have tribunal members who are estate agents and landlords; that's a conflict of interest to deciding cases," he said.
Activists demanded to talk to the director and chairperson of the RTB, presenting the board with this list of demands:
The board of the RTB agree to meet with the tenant support groups that make up Take Back The City;
Adjudicators or tribunal members that have property interests should not be allowed to have decision-making powers within the RTB;
Introduce a licensing system for all landlords;
Remove the legislative loopholes that allow landlords to evict;
Ban evictions immediately, and give tenants real security of tenure;
An independent Rental Board be set up.
People Before Profit TD Mick Barry told reporters that notices to quit are being handed out "like confetti" and accused the RTB of allowing this to happen.
After gathering on O'Connell Street, protesters moved to the RTB's offices on D'Olier Street and occupied the board's Tribunal Room ahead of a hearing in relation to the eviction of a mother and her two young children.
After demonstrating in the tribunal room for nearly 90 minutes, the board eventually agreed with demonstrators that the hearing would not go ahead today.
The hearing is now expected to go ahead on Friday.
In a statement, the RTB said it was engaging with representatives of the Take Back the City Group.
"We are listening carefully to the views they are expressing and the questions they are raising. We would reiterate that our mission in the RTB is always to protect the rights of tenants and of landlords."
Take Back the City has claimed tenant complaints against landlords often take months to resolve, while landlord disputes with tenants are resolved with the RTB in a matter of weeks and "usually this means the tenant is evicted".
- With reporting by Stephen McDermott.