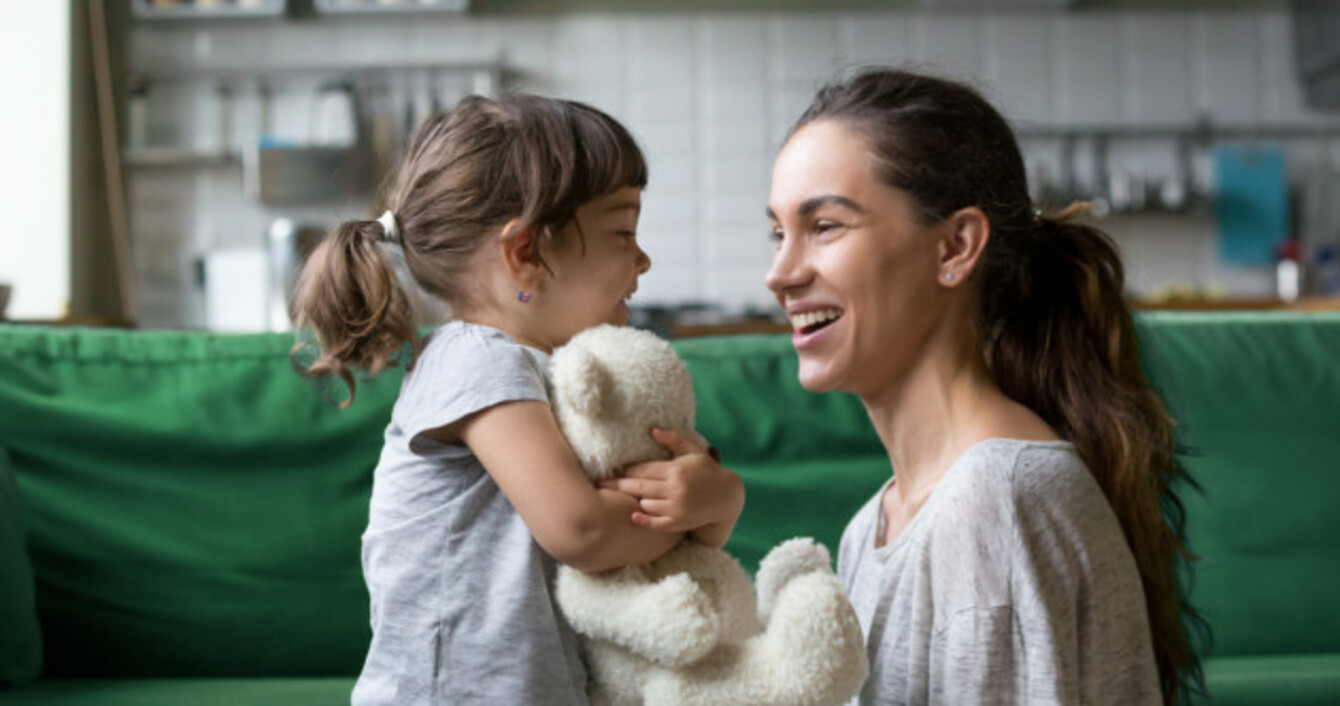 Image: Shutterstock/fizkes
Image: Shutterstock/fizkes
WHEN IS THE RIGHT time to talk to children about sex?
As a sexuality educator, I travel around Ireland speaking to parents with kids of all ages. I meet shy parents, open parents, bewildered parents… but they all have one thing in common: a desire to give their kids the right tools to foster healthy and happy relationships.
Yet despite this desire, many adults wait until their child is close to puberty to raise the subject of sex.
Parents tell me that they don't want to talk to their kids too early. And they don't want to get this part of parenting wrong.
But here's the thing.
Waiting until puberty starts for your kid makes the job of talking about sexuality more difficult for parents and for kids. We are waiting until they feel really awkward with their changing body – and then we try to talk about it with them. Both kids and parents tell me it's not the best timing.
Part of being healthy is learning about how our body works, how take care of ourselves and the people around us. That's particularly important when we start being intimate with someone or expressing our sexual self. 
Sexuality education research shows that young people will take fewer sexual risks and have an easier time making good decisions if they have had open, positive communication with their parents about sex growing up.
Chat early, chat often
One father I spoke to recently remembered being ten years old and crying when his dad told him how babies were made.
Nobody wants to repeat the unpleasantness from their childhood with their kids, I know, but there is an alternative: to start talking about sensitive things when our kids are younger.
That way, they learn that we are there for them way before the awkwardness of puberty starts, and we prove to ourselves we can talk about complicated topics. Talking about sex begins to feel normal for everyone if we start when our children are young, and naturally interested in the world.  
Open, honest communication is easiest way for us to stay connected with our kids. And if we take that approach early on, it will feel easy for our kids too.
Here are some pointers, based on the work I do with parents every day, to get you started…
From 0 – 2 years old
1. Introduce the right names for body parts from day one
Even at this early stage, parents can introduce the accurate names for parts like the vulva, vagina, breasts, nipples, penis, scrotum, and testes.
Starting to using those words early makes it easy to use the right names for genitals as your kids get older.
Plus, learning to talk about genitals without embarrassment gives our kids the ability to seek help if things don't feel right or something goes wrong. 
Between 2 and 5 years old
2. Open a book together
Toddlers and preschool-age kids can start to learn what each of their 'parts' do. Kids of any gender are often interested in touching their 'middle parts' – as Cory Silverberg calls them in the fabulous book Sex Is A Funny Word.  
I highly recommend using books and other resources to help you to normalise conversations about relationships and bodies. A book gives you an anchor, a framework to help you do this new part of parenting.
3. The conversations don't always need to be about sex
Here are some other conversations you might have during these years to help develop your child's understanding, whether they come up naturally or you bring up the topic yourself:
- The different types of families out there
- The fact that there are unwritten rules about giving people personal space.
- How notice when our bodies are telling us that something isn't right
- The fact that they're always allowed to ask you questions about bodies, sex and love. 
Kids aged five and six
4. Acknowledge that some people can find these topics embarrassing
Five or six is a good age to talk about pregnancy, birth and babies. You can even chat about the stories that adults make up to tell kids.
#Open journalism No news is bad news Support The Journal

Your contributions will help us continue to deliver the stories that are important to you

Support us now
When parents explain that grownups often feel too embarrassed to tell kids the real story about reproduction, kids can start learning that everyone has different abilities when it comes to talking about sex.
That's a useful lesson to learn early and is one of the building blocks for understanding consent when they are older.
5. Repeat, repeat, repeat
Whatever you choose to talk about, these conversations need to be repeated. Over. And over. And over.
Parents say lots of things over and over again. "Hold my hand and look both ways before crossing the street." "Don't run beside the swimming pool." The repetition helps our kids hold onto information, allowing them to develop self acceptance and resilience.
We need to talk often about how bodies work and what physical intimacy is, so that our child will gradually learn how to keep their body safe and healthy.
6. Stuck on what to say? Try one of these conversation starters
Here are a few openers to consider if you're looking for the right words.
- Ask a question: "Have you ever wondered how you were born?"
- Show them you are learning too: "I learned today that there are lots of different ways to be a family. What types of families to you know about?
- Tell a story about when you were a small child: "When I was your age grownups didn't tell kids the correct names for all the body parts…" Keep it light and interesting.
7. Remember that feeling awkward can be normal for you both
You can only do your best with this. Being embarrassed is normal and okay, so don't force yourself to have a conversation that feels wrong. We are not robots and some of us have past experiences that make these conversations almost impossible to do with ease. Remember that you are only human.
Start small and work your way up to the more complicated conversations as they get older, and be sure to seek out any support you need along the way. 
Sarah Sproule is a sexuality educator and occupational therapist who supports parents to build connections with their kids and talk about sex. You can learn more at thetalk.ie
Want to win a copy of psychotherapist Philippa Perry's bestselling new book, The Book You Wish Your Parents Had Read? Enter our competition here to be in with a chance!