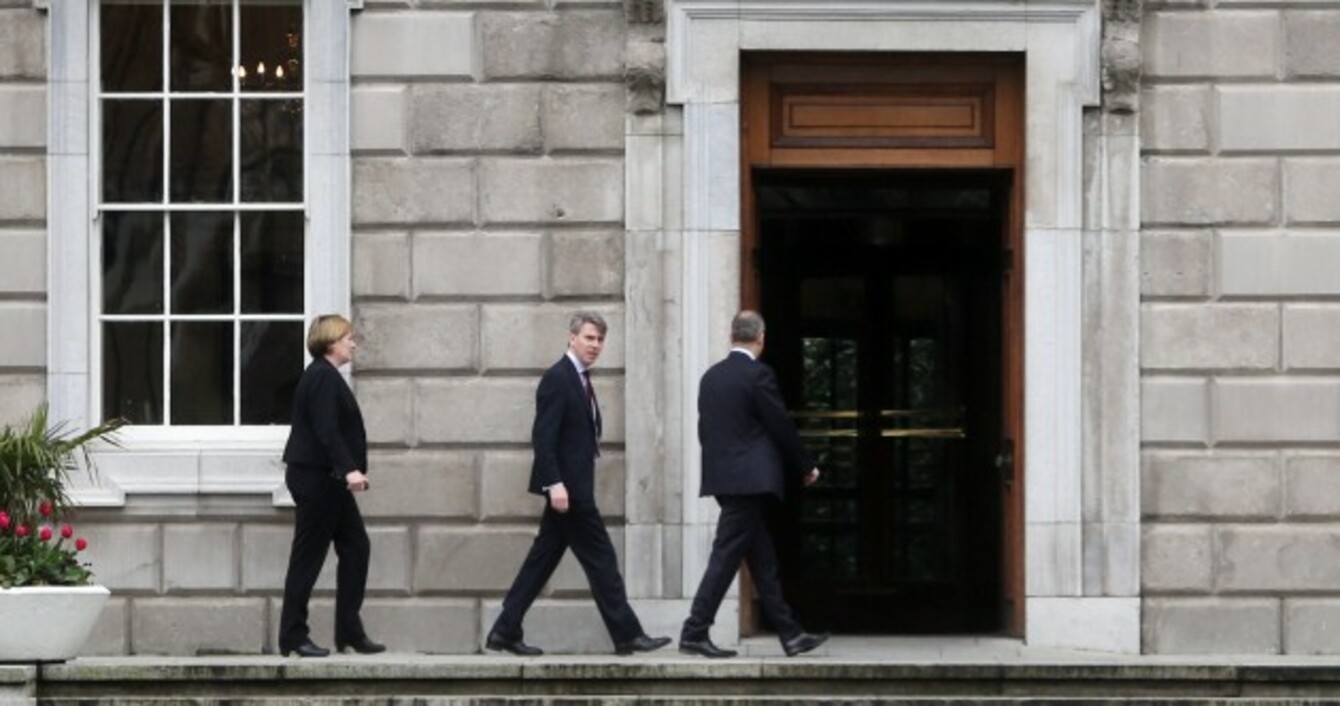 Image: Sam Boal/RollingNews.ie
Image: Sam Boal/RollingNews.ie
TALKS BETWEEN FINE Gael and Fianna Fáil have been going on for two days, but today one of the parties wasn't telling us much about how they're going.
While yesterday's statement from both parties described the talks as "constructive and cordial", Fine Gael had no urge to describe how things went today.
This is all we got:
Negotiation teams from both Fine Gael and Fianna Fáil had a further two meetings today and have agreed to meet again tomorrow.
Short and to the point.
Meanwhile, Fine Gael's refusal to support the possibility of a Fianna Fáil-led minority government is understood to be deemed as unacceptable by some independent TDs.
The talks between Fine Gael and Fianna Fáil – focusing on how a minority government might work - resumed today shortly after 2pm. It's believed documents have been exchanged between the two parties.
Independent TDs have seen the power shift in their favour in the last number of weeks, as Fine Gael and Fianna Fáil try to make up the numbers.
The Independent Alliance held their own meetings to go through the policy responses issued by Fine Gael and Fianna Fáil and to discuss their next step.
It is understood that independents have put forward a number of items that they would like to see delivered by each party, should they go into government with them.
However, a number of issues raised with the parties were omitted from the policy proposals, something the independents say they want addressed.
Who leads?
Fianna Fáil has already said that while they will not go into a partnership government with Fine Gael, they will support a Fine Gael-led minority government, if the party can make up the numbers.
However, Fine Gael has not stated likewise, which is believed to be an issue for some independent TDs who say that position is not currently acceptable.
Fine Gael TDs such as Frances Fitzgerald and Paschal Donohue have said on national airwaves that their party is in the strongest position to lead a stable government.
However, one independent TD said Fine Gael has to acknowledge that it saw a drop in their seats, adding that just as Fianna Fáil has, they too must state it would support a minority-led government by the other party.
While it is believed that Fine Gael will not go so far as to prop up a Fianna Fáil-led minority, sources have said there are questions hanging over whether Fianna Fáil are actually serious about wanting to lead such a formation.
If Fine Gael refuses to back Fianna Fáil, and they can't get the support to push up the numbers, it could mean another general election.
Another vote to elect a Taoiseach will take place on Thursday.
- Additional reporting Aoife Barry