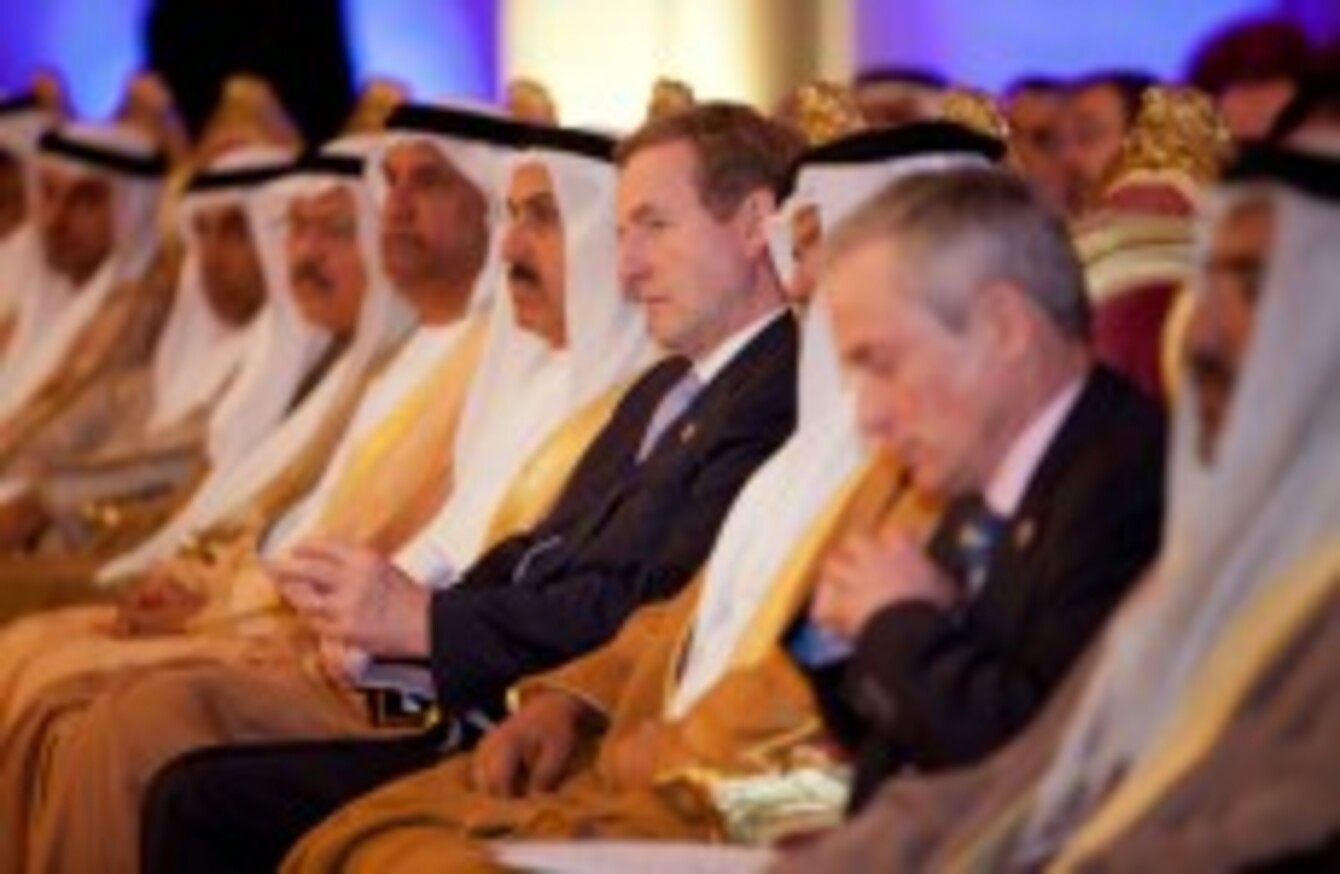 Enda Kenny and Richard Bruton at the Abu Dhabi Chamber of Commerce this week.
Image: Photocall Ireland/GIS
Enda Kenny and Richard Bruton at the Abu Dhabi Chamber of Commerce this week.
Image: Photocall Ireland/GIS
TÁNAISTE EAMON GILMORE has insisted that Ireland "always raises human rights issues" amid criticism of the Taoiseach Enda Kenny for not pressing the matter while on a trade mission to three Gulf countries this week.
Kenny and Jobs Minister Richard Bruton have been on an Enterprise Ireland trade mission to Saudi Arabia, Qatar and the UAE this week, but human rights issues have been largely off the agenda in meetings with senior politicians there.
"Ireland always raises human rights issues," Gilmore said at the RDS in Dublin today. "There are a number of ways in which we do that, one of the ways in which we do that is through the [UN] Human Rights Council, which we are a member, and [it] has a procedure where it reviews the human rights record of every country on a regular basis,"
Gilmore said that the record of Saudi Arabia – where women are not allowed to drive – was reviewed last October and that Ireland made "specific recommendations" to the country at the time "in respect of the rights of women in particular".
Asked if the Taoiseach should have raised these issues in meetings particularly with Saudi's deputy prime minister Crown Prince Salman, Gilmore responded: "The Taoiseach was on a trade mission.
"There are ways in which the human rights issues are raised by Ireland. We do that consistently, we do that regularly and there are few countries that have a strong a record as Ireland in pursuing human rights issues in different parts of the world."
Criticism
Earlier, Fianna Fáil leader Micheál Martin said that he was surprised that Kenny had not raised the issues.
"Of course he should have and I mean it's expected in encounters like that or in meetings like that you would raise issues pertaining to human rights," he said.
Martin identified issues in relation to the treatment of women in Saudi Arabia and hit out the Taoiseach congratulating Saudi for its election to the United Nations Human Rights Council.
"You don't congratulate people on a situation that clearly is not compatible with our own," he said.
The former Foreign Affairs minister said Ireland "consistently raise[s] these issues with, not just Saudi Arabia, but other countries where we believe human rights are being breached".
He added: "I think he should have at least raised it in the meetings."
Socialist Party MEP Paul Murphy, who has already written to the Taoiseach over the issue, criticised Jobs Minister Richard Bruton, who is also on the trade mission, for his comments in a Newstalk interview this morning.
"Minister Bruton cited the building of the World Cup stadiums as an example of 'progress and growth'. Workers building the World Cup stadiums in Qatar are facing shocking conditions," Murphy said.
The Gulf trade mission concluded today with the Department of Jobs announced in a statement that it had ensured an initial 95 jobs for Ireland and 21 contracts and business deals worth a record €65 million.
Around 100 executives from 87 Irish companies were also on the trade mission.