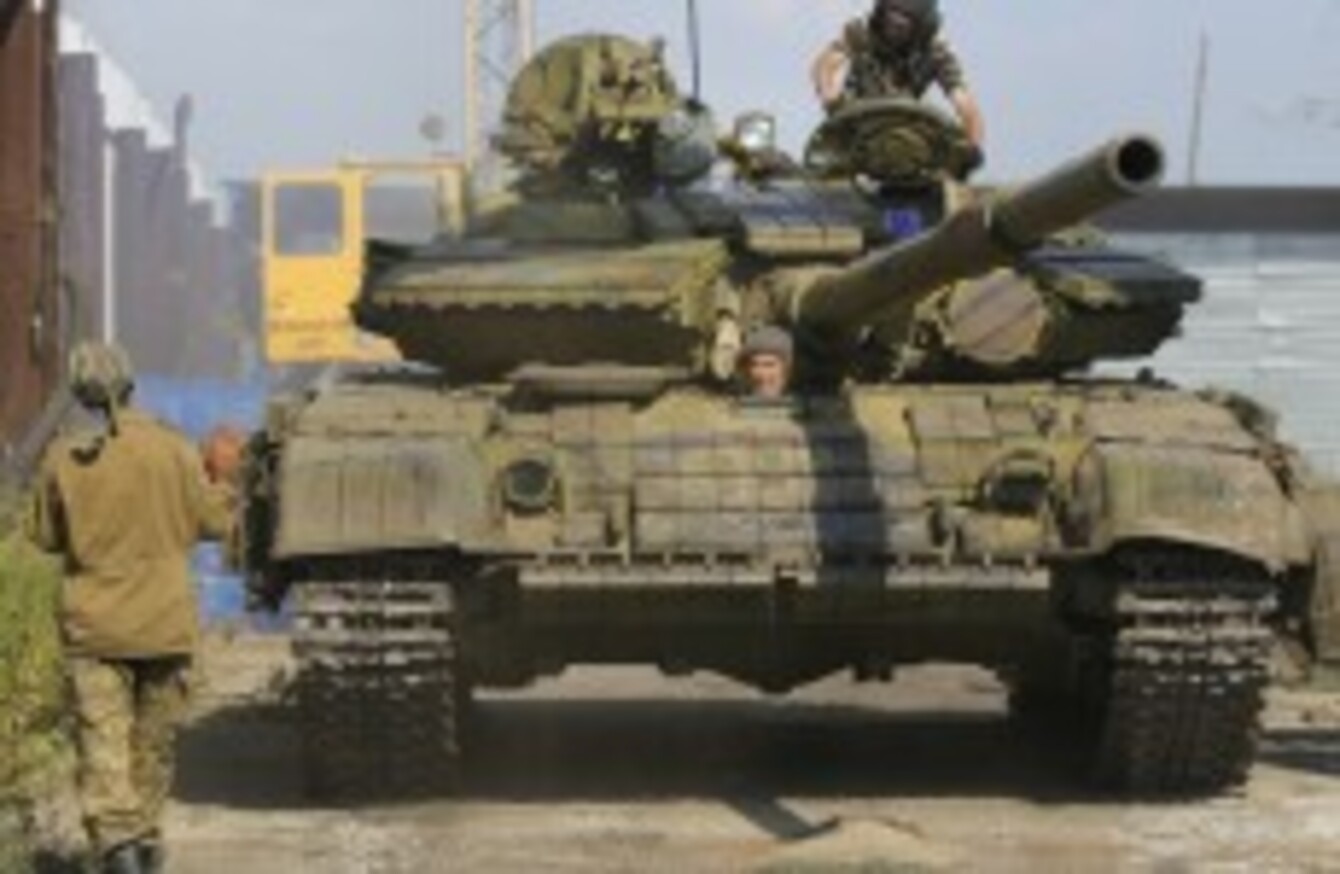 A file photo pro-Russian rebels in a tank.
Image: AP/Press Association Images
A file photo pro-Russian rebels in a tank.
Image: AP/Press Association Images
Updated 12.55pm
UKRAINE HAS SAID that dozens of tanks and truckloads of soldiers had crossed from Russia into Kremlin-backed rebel territory, as five servicemen were killed in fighting that made a mockery of a supposed ceasefire.
A column of 32 tanks, 16 howitzer cannons and 30 trucks carrying troops and equipment crossed the border into separatist-held Lugansk region Thursday, Ukrainian military spokesman Andriy Lysenko said, while another convoy including three mobile radar stations also entered the same area.
There was no way to confirm the claims independently.
Lysenko said five Ukrainian soldiers were killed and 16 injured in the past 24 hours in clashes between government forces and pro-Moscow rebels that underscored the emptiness of a two-month truce that both continue to insist they are respecting.
Fifteen civilians were wounded by shrapnel in the separatist bastion of Donetsk, the mayor's office said, in a night of shelling in two neighbourhoods near the ruins of the airport, where government troops are holding out.
Full-scale confrontations
While the September truce agreement has seen full-scale confrontations halt along most of the frontline, shelling has continued at flashpoints around the industrial east. Claims of fresh troop movements are reinforcing fears of a return to all-out fighting.
The latest casualties came after Kiev moved to isolate the Kremlin-backed separatist regions, firming up the split of the ex-Soviet republic in a crisis that has sent East-West relations to their lowest ebb since the Cold War.
An AFP journalist in Donetsk reported that shelling in the fog-shrouded city had subsided Friday morning.
Some 150 mourners attended an emotional memorial service in the ravaged industrial hub for two teenage boys killed when a shell hit a school playing field Wednesday. Kiev and the insurgents blamed each other for the incident.