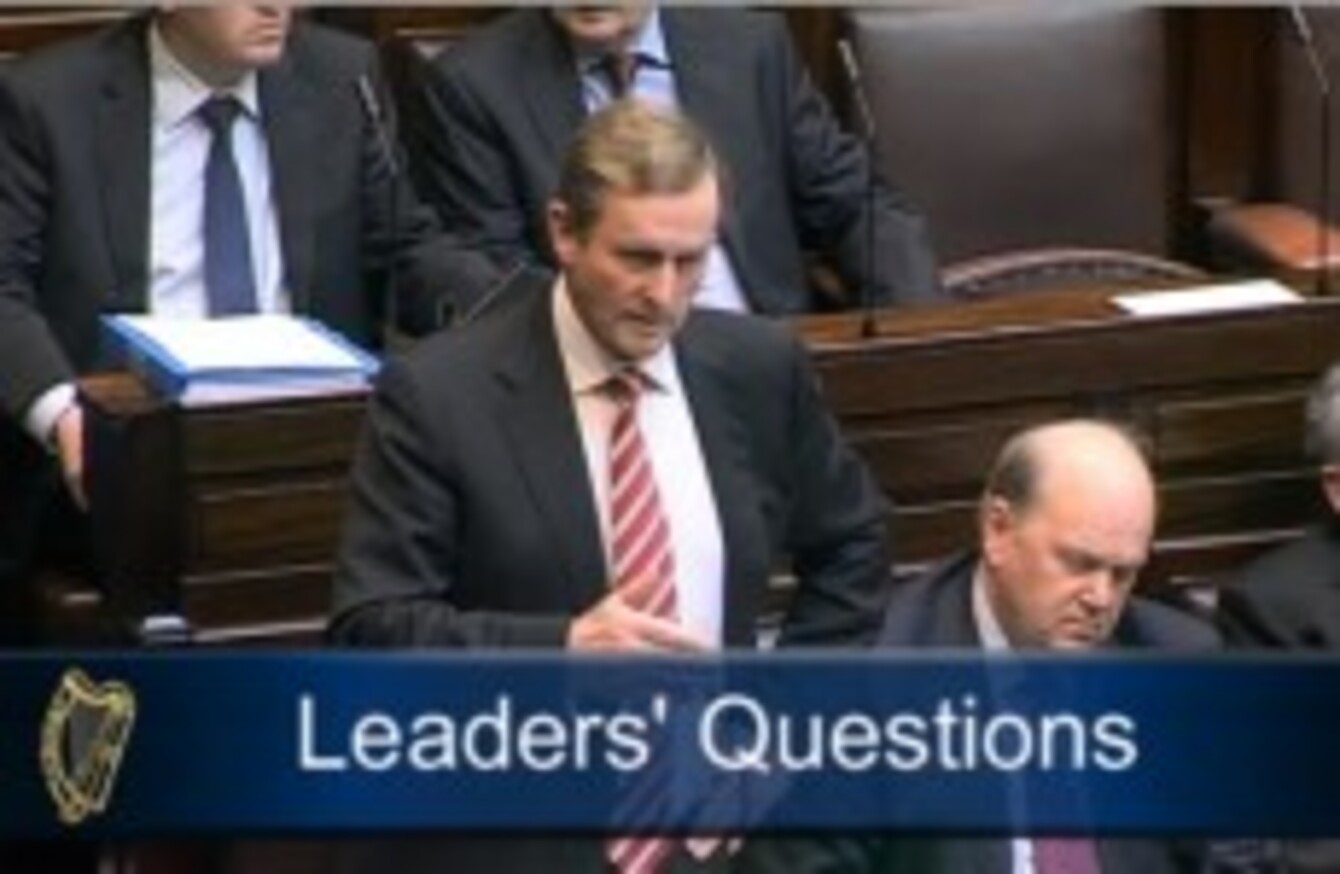 Image: Oireachtas TV
Image: Oireachtas TV
ENDA KENNY DISMISSED calls for a constitutional referendum on abortion in the Dáil this afternoon.
Answering a question posed by Deputy John Halligan, the Taoiseach stated the heads of the bill approved by government last week will not impact the Constitution.
"There is no change nor will there be any change," he said.
"This [draft law] does not involve anything extraneous like what you mentioned…fatal foetal abnormality, rape or incest."
Halligan had proposed a referendum to allow the electorate decide if a woman should be allowed a legal abortion in Ireland in the case of rape or incest or if she is carry a child with a fatal diagnosis.
Kenny said he had "no intention of playing party politics with a matter as sensitive as this".
"We are confined here in what we are doing by the Constitution and, within the Constitution what the law as determined by the Supreme Court is. So it is within these confines that the heads have been approved by government and will follow through the process."
He noted that a right to travel has been specifically given to women.
The government is focussed on dealing with what is within the Constitution and within current law, he added.
Kenny said he has spoken to women who have undergone termination procedures, as well as those who have been raped. He told Halligan that the issues he raised were "very important", adding that people make these choices under circumstances of great duress.
Speaking in the chamber, Halligan had said that the pro-life movement "centres on the right to life of the foetus" but argued that a woman also has the right not to be raped.
"If her right is violated, I believe she has the right to end a pregnancy at her discretion," he said. "I defy any TD to look a pregnant rape victim in the eye and tell her – or tell a woman carrying a baby that is certain to die at birth – that we are more entitled than she is to be in control of her body. We cannot continue to brush these cases under the carpet and pretend they are not happening."