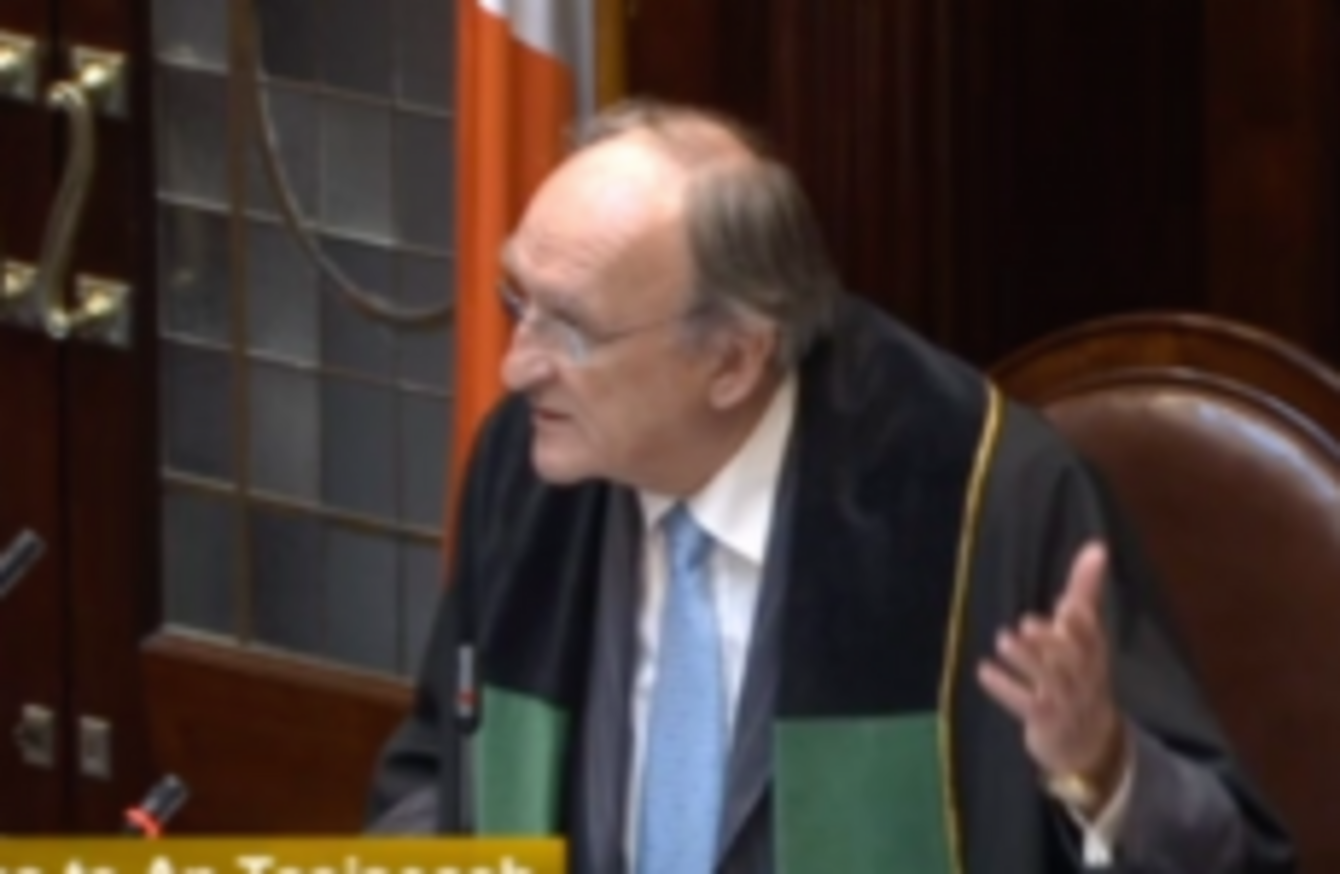 Ceann Comhairle Seán Barrett in the Dáil today
Image: Screengrab via Oireachtas TV
Ceann Comhairle Seán Barrett in the Dáil today
Image: Screengrab via Oireachtas TV
ATTEMPTS BY OPPOSITION politicians to ask Taoiseach Enda Kenny questions were frustrated by Dáil procedures and the restrictions of Cabinet confidentiality today.
During Questions to An Taoiseach, Kenny informed the Dáil that the Cabinet sub-committee on economic infrastructure had met four times but that the contents of such meetings could not be relayed to the House because of the longstanding practice of Cabinet confidentiality.
Undetered Sinn Féin's Gerry Adams used this as a hook to raise the issue of Irish Water and specifically the lack of an emergency, out-of-hours number for water customers.
This led to a clash with Ceann Comhairle Seán Barrett who noted: "Ah, you're really straying now."
Adams insisted that Irish Water had become an issue in recent weeks, prompting Barrett to reply: "Don't be taking me for a fool now."
A frustrated Adams accepted that he could not raise the matter before light-heartedly claiming he was "once again being 'Section 31-ed'" – a reference to the famous broadcasting ban on republican figures during The Troubles.
Source: Hugh O'Connell/YouTube
Later Kenny tried to give Socialist Party TD Joe Higgins information about social housing and homelessness, but was prevented from doing so by Barrett.
The clearly frustrated Ceann Comhairle lamented that the whole agenda of Taoiseach's questions never gets dealt with as TDs spent an hour on four or five questions.
Source: Hugh O'Connell/YouTube