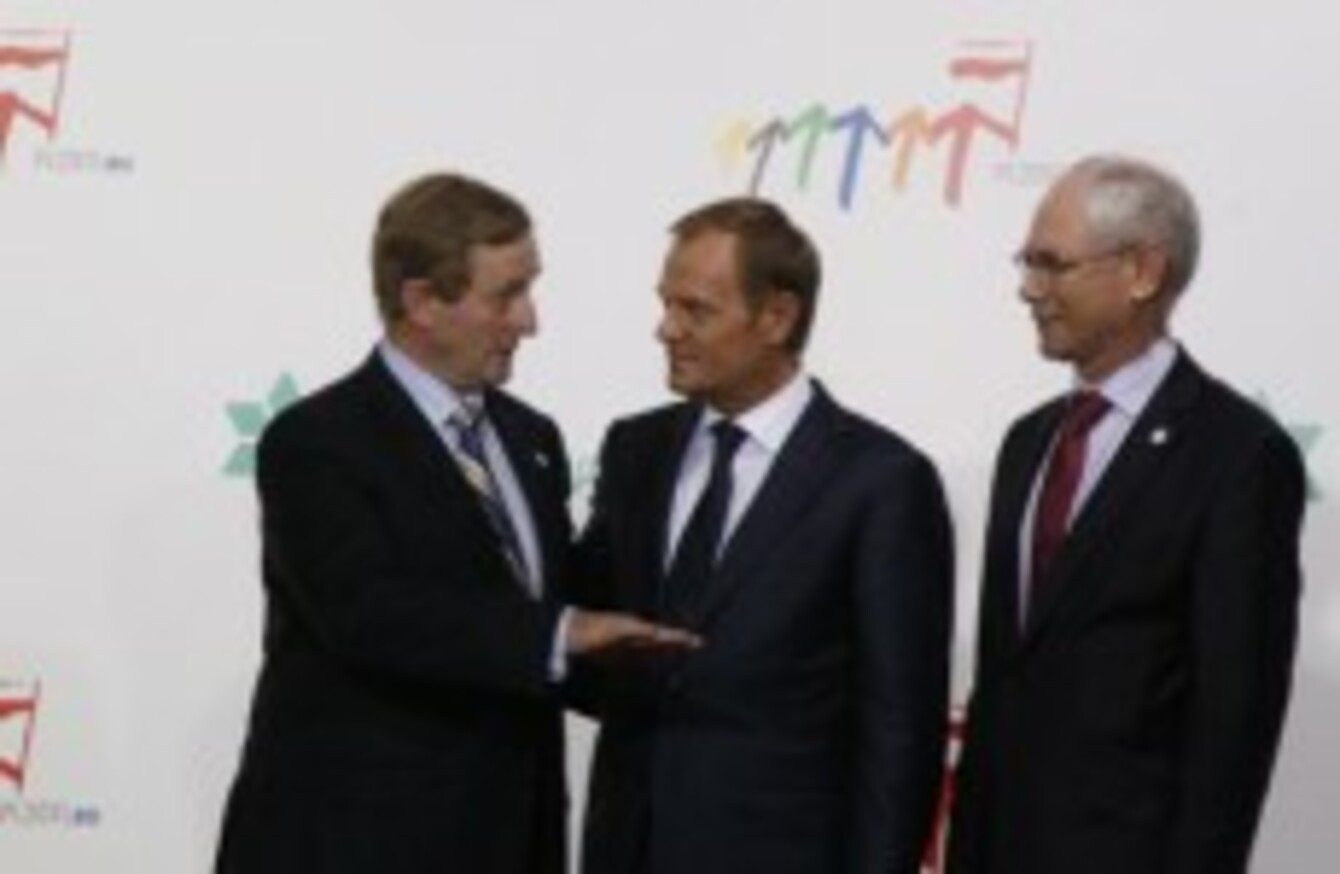 Enda Kenny, left, speaks with European Council President Herman Van Rompuy, right, and Poland's Prime Minister Donald Tusk, centre in Warsaw yesterday
Image: Virginia Mayo/AP/Press Association Images
Enda Kenny, left, speaks with European Council President Herman Van Rompuy, right, and Poland's Prime Minister Donald Tusk, centre in Warsaw yesterday
Image: Virginia Mayo/AP/Press Association Images
TAOISEACH ENDA KENNY is in Warsaw for the Eastern Partnership Summit.
Armenia, Azerbaijan, Belarus, Georgia, Moldova, and Ukraine are meeting with a number of their European counterparts at the two-day meeting, which began yesterday, Thursday 29 September.
It is the first such meeting since the introduction of the Eastern Partnership in 2009 and its focus is on the future ties between those in the project.
It is expected that part of the summit will focus on Ukraine and the negotiations for a Deep and Comprehensive Free Trade Area (DCFTA).
However, the fact that former Ukrainian Prime Minister Yulia Tymoshenko is on trial over a gas deal could affect negotiations.
She described her trial as a "lynching" earlier today.
The Polish Helsinki Foundation for Human Rights issued an open letter yesterday regarding the summit.
The letter said the foundation hopes "that the problem of the lack of respect for democracy principles and the necessity to introduce human rights protection guarantees in the Eastern Partnership member states" becomes a priority during the summit.
Also problematic is Belarus, where human rights activists have been arrested during recent rallies.
Its president,  Alexander Lukashenko, has been offered financial support but only if he frees prisoners and holds free elections.
Belarusian Foreign Minister Sergei Martyanov did not attend the summit and sent an ambassador instead.
Radio Free Europe / Radio Liberty reports that EU Council President Herman Van Rompoy met with a number of Belarusian human rights defenders.
The situation in Belarus is mentioned in the summit draft declaration, with leaders expressing their concerns about it.
The Taoiseach will use the summit to brief the participants on Ireland's approach to its upcoming Chairmanship in Office of the Organisation for Security and Cooperation in Europe, which starts in January 2012.