Enda Kenny collects his pass tonight for the Fine Gael Ard Fheis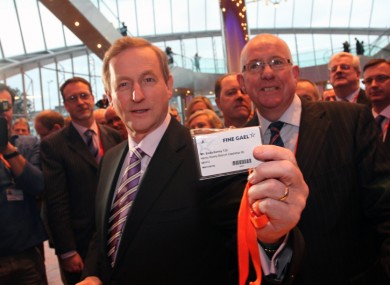 Enda Kenny collects his pass tonight for the Fine Gael Ard Fheis
TAOISEACH ENDA KENNY has used his opening speech at the Fine Gael Ard Fheis to urge people to vote Yes in the upcoming fiscal compact treaty referendum
He also defended the controversial household charge and urged anyone who has not paid to "make their contribution to the restoration of sound public finances in this country" and pay the €100 charge.
"I know that new taxes are never popular. The household charge is no exception. But it is needed to fund essential services".
Kenny said that Ireland's international reputation hinged on the outcome of the fiscal compact treaty referendum, saying:
We will have a serious national discussion about this.
He added:
I am confident our people will reject the idea that we can stand outside of Europe; put our recovery funds at risk; undermine the European economy that helps lift our own; and alarm the international companies and investors we rely on for new jobs.
He told delegates:
This referendum offers this country a vital and unique opportunity to send out a powerful signal around the globe that Ireland believes in the future of Europe, and of the Euro currency.
The Taoiseach used the speech to mark all the changes implemented by the government in its first year.
He welcomed the decision by Eurozone finance ministers today to increase the European rescue fund to over €700 billion – an increase of 40 per cent.
Enda Kenny told delegates that the party had achieved its goal of becoming the largest party in the Dáil. "But with that progress comes with a great responsibility, and a greater goal," the Taoiseach said.
"In a time of national crisis, the Irish people turned to us and to our partners in the Labour Party to provide the country with strong and stable government".
The Taoiseach arrived at the National Convention Centre in Dublin city centre this evening for the party's 76th Ard Fheis – the first time in 16 years that the party will hold an Ard Fheis while in government.
Kenny will be addressing the conference again on Saturday night in a speech which will be televised live on RTE.