Image: Niall Carson/PA Images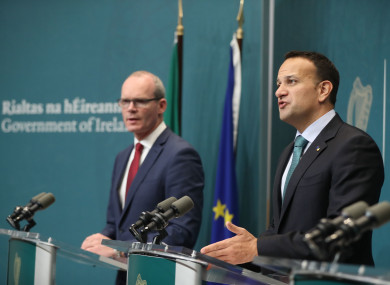 Image: Niall Carson/PA Images
TAOISEACH LEO VARADKAR has welcomed the withdrawal agreement made between the UK and the EU and said that given Ireland's priorities going into the talks, it was a "satisfactory outcome". 
Earlier this evening, UK Prime Minister Theresa May announced she had secured Cabinet approval for the Brexit deal after being locked in hours of talks.
While there is no guarantee that May will be able to get the deal through parliament, EU chief negotiator Michel Barnier said the agreement of the deal was a "decisive and crucial step". 
Reacting this evening, Varadkar said: "The legal text ensures that Ireland and the UK can continue to operate a Common Travel Area, and underpins the rights set out in the Good Friday Agreement."
He said that Ireland never wished for Brexit to happen, and knew it would have negative effects on the island, but that at the outset the government had identified "national priorities" that must be protected.
The Taoiseach said that throughout the negotiations, it was clear a backstop was needed.
"This is now fully spelt out," he said. "We have that if all other efforts fail to provide a better solution."
He added it was crucial that any decision to withdraw from these arrangements must be made jointly between the UK and EU.
Acknowledging Theresa May will have difficulty in securing the deal in Westminster, Varadkar said it was impossible to predict how the House of Commons would vote.
He said he hadn't spoken to either Theresa May or DUP leader Arlene Foster today. 
Varadkar also said ample time will be given to discuss the matter in the Dáil in the coming days and weeks.
Concluding, the Taoiseach described his mood as pretty good.
"This is one of the better days in politics," he said.
With reporting from Stephen McDermott