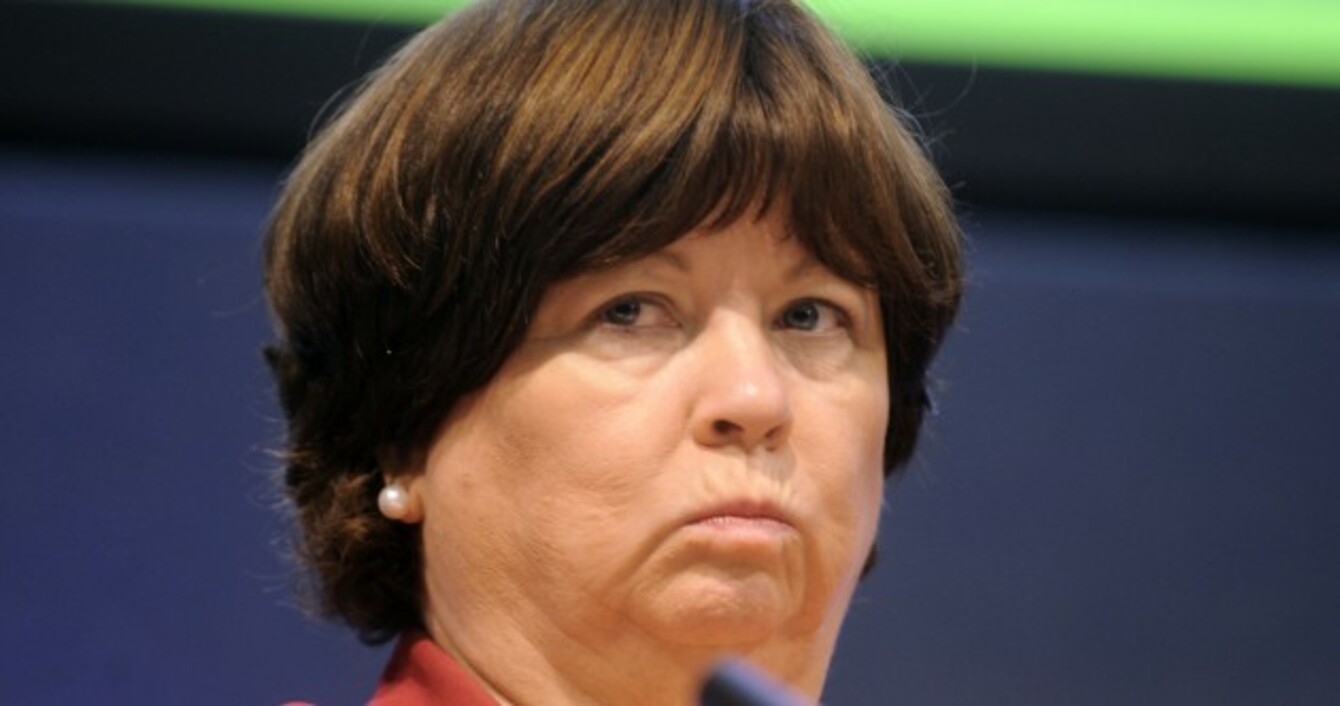 Mary Harney
Image: Laura Hutton/Photocall Ireland
Mary Harney
Image: Laura Hutton/Photocall Ireland
Updated 10.50pm
FORMER TÁNAISTE MARY Harney has denied she shut down an inquiry on alleged tax evasion being carried out by a civil servant in her department because the name of her predecessor as PD leader, Des O'Malley, came up in investigations.
Sinn Féin deputy leader Mary Lou McDonald made the claims in the Dáil today.
Using her parliamentary privilege, McDonald read into the record the names of six former politicians referred to in a dossier compiled by the civil servant, Gerry Ryan.
McDonald said Ryan's investigations were terminated by then minister Harney, and asked if he would now be allowed to resume his work. She added that the Public Accounts Committee had been told it could not investigate the claims.
McDonald was heavily criticised by two Labour TDs who sit with her on the PAC in the aftermath of her Dáil statement, with one questioning her suitability for continuing on the committee.
Earlier in the Dáil, Ceann Comhairle Seán Barrett told her she should not mention individuals who cannot defend themselves, but she proceeded to name Des O'Malley, Ray MacSharry, Gerard Collins, Máire Geoghegan-Quinn, an 'S Barrett', and Richie Ryan.
The Ceann Comhairle was quick to point out that he was not the 'S Barrett' in question:
"I wish to state quite categorically in case anybody is under any doubts when you say S Barrett, it doesn't apply to me."
Source: Sinn Féin/YouTube
Former Fianna Fáil TD Geoghegan-Quinn has since released a statement, noting: "I have never had an Ansbacher Account. Neither have I ever had an account with Guinness and Mahon Bank."
O'Malley also denied any wrongdoing, saying the allegations have already been "extensively investigated" by the Revenue Commissioners, an Garda Síochána and the Moriarty Tribunal.
The reason for my being on that list is quite simply that I had a particular form of account with Guinness Mahon Bank … In 1977 Guinness Mahon was a perfectly respectable bank. I never had any dealings with the late Des Traynor while he was in that bank or otherwise. I never had what is called 'an Ansbacher account'.
Former Fianna Fáil minister Collins said he would "welcome any investigation into this matter", stating: "I have never had or held an Ansbacher Account or Guinness and Mahon Bank Account."
While in a statement this afternoon, MacSharry said: "It is outrageous that anybody can make such wild allegations when there is no foundation whatsoever as far as I'm concerned."
The former Tánaiste said he "never had an Ansbacher account or a Guinness and Mahon account" and added he has been in touch with his lawyers "to see what options are open to me". 
Former Fine Gael finance minister Richie Ryan also "emphatically denied" ever having an Ansbacher account or an account with Guinness and Mahon. Ryan said he was "a total stranger" to McDonald's claims and totally and strenuously denied them.
In a statement this evening, Mary Harney said she had not, at any stage, been influenced "by any of the many names brought to my attention by the Authorised Officer in the course of his seven year investigation".
On the contrary and the minutes of both the Department and the Authorised Officer will confirm that I made it clear, regardless of who might have been involved, it had to be investigated correctly and thoroughly.
Harney said she had repeatedly defended the time being taken to complete the investigation, noting that concerns had been raised on several occasions between 2002 and 2004.
"In fact I informed the Dail in March 2002 that the investigation would be completed that year," she said.
"In February 2004 the Authorised Office indicated that he would require a further 3 months to complete his report.  As it transpired, I allowed a further 5 months before I requested that he conclude his work and forward all the information to the relevant authorities.
"I am satisfied that correct procedures were followed both by me and the Department. The goal was always to ensure that these matters were investigated thoroughly and dealt with correctly by the competent authorities."
McDonald slammed for 'stunt'
McDonald told the News at One she felt obliged to put the names of the individuals mentioned in the dossier on the public record to ensure the claims are investigated "appropriately".
"Those I named in the chamber are absolutely entitled to their good name," she added.
Labour TD and PAC member Robert Dowds accused McDonald of "reckless political grandstanding", describing her actions as a "cheap political stunt that serves no purpose other than grabbing headlines"
Fellow PAC member, Joe Costello, questioned the Sinn Féin politician's suitability for the PAC, saying: "It is damaging to the work of the committee for a member to name people mentioned in the dossier against whom nothing has been proved".
McDonald responded this evening on RTÉ's Six One News, saying:
In a statement this evening, McDonald said she had written to the Taoiseach requesting an inquiry be set up to establish if there had been political obstruction of the investigation.
"Allegations of tax evasion by senior public figures must be investigated properly and the Gardaí should be allowed to do their jobs," her statement said.
"I also believe that the whistle-blower should be allowed to continue his investigation."
- additional reporting from Hugh O'Connell and Daragh Brophy.
Originally published 1pm
Comments on this article have been closed for legal reasons.