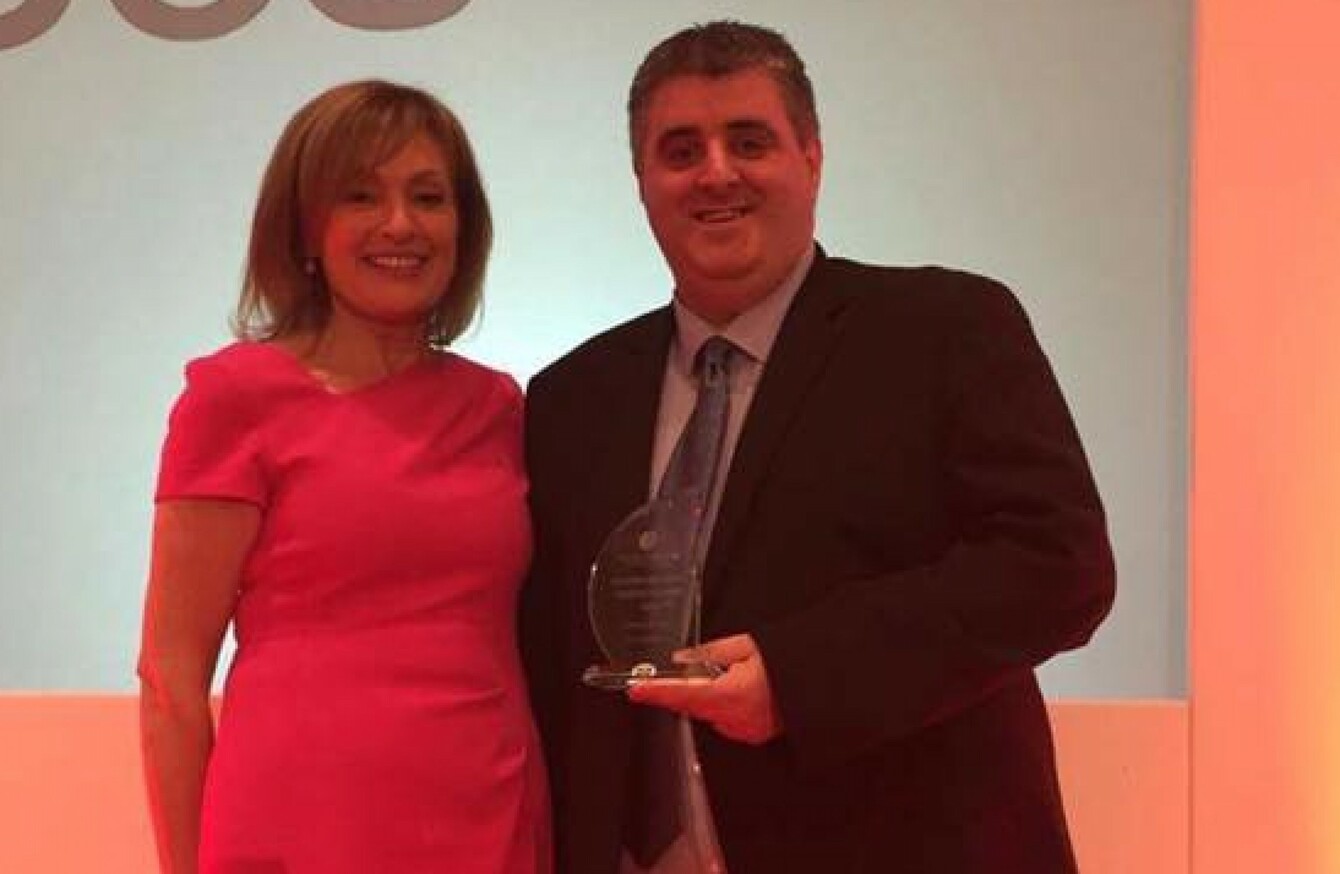 Broadcastor Mary Kennedy with Derek Devoy at the Hidden Heros award ceremony on Monday.
Broadcastor Mary Kennedy with Derek Devoy at the Hidden Heros award ceremony on Monday.
FOR FOUR YEARS, taxi driver Derek Devoy suffered from depression.
"I hid it for eight or nine months. The family would all go off in the morning, I'd take the clothes off, get back into bed and just cry."
At his lowest point, Devoy tried to take his own life. After that, he sought the help of a counsellor and eventually went back to work.
"My first night back, I came across a person on a bridge in Kilkenny, I talked them down and they get in the car with me. I wondered after about what would have happened if I said something different – said something wrong – and they'd jumped."
Devoy enquired about courses he could do to better prepare himself for situations such as that and arranged to do free HSE-run training.
"I found them brilliant and I wondered would other taxi drivers like to do it. I asked about 15 or 16 of them and they all said yes."
This was back in 2014 and was the beginning of a service called 'TaxiWatch' which grew to be so successful, Devoy was honoured with a Hidden Heroes award this week.
The group of taxi drivers run a helpline and suicide prevention service in Kilkenny, Clonmel, Waterford and Ennis.
"I hope to cover the whole of Ireland – it's be great to cover the whole world if we could."
'Some just need to talk'
When they get a call either from or about a person in trouble, the volunteers will drive to them, chat with them about how they are feeling and either take them to a service or take them to a family member or friend.
Some just need to be talked down and when you talk with them they calm down. Then we tell them we'll take them home and ask if they have someone who will stay with them. We'll bring them home and explain it to those people. Parents sometimes are shocked. One woman thought I was a guard, when she came down to the door she said "hello guard" and I had to tell her I was a taxi driver. She wasn't expecting someone to be standing there with her son bawling his eyes out. They never knew.
Taxi drivers are used to listening to customer's problems and Devoy said because of the nature of the job, and the dangers they sometimes face, they are usually good judges of character.
"Personally, people with mental health problems glow for me, I can see it in them. I might say 'bit down are you?' and they might tell you to feck off – but they never have. They break down and they talk to you. I've spent hours by the side of a road with people crying their eyes out," he explained.
I know we're losing money but that doesn't matter to me – I know that person is going home safe. We'll never let a person out of the car alone, we have to tell somebody – a parent or sister or brother. We'll drop them to them.
If they feel someone is in serious trouble, they will take them to the emergency department.
#Open journalism No news is bad news Support The Journal

Your contributions will help us continue to deliver the stories that are important to you

Support us now
Counselling
TaxiWatch also works closely with a free counselling service in Kilkenny to ensure the vulnerable people they deal with can get a next-day appointment and drivers will pick people up and bring them to get help.
"It's great for them to be collected in a taxi because they are embarrassed, you know, so to anyone who sees them it looks like they're getting a taxi somewhere."
The service has had direct interaction with some 120 people since it started.
Devoy is humble about his award – he said he is "shy about getting that". The one thing that makes this all worthwhile is knowing that he has helped save lives.
"You see them when you're driving around, you see them back out with their friends a few weeks later and they're getting on with their lives. They might give you a little wink or some over to the rank when no one is around. My right arm is sore its after being squeezed so many times – they just squeeze your arm and walk away and leave me there welling up."
Devoy said taxi drivers all across the country contact him wanting to volunteer and he hopes to develop the service's own training course so he can expand it countrywide.
More information on Taxiwatch can be found on the website or Facebook page. 
If you need to talk, contact:
Samaritans 116 123 or email jo@samaritans.org
National Suicide Helpline 1800 247 247 – (suicide prevention, self-harm, bereavement)
Aware 1800 80 48 48 (depression, anxiety)
Pieta House 01 601 0000 or email mary@pieta.ie – (suicide, self-harm)
Teen-Line Ireland 1800 833 634 (for ages 13 to 19)
Childline 1800 66 66 66 (for under 18s)