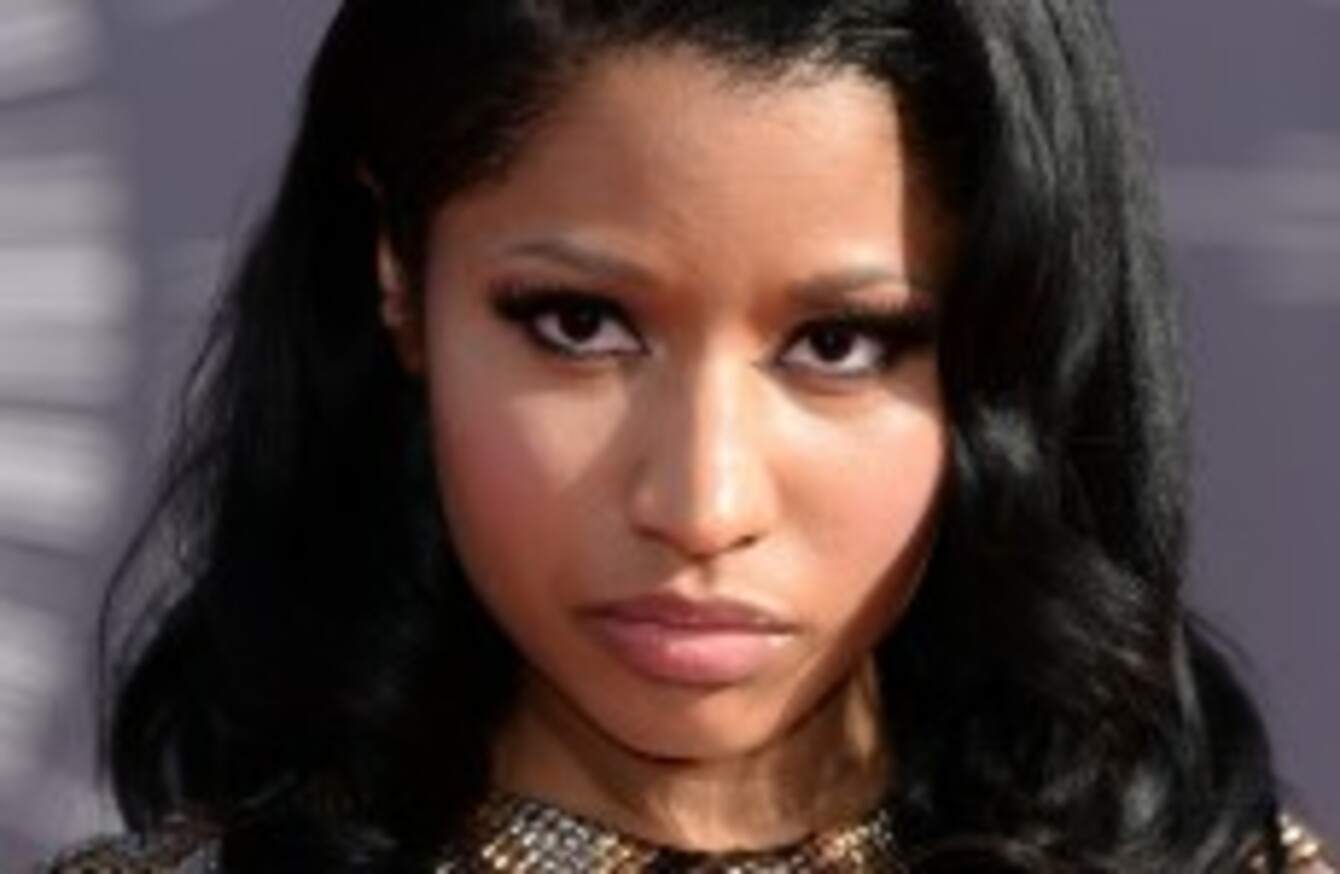 WHEN TWO OF the world's biggest female pop stars get into a discussion on Twitter, people stop and listen.
And when one of them is querying the reasons behind her video not getting nominated for a prestigious pop award, the discussion gets deep.
Nicki Minaj and Taylor Swift's Twitter discussion had Twitter ablaze last night.
It wasn't just a case of Minaj being annoyed that her video for Anaconda didn't get nominated for best choreography and video of the year at the MTV Video Music Awards (VMAs) – it was about the deeper reasons behind the snubs.
First, here are the best video nominees:
Beyoncé: 7/11
Ed Sheeran: Thinking Out Loud
Taylor Swift: Bad Blood (feat Kendrick Lamar)
Mark Ronson: Uptown Funk (feat Bruno Mars)
Kendrick Lamar: Alright
Best choreogaphy nominations went to:
Beyoncé: 7/11
OK GO: I Won't Let You Down
Chet Faker: Gold
Ed Sheeran: Don't
Flying Lotus: Never Catch Me (feat Kendrick Lamar)
The Anaconda video was nominated in the best female video and best hip-hop video categories, but Minaj queried why she didn't make the other two categories above, considering Anaconda was such a phenomenon.
She also questioned why her duet with Beyoncé wasn't nominated in the awards:
Minaj is an Trinidadian-American musician whose work tends to be about sexual topics, and who doesn't shy away from making videos that celebrate black women's bodies and sexuality.
She felt the snubs could have been due to this:
She appeared to be nodding at Taylor Swift with this tweet, which was when Swift got involved:
For her part, Swift – known for being hugely supportive of other female musicians and artists, but one whose career and appearance are very different from Minaj's – said:
Minaj's own fans not only jumped to her defence, but also shed more light on the outrage, with tweets that she shared:
Minaj claimed that she wasn't speaking about Swift, but encouraged her to "speak out about this".
"I'm not always confident," she said. "Just tired. Black women influence pop culture so much but are rarely rewarded for it." She also described people as trying to overshadow her points, which she said is the "oldest trick in the book".
"White media and their tactics," said Minaj of some of the commentary on the issue. "So sad. That's what they want."
She noted that Tidal – founded by black musicians – was "dragged" while Taylor was "applauded" for taking her music off Spotify.
While at first glance this may look like a Twitter spat by a woman annoyed at being snubbed, it's clear looking at Minaj's tweets than it's more than that. In the main, it's about race, and how black women are represented in popular music.
Minaj's work celebrates the sexual black body, which is a personal but also a political statement for Minaj.
Her raunchy video for Anaconda did become a cultural phenomenon, racking up 19.6 million views the day it was released (this was overtaken by Swift's own Bad Blood).
Spin described it as "a cultural movement that furled itself around the national conversation and squeezed", singling out its colourful lyrics.
In Grantland, Molly Lambert noted that Anaconda came a year after the Miley Cyrus and Robin Thicke VMAs twerking performance that also kicked off a conversation about cultural appropriation.
"The history of white artists adopting a black sound and gaining mainstream popularity with it is much older than Elvis or Benny Goodman," said Lambert.
However, Minaj herself has come under fire for cultural appropriation herself.
For Goodman, the Anaconda video "is an extremely self-aware deconstruction of twerking as a trend".
The video – with its suggestive cutting up of a banana, whipped cream on breasts and shaking asses – "is about Nicki asserting her power, not as a sexual object but a sexual subject", says Goodman.
Video girls
Hip-hop isn't a genre known for letting female artists be the sexual subjects – but Minaj is using her body to subvert the usual tropes.
We're used to seeing the 'video girl' or 'video vixen' in hop-hop videos, only there as a sexual object, to show off her body for the viewer.
Minaj takes this role, and owns in it in a powerful way. How she does this might not be palatable or understandable to everyone – her videos generally contain quite adult content – but she's not concerned about being palatable. How she makes her point is by being forceful.
And though she might not care if people like it, feeling as though she's being snubbed by the pop 'establishment' while others are using similar ideas and getting praised is something Minaj won't be standing for.
In an interview with Rolling Stone, Minaj once said:
I feel like when Public Enemy were doing 'Fight the Power,' we as a culture had more power — now it feels hopeless.
People say, 'Why aren't black celebrities speaking out more?' But look what happened to Kanye when he spoke out [saying George Bush doesn't care about black people, in 2005]. People told him to apologize to Bush!
The last word in this whole debacle goes to Minaj herself: