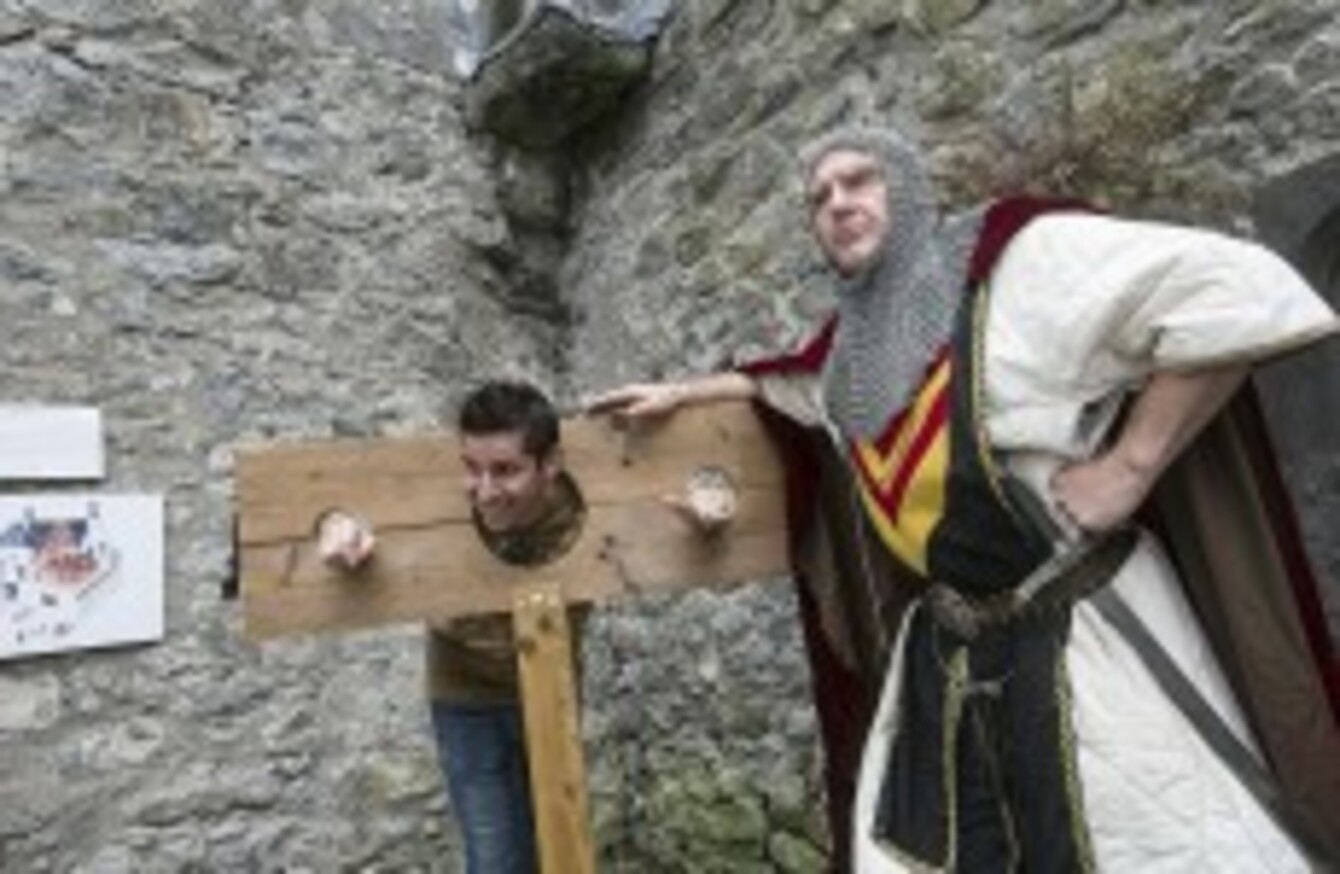 Travel blogger Austin Matta from the US gets an unusual welcome in Kilkenny.
Travel blogger Austin Matta from the US gets an unusual welcome in Kilkenny.
AN INTERNATIONAL CONFERENCE and networking event for travel bloggers takes place in Ireland tomorrow and Friday.
Fáilte Ireland's bid to host TBEX 2013 was successful so over 600 delegates are in Dublin to discuss travel and tourism online. The nice kickback for Ireland is that the host country gets to showcase its nation's attractions to high-profile travel bloggers before, during and after the conference. Previous TBEX events have been held in Girona, Keystone, Vancouver, New York and Chicago.
According to Fáilte Ireland research, over half of tourists who own smartphones, tablets or other mobile devices use them while travelling in Ireland – and a Google survey showed that 40 per cent of travellers are actively influenced by social networks when planning their journeys, using blogs, sites like Tripadvisor and others to plan their trips.
John Concannon, director of marketing with Fáilte Ireland, told TheJournal.ie:
Everyone has it in them to be a travel writer and the trend is for this to become even more prevalent.
Some travel bloggers have already been exploring Ireland ahead of the conference and Concannon said that their priorities brought a "fresh dimension on places in Ireland we might think we already know", an 'off-the-beaten-track' sensibility. He said:
Obviously, travel bloggers are different to regular media folk – with more focus on capturing the 'now' and sharing news, tips, photos, anecdotes, video and commentary while they travel.

More than conventional travel writers, bloggers are looking for 'out of the ordinary' experiences or new and different angles to traditional destinations.
Two-thirds of the delegates at the TBEX event in Dublin come from North America with the rest from other parts of Europe.
The term travel blogger seems to encompass a wide range of styles and online publications. For example, the delegates include the editor-in-chief of JohnnyJet.com, (named Johnny Jet, naturally). He's visits over 20 countries a year and his site is featured in publications like Time, Fortune, New York Times and USA Today.
However, it also includes the quirkier end of the travel blogging spectrum – the likes of Leif Pettersen of Killing Batteries (recent blogposts include him in a tense face-off with a Pacific Islander who thought Pattersen was trying to steal his wife, who was actually showing him around an island off Saipan for a travel piece). Also attending are photographers like the award-winning Lola Akinmade Akerstrom from Sweden who has had her work used by the likes of National Geographic Traveller and the Guardian.
Fáilte Ireland expects posts about their trip to Ireland to end up on the bloggers' sites in coming weeks – already there seems to be a bit of buzz around the Twitter hashtags #TBEX and #TBEXDublin.