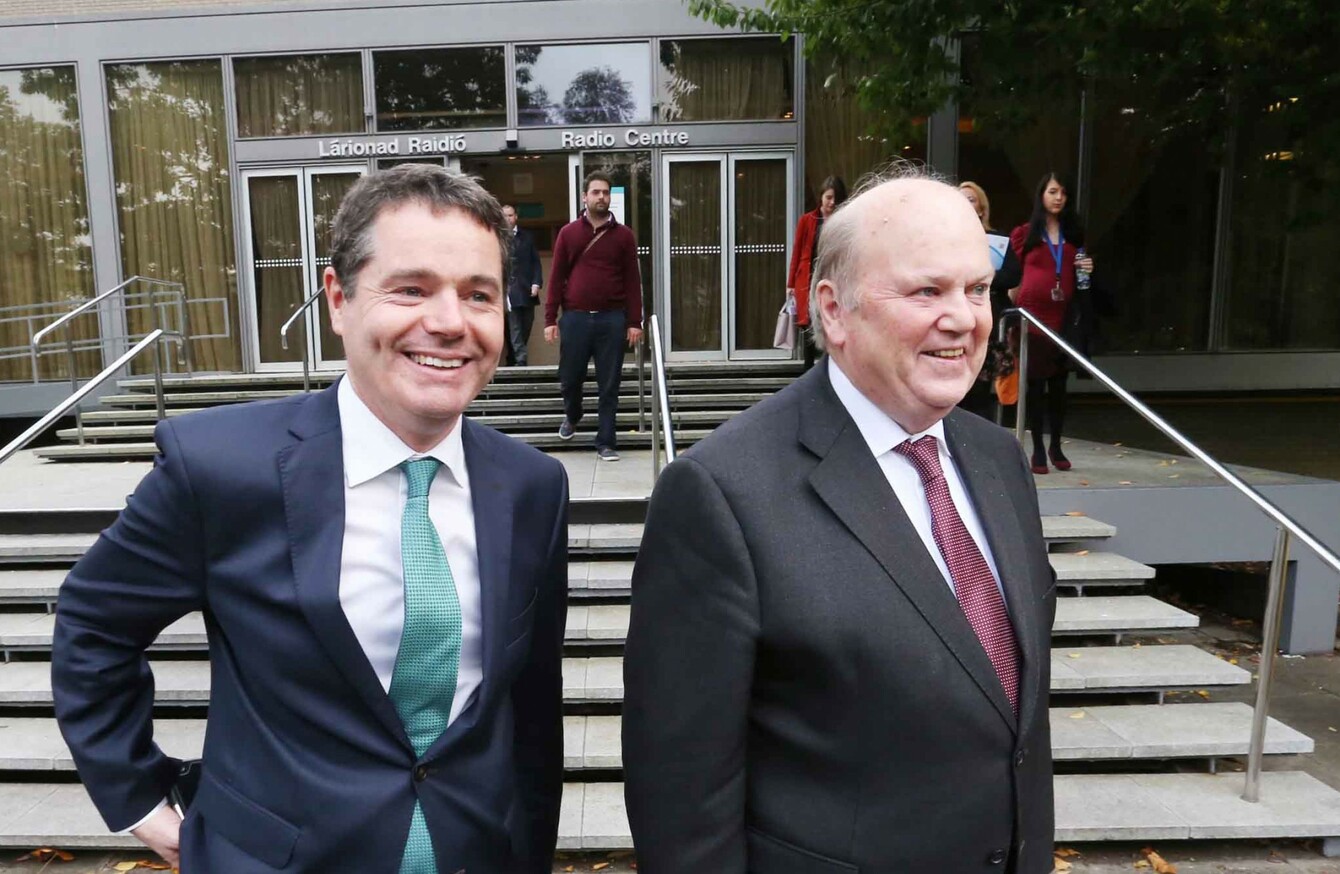 Ministers Michael Noonan and Paschal Donohoe( speaking to the media after they meet Sean O'Rourke this morning.
Image: RollingNews.ie
Ministers Michael Noonan and Paschal Donohoe( speaking to the media after they meet Sean O'Rourke this morning.
Image: RollingNews.ie
TDS HAVE COME under fire following yesterday's Budget amid reports that they are in line for a €5,000 yearly pay increase while others have to wait until March for a weekly €5.
Speaking today on RTÉ's Today with Sean O'Rourke, Public Expenditure Minister Paschal Donohoe and Finance Minister Michael Noonan were questioned strongly over the Budget and their touted pay rise.
Addressing questions over why people had to wait until March for €5 to be added to their social welfare payments while TDs were in line for a substantial increase in their salaries, Donohoe said:
"The last thing on my mind is the welfare and salaries of TDs I can assure you."
When told by one caller that the perception of TDs getting a huge salary increase while others would only see an extra €5 every week, Donohoe said:
I also understand that perception and I'm so keenly aware of the hurt and anxiety that was caused to so many people after all we have went through.
So are TDs really getting a €5,000 wage increase? 
In short, they're getting their wages restored.
In the past, TDs' salaries were separate to those of other civil servants, however they are now linked to salary of a principal officer in the civil service.
The basic salary of a TD is currently at €87,258. This was cut from €92,672 in recent years.
Under the terms of the Haddington Road Agreement, civil servants earning over €65,000 took a pay cut effective from 1 July 2013.
Civil servants earning between €80,000 and €150,000 (the category that TDs fall into) had their salary reduced by 8%. For TDs this amounted to about €5,400.
This was in order to achieve savings to the State of €1 billion as laid out in the Financial Emergency Measures in the Public Interest Act, 2013.
Under the terms negotiated in the Haddington Road and Lansdowne Road Acts, the civil servants who had their salaries cut will begin to get them restored next year.
This restoration will take place in two tranches, on 1 April 2017 and later on 1 January 2018.
So, in a nutshell, TDs will see their wages restored by €2,700 in April and another €2,700 in January.
For the Taoiseach, táinaiste and ministers there will be higher increases as their pay is also restored.
Why are people annoyed?
As Donohoe pointed out today, the perception of TDs getting a €5,000 or so into their bank accounts over the next year isn't great.
Especially when social welfare recipients need to wait until March for €5 extra and the minimum wage has gone up by a total of 10c.
However, the reason TDs' salaries were linked to the civil service in the first place was to increase fairness. As Donohoe said today:
We went through an era where there was one deal for ministers and TDs and one rule for everybody else and that's wrong.
Opposition TDs have hit out at the wage restoration.
Sinn Féin finance spokesperson Pearse Doherty questioned the measure in his Budget speech yesterday:
"Did the cabinet collectively blush when delaying a €5 pension increase but not delaying the increase in TDs' and Ministers' pay?," he asked.
Writing this morning in TheJournal.ie, AAA-PBP TD Paul Murphy also hit out at the rise, saying that yesterday's announcement was "yet another regressive budget that will re-enforce inequality".
"It is summed up by the fact that while TDs will benefit by more than €50 a week*, young unemployed people will get a miserly €2.70," he said.