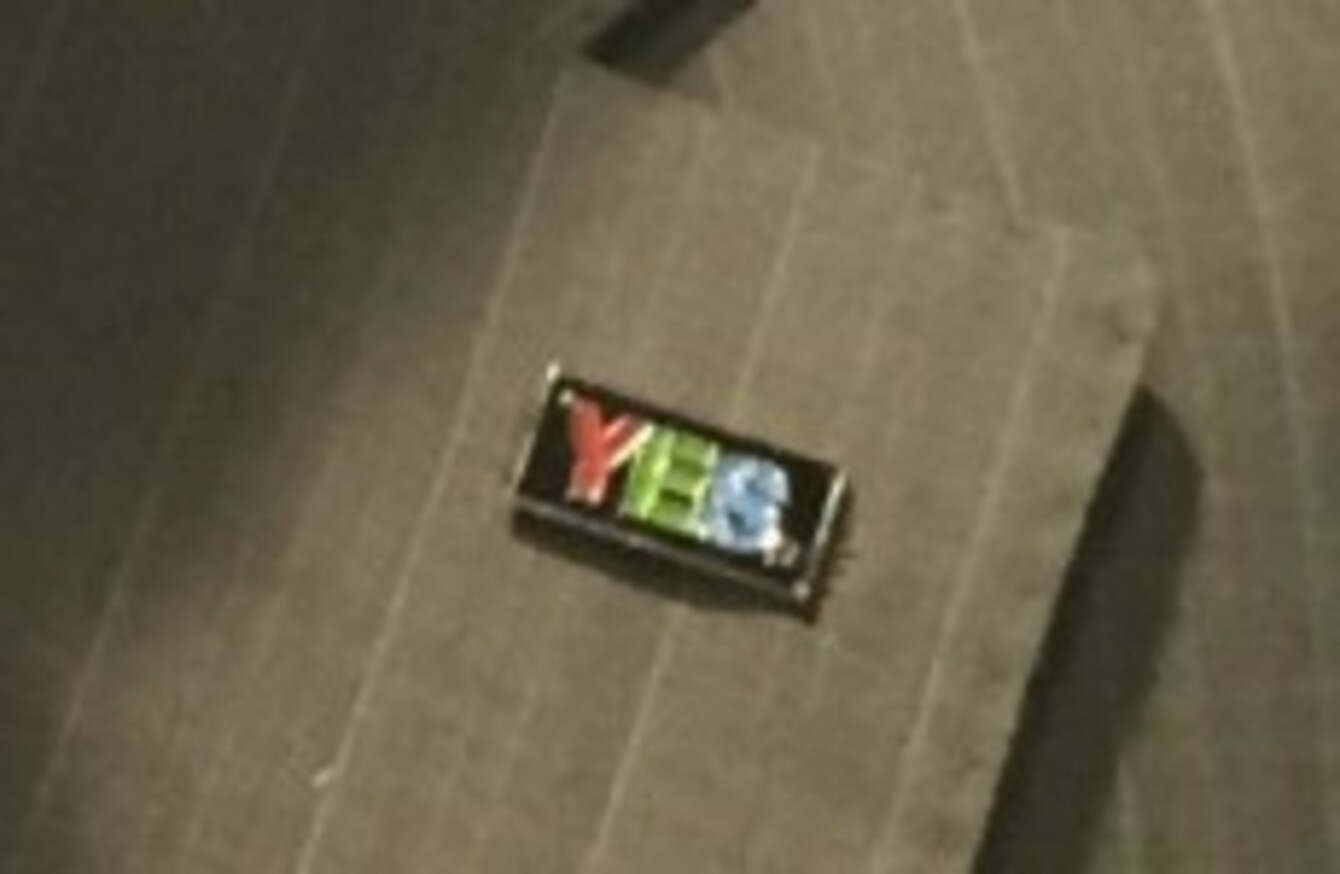 This small 'Yes' pin has been spotted on several Oireachtas members' lapels in recent days
Image: Hugh O'Connell/TheJournal.ie
This small 'Yes' pin has been spotted on several Oireachtas members' lapels in recent days
Image: Hugh O'Connell/TheJournal.ie
TWO LABOUR TDS have refused to remove pins promoting a Yes vote in the same-sex marriage referendum when asked to do so by Leinster House authorities today.
Labour's chief whip Emmet Stagg and the assistant whip John Lyons have both confirmed they were asked to remove small 'Yes' pins they have been wearing on their lapels in the Houses of the Oireachtas.
However both have said they declined to do so.
It's understood Tánaiste Joan Burton wore a similiar pin on her jacket in Leinster House yesterday but was not asked to remove it.
On Tuesday , Sinn Féin's Mary Lou McDonald was asked to remove a badge promoting a Yes vote by a Leinster House usher after she was spotted wearing it during Dáil questions.
Fine Gael TD Jerry Buttimer said last night he would refuse to remove his pin if asked, while it's also understood that independent senator David Norris has refused to comply with requests to remove his 'Yes' badge.
Under a long-standing rule Oireachtas members, staff and visitors are not permitted to wear emblems while on the grounds of Leinster House.
Several visitors to the Houses of the Oireachtas have been asked to remove such emblems in recent weeks, particularly those related to the referendum.
Speaking to reporters today, Burton said she supported her Labour colleagues in refusing to comply with Oireachtas authorities, joking that as Stagg is Labour's chief whip and Lyons is his assistant they are "the real bosses".
If they're wearing pins and they're wearing badges that are supporting equality, which is what the Dáil meant to progress in Ireland, [then] yes, I do support them.
"But I think it's something that can be done by agreement and I think it's appropriate. I've seen people in the past wearing emblems and I haven't seen any issues raised and I don't think any of the members not wearing emblems have raised issues about that."
The Labour leader recalled how under the leadership of Dick Spring in the early 1990s, she and other Labour deputies were asked to remove white ribbons they wore in the aftermath of an IRA bombing in London which broke the then-ceasefire.
She continued: "I have to say I was very shocked when again, at that stage, we were told to take off very simple white ribbons. Obviously whatever rule is being applied, it's been there for a long time, and really I thought it had perhaps disappeared because in recent times we've seen enormous changes in dress codes, dress standards and I think people who have been in the Dáil over a long period of time have accepted it.
"So I certainly would hope, given that I do see people from time-to-time wearing emblems, and wearing them quite prominently at times, that it would be the same rule for everybody.
"Either nobody can wear any kind of an emblem or it's possible to wear emblems, particularly pins, which are quite discreet."