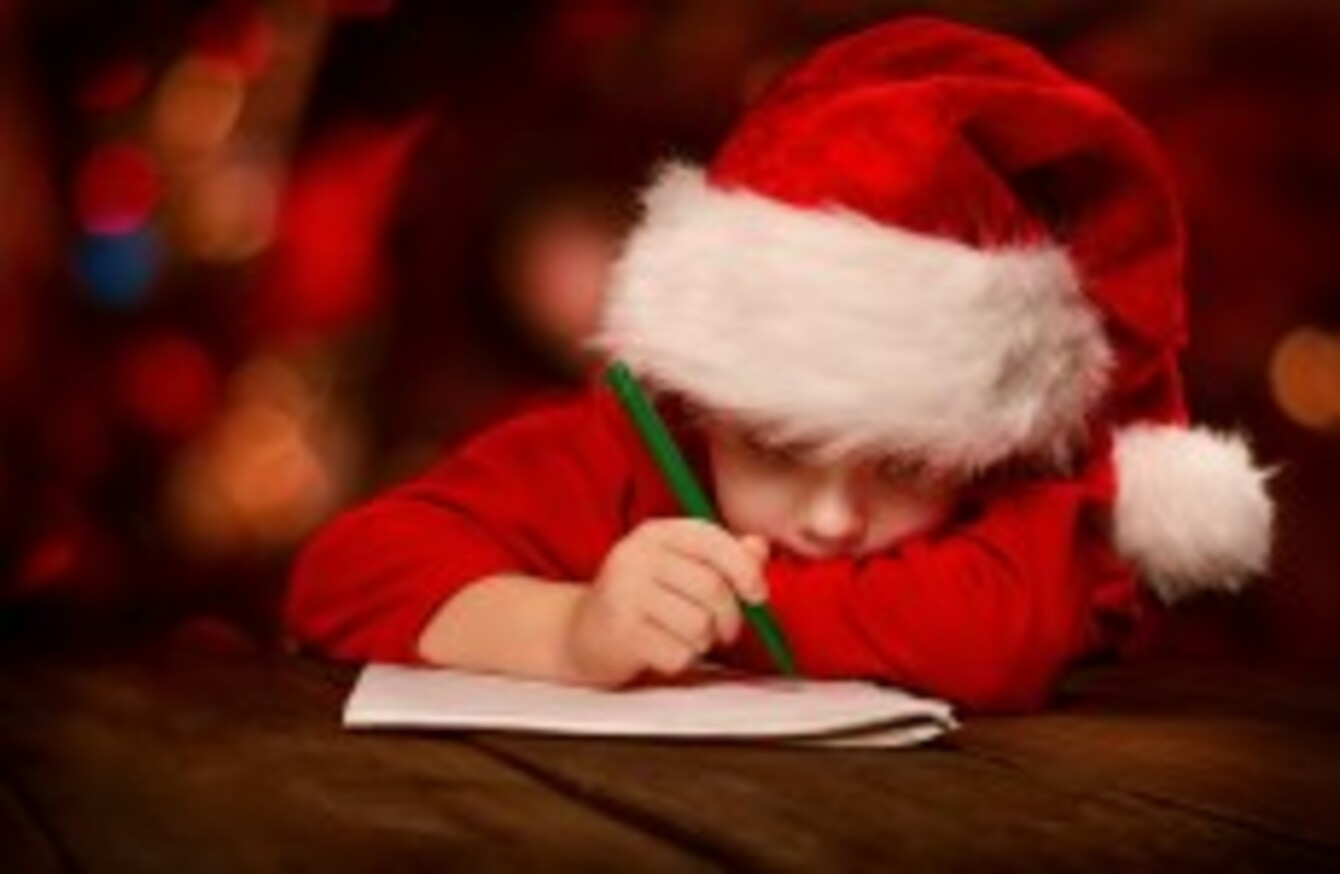 "Dear Santa..."
Image: Shutterstock
"Dear Santa..."
Image: Shutterstock
LAST MONTH, WE all got a bit of a scare when the existence of Santa was called into question by a government TD, forcing the coalition to confirm the man in red's existence in order to allay a nation's fears.
Okay, not quite.
But it's fair to say that Fine Gael deputy Jim Daly's comments were a bit out of step with the mood of the season which is all about family, friends, celebrations and presents from Santa.
Even our politicians have been writing letters to the big fella in the North Pole this year and with that in mind we thought we'd find out what they have been asking for.
First up is the man who's lucky not to be on the naughty list this year:
Jim Daly, Fine Gael TD for Cork South West:
Failing the delivery by Santa of a Cabinet position at the next reshuffle, top of my wish list is the continuation of the rise in consumer confidence that is starting to emerge as the people of Ireland become more certain of our future. We have just exited the bailout and have had our economic sovereignty restored after three years.

That has only been possible due to the patience and resilience of the Irish people who have endured very tough and painful measures. My hope for next year is that this resilience will be rewarded and that stronger economic growth will translate to brighter days ahead for all of our people.
Anne Ferris, Labour TD for Wicklow:
I want to be able to buy charity Christmas cards without having to worry about how much of my donation is going to pay inflated board salaries. I want full accounting transparency for all charities including those voluntary church bodies implicated in abuse investigations who are still withholding redress money from survivors and victims.

I have decided that in the meantime I personally will continue donating to the charities I have always supported. I won't let the greed of a few get in the way of the needs of the thousands of caring people who give their time and donate their professional lives to the work of charities. It is for the sake of these good people and the individuals and families that they care for, that Irish society needs the protection of full accounting transparency for charities. I wish everybody in Ireland happiness and peace this Christmas.
Yes, we know what you're thinking at this stage. Why can't politicians ask for normal things like iPads (okay, they already have them) and puppies?
Well here's a more realistic (sort of) list from Independent TD for Wicklow Stephen Donnelly:
All of our money back from the bondholders, a Lego Millennium Falcon, the rollout of debt-for-equity mortgage deals, an Aston Martin DB9, evidence of the use of evidence in policy formation, cool earphones, the reversal of Budget 2014 discrimination of under-26's, Call of Duty: Ghosts & some time to play it, a change to standing orders to allow the Ceann Comhairle taser hecklers, Ireland to win the Grand Slam in 2014, an independent audit of NAMA's data protection protocols, all of my hair back.
Fine Gael Senator Catherine Noone:
I would just love to get a Blue Book voucher from Santa this year. The Blue Book includes a group of hotels and restaurants whose members manage old period houses around the country. Their list includes some incredible properties, which would be wonderful for a short break. Due to a hectic schedule during the year I find it hard to get time to spend with my folks, so I'd use the vouchers to spend a few days away with my family. After all, it's a gift in itself to have some time to spend with your family over the Christmas period.
Independent Senator Ronan Mullen:
I'd like an end to economic emigration. It would be great if young Irish people could always live, love and start families in Ireland – unless they genuinely want to be elsewhere. I'm asking Santa for better quality public debate. I want less manipulation of public feeling by media and political people, and more civility and reasoned argument instead.

I'd like to see renewal of life in country places and more jobs in our towns and villages. I want older people to feel more secure in their homes especially, and to know that their families, neighbours and friends are watchful for their welfare. I want to see a greater respect for human life at all stages, to see unjust laws overturned and better ones put in their place. I know all this won't happen overnight, but I'd like to see a good start next year.

On a more personal note, I'd like all my family and friends to be happy and fulfilled. I'd like to stay fit and find as many new canvassers for my European Election campaign as possible. Thank you Santa.
Fine Gael Senator Deirdre Clune:
This year I'm asking Santa for a bit of time to put my feet up and enjoy a bit of rest and relaxation over Christmas. As is the case with most households, I'll be spending the bulk of the day preparing the dinner and making sure my nearest and dearest are fed, watered and happy. And I wouldn't have it any other way.

Three of my sons live away from Cork and are travelling home so I am looking forward to spending time with them and to having a full house again, if only for a short while. It has been a really busy year for me in the Seanad as the Party's Seanad Spokesperson on Enterprise as we work to create employment opportunities for those who are out of work. I have been on the go for the duration of 2013 and the 25th December will be no different so a bit of 'feet up time' from the big fella would make me feel like all my Christmases really had come at once.
Ann Phelan, Labour TD for Carlow-Kilkenny:
This Christmas I am asking Santa for a new Kilkenny jersey. The Cats may have had a disappointing time on the pitch this year, but I'm confident that 2014 will be the year for Brian Cody and the lads. I am predicting we will win both the Leinster and All Ireland hurling championships so an extra new jersey will get plenty of wear!
Gerry Adams, Sinn Féin party president and TD for Louth:
What do I want for Christmas?  A few days off. A bigger bath for my growing flock of yellow ducks. A positive conclusion before Christmas to the Haass talks and an Agreement based on equality and parity of esteem.  An adventure filled 2014. A good day for Tom and Ted's wedding. Nollag shona daoibh.
#Open journalism No news is bad news Support The Journal

Your contributions will help us continue to deliver the stories that are important to you

Support us now
Martin Heydon, Fine Gael TD for Kildare South:
I got married earlier this year so I'm looking forward to spending some quality time with my very understanding wife who hasn't seen much of me since the wedding. I've asked Santa for the final series of Breaking Bad, the box set of Yes, Minister and firewood for the stove – as I plan on spending a lot of time catching up on these shows and enjoying time with my niece and nephew, before another hectic Dáil session kicks off in January. I've also asked Santa, if possible to bring a ring road for Athy and a return of the sugar beet industry to Ireland, hopefully he can fit all of that on his sleigh.
Labour Senator Lorraine Higgins:
Santa, I would love Roomworks Volume 1 by a new up-and-coming Athenry band, The Deans. Crammed with catchy songs, it's the perfect album to have on in the car for those long commutes from Galway to the Seanad. Fingers crossed – Hope you wont disappoint me !! Lorraine X
Independent TD for Kildare North Catherine Murphy:
"From a personal perspective, I would love to see us getting real about my passion – Genealogy. In general, we need to attach far greater value to our rich history and our genealogical heritage. My ultimate goal would be to see the awful hovel that is the 'new' General Registrar's Office closed down and instead open a new, state of the art facility that does justice to the significance of the records contained therein. From my own experiences I know fully the joy that can be gleaned from identifying and deepening your roots and realising that you represent a speck in time that someone, someday will hopefully be interested in researching.

Speaking about time, if I could really have everything I wish for, then another day in the week would be nice – there just never seems to be enough time to get everything done."
Labour TD for Dublin North-West John Lyons:
I suppose, like a lot of families this Christmas, I'll be thinking of family members who have left our shores this Christmas. In particular, my thoughts at this time of year will be with my niece and her young baby in Perth, Australia.

We have a family Christmas in my mam's in Ballymun every year and it would be great to have her with us for Christmas Day. Emigration has touched every Irish family and group of friends and I imagine very similar thoughts are being expressed by many Irish people this Christmas
We asked Fianna Fáil for their TDs' and Senators' Christmas wishlists, but we have to assume that their failure to respond means they're all on the naughty list.
Happy Christmas!