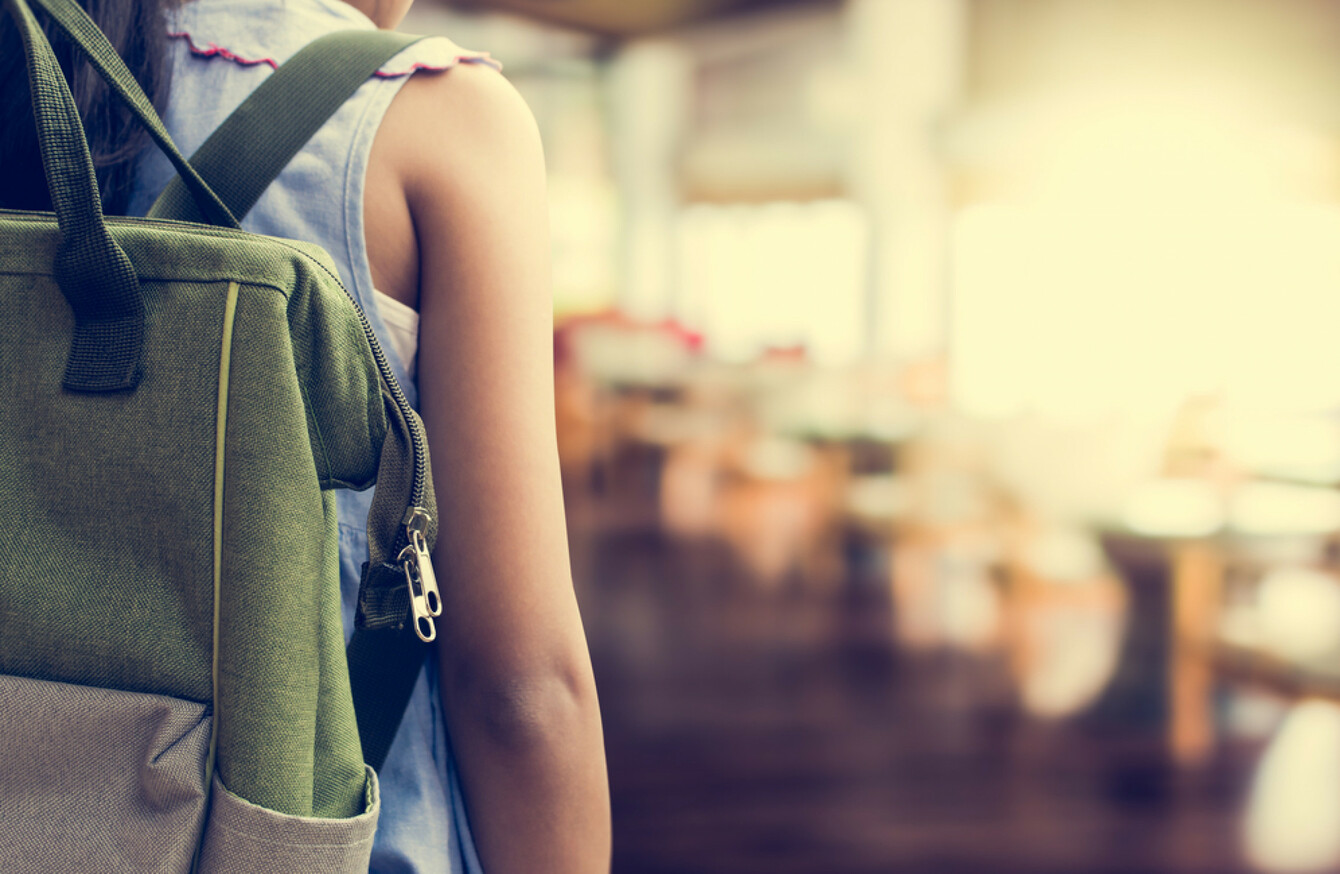 File photo
Image: surasaki via Shutterstock
File photo
Image: surasaki via Shutterstock
Updated Jul 3rd 2018, 1:30 PM
TEACHERS HAVE BEEN speaking of the effect homelessness has on children in education, as part of a new report.
One of the aims of the research in the report published today by the Children's Rights Alliance was to attempt to capture teachers views on how being homeless effects a child's life in school.
One teacher explained how one child's relationships in school have been impacted.
"She can become quite withdrawn. She'd never be the one to, you know, she gets along with everybody but she's not a leader, you know, the way you might see children stand out as being the one who decides what game to play," he said.
She hasn't got a lot of confidence.
The teacher added that her participation in class discussions about family events was also affected.
"She doesn't talk about where, like, her journey to school is so different to everybody else's. Like she is very tired in school, exhausted and I would be too if I had to travel what she travels," they said.
The teacher said that the pupil had not explicitly told her that she was homeless. However, as the child got to know the teacher she began to share some personal information.
"I can't even remember how the conversation started, and she opened up a little bit and then it was nearly like I've said too much and I didn't want to push," the teacher said.
And she said that she's really lonely for this area where she is, misses her friends. She really misses not being able to play outside. I asked about the weekend and she said: 'The only thing we really do is go to Aldi but I can't play out the way I used to play'.
Some parents interviewed in the report described how children's friendship groups had reduced to a small number of close, trusted friends while they were homeless.
The small friend groups were linked to limited opportunities to participate in extra-curricular activities and limited ability to meet with their friends after school or on weekends because of their placement in emergency accommodation.
Teacher difficulties 
In regard to the case study above, the report noted that the fact that the teacher was aware of her pupil's situation enabled her to question how she managed her approach in delivering the primary school curriculum while also being sensitive to the needs of her pupil.
She specifically referred to the importance of in-service training in this regard.
"We got a bit of training yesterday on SPHE (Social, Personal and Health Education) and it really opened my eyes to the different language you should use and how you should approach certain topics. And this is something I'm not quite… I had no idea what it must be like," the teacher said.
"It's very hard for me to understand when I don't know so maybe a bit of staff training in how to even use the correct vocabulary," they said.
Speaking at the launch of the report earlier today, Maeve McCafferty of the Irish National Teachers' Organisation said that teachers are "very acutely aware and concerned about the escalating homelessness crisis".
"They see it every day in from of them in their classrooms as it manifests itself in many ways in people's punctuality, attendance, academic achievement, interactions, engagement, the list just goes on," McCafferty said.
As the report suggests, teachers do feel helpless, they feel powerless and they feel powerless and they feel that they're ill-equipped to effectively support children and their families, but as the report also shows is that they're doing their best despite the lack of supports and resources.
Despite advocating on behalf of families in writing letters and that, they do feel very frustrated that it has little impact.
The majority of parents spoke positively about their children's relationships with teachers and school staff and rescribed how praise, authentic encouragement and access to in-school supports had helped their children during the family's homelessness.
"Schools can be a safe haven for children experiencing homelessness as it provides that much-needed stability, support and security," McCafferty said.
"Perhaps it's for that reason that parents are very reluctant to move their child to a different school when they are displaced because of homelessness. I think parents very much value the stability that school life offers their child."
Homeless figures
Emergency accommodation figures for May show that there are now collectively 9,846 homeless people living in homeless shelters or hotels across Ireland.
The number of homeless adults rose by 57 in May to 6,020. These 57 adults were all located in Dublin.
There was also an increase of 12 families and 137 children in May. The number of homeless children in Ireland is now 3,826.
#Open journalism No news is bad news Support The Journal

Your contributions will help us continue to deliver the stories that are important to you

Support us now
In Dublin – where the issue is by far at its worst – the number of homeless families dropped by 14, but the number of children rose by 76.
Recommendations
The report offered a number of recommendations in relation to homeless children and education.
The Children's Rights Alliance suggested a ring-fenced fund for schools to provide for the needs of children experiencing homelessness, including psychological assessment and support, extracurricular activities, homework clubs, additional tuition, or wrap-around services delivered within the school premises.
It also recommended an expansion of the July Education Programme of the Department of Education and Skills – which provides funding to extend the school year by a month for children with severe learning disabilities or autism – to include children experiencing homelessness.
Other recommendations called for a commitment from government to provide a specific timeline in which it will end the use of emergency hotel and B&B type accommodation for families with children.
The study looked at children who were enrolled in and attending early childhood settings (child-care settings), primary and secondary schools.
For the study, interviews were done with parents of children experiencing homelessness. A total of 20 parents from 19 families participated in the study.
A survey questionnaire was completed by educational professionals working in primary and post-primary schools in the greater Dublin region, and interviews were conducted with school principals, teachers, home-school liaison officers and early childhood professionals working directly with children experiencing homelessness.
The study, carried out by Dr Geraldine Scanlon and Grainne McKenna from the DCU Institute of Education, commenced in June 2017, with data collection taking place from July 2017 to November 2017.